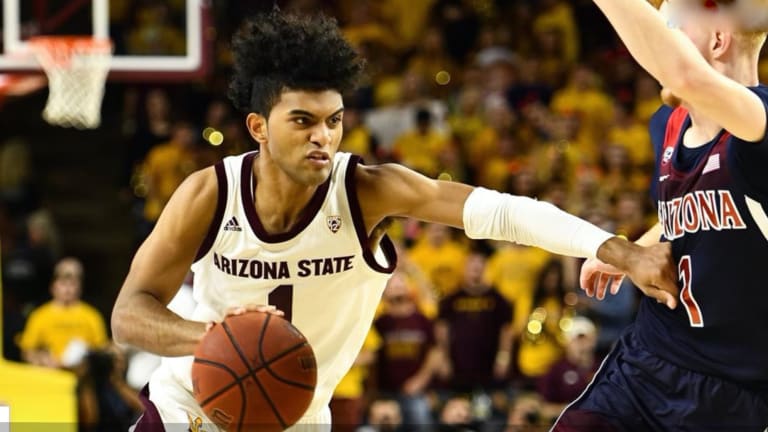 Cal-ASU Basketball: Turnovers Torpedo Solid Effort by Bears in 70-62 Loss
Cal coughed up 20 giveaways, faded at the finish to nation's No. 25 team
Cal hung close with No. 25 Arizona State all night, but 20 turnovers and a failure to score on their final five possessions cost the Bears in a 70-62 loss in both teams' Pac-12 opener Thursday.
The Bears (2-2, 0-1) were within 63-60 after a basket by Grant Anticevich with 3:25 left.
But on their final seven possessions of the game they managed just two free throws, shooting 0-for-2 with four of their 20 turnovers.
Cal did not score in the final 2 minutes, 10 seconds. 
Matt Bradley led the Bears with 20 points and grabbed 8 rebounds. But he shot 1-for-9 on 3's and turned the ball over 6 times, including twice in charges.
Ryan Betley had 10 points and Makale Foreman and Andre Kelly each scored nine. Cal made just 1 of 11 shots from 3-point range in the second half.
Senior point guard Remy Martin, who always has played well at Haas, had 22 points and 5 assists in his final appearance in the building. Freshman Josh Christopher, younger brother to ex-Cal star Patrick Christopher, fought foul trouble but scored 14 points for the Sun Devils (3-1, 1-0).
Cal continues Pac-12 play Sunday at UCLA.
.
PREGAME
It's hard to imagine Cal facing a tougher assignment in its Pac-12 opener than tonight's matchup vs. No. 25 Arizona State.
The Bears, whose offseason and training camp were plagued by interruptions and restrictions levied in combat against the coronavirus, bring a 2-1 record into tonight's game at Haas Pavilion.
But after his team's 60-49 win over Nicholls State on Monday, even coach Mark Fox expressed concern about tonight's matchup.
"Do I think we're ready? We're not," Fox said. "We're going to have to overachieve."
ASU (2-1) is an explosive offensive team against whom Cal, quote frankly, will have trouble keep up. The Sun Devils average 89.3 points, led by senior point guard and pre-season All-American Remy Martin (14.2 points), elite freshman Josh Christopher (18.7 points) and his fellow first-year player Marcus Bagley (15.7 points).
In three road victories over Cal, Martin has averaged 19.7 points and 5.1 assists.
It gets no easier for the Bears on Sunday when they visit Pauley Pavilion to face UCLA.
Check back for our in-game thread. Tipoff is 7 p.m. on the Pac-12 Network.
SECOND HALF
15:49 2nd H: ASU trying to pull away. A layup by Chris Osten off a feed from Martin and a drive by Christopher has tie the Sun Devils the largest lead by either team. Martin has 16 points and 5 assists, and Christopher has 12 points. Bradley had 15 to lead the Bears. Cal without Foreman since he picked up his third foul 61 seconds into the half. ASU 46, Cal 40.
11:52 2nd H: ASU pressuring full court at times in an attempt to push the tempo and create an open-court game. A hug dunk by Graham pushes the Sun Devils' lead back to 6 points. Cal shooting just 36 percent in the half and is 0-for-4 on threes after making 6 in the firs half. Bradley has 18 points and Foreman, now back and playing with three fouls, has 9. Anticevich has picked up his third foul. ASU 52, Cal 46.
9:26 2nd H: Cal hanging in there. Bradley has 20 points and 7 rebounds. Betley has 10 points. ASU 54, Cal 51.
3:06 2nd H: Game is staying close ASU stretched the lead to 6 but a free throw by Andre Kelly and a pull-up jumper by Anticevich cut the margin in half. Braley has 29 points and 7 rebounds but he continues to struggle from deep -- 1-for-9 on 3's. Martin has 20 points and 5 assists for ASU. ASU 63, Cal 60.
FINAL SCORE: Arizona State 70, Cal 62.
.
STARTING LINEUPS: Cal goes with Ryan Betley, Makale Foreman, Matt Bradley, Grant Anticevich, Andre Kelly. ASU will start Remy Martin, Josh Christopher, Marcus Bagley, Jalen Graham, Taeshon Cherry.
FIRST HALF
15:58 1st H: Makale Foreman hit a long 3-pointer for the Bears, who are shooting 1-for-5 from the field. But Bradley is going to the FT line after the time out for 2 shots that could square things. Bradley also took a charge from ASU freshman Josh Christopher one of 3 early turnovers by the Sun Devils.  ASU 5, Cal 3.
11:43 1st H: The Bears survived turning the ball over on 4 straight possessions and broke a 7-7 standoff when Betley made a long jumper off an inbounds play. That ended a drought of nearly 4 minutes by the two teams. Cal is shooting 3-for-8, ASU 3-for-9. Cal 9, ASU 7.
7:34 1st H: Both teams beginning to find offensive rhythm. Anticevich just converted an offensive rebound, was fouled and will shoot the and-1 after the timeout. Betley and Bradley each with 5 points for the Bears. Remy Martin has 5 for ASU while Christopher has scored on a drive to the hoop and a pull-up jumper. Cal 20, ASU 17. 
3:55 1st H: Josh Christopher, whose big brother Patrick Christopher assembled a terrific career for the Bears, showing why he was a top-10 national recruit for the Sun Devils. He is the game's leading scorer with 10 points after making a floater on the baseline and the and-1 free throw. Braley has 8 points for the Bears, who are shooting 41 percent and have 8 turnovers. ASU is at 53 percent with 7 turnovers. ASU 26, Cal 23. 
1:39 1st H: Makale Foreman has hit two 3-pointers in the past minute and Cal has surged back in front. The Bears are 6-for-15 (40%) from beyond the arc. Cal 32, ASU 31.
HALFTIME: Pretty good first-half effort by the Bears in a game that had nine lead changes. Neither team led by more than three points. Cal did a good job controlling the pace against an ASU team that scored 65 first-half points in its most recent game, Bradley has 13 points and 5 rebonds for the Bears, Foreman has 9 points and 3 assists. Cal is shooting 43 percent but has 10 turnovers, including 2 each by Bradley, Foreman and Joel Brown. Martin has 12 points, 4 assists and 3 rebounds for the Sun Devils and Christopher has 10 points. ASU converting 52 percent but just 3-for-11 on 3's. The Sun Devils have 8 turnovers. ASU 35, Cal 34.
.
*** Coach Mark Fox talks after the Nicholls State game about how he expects Matt Bradley and Grant Anticevich -- currently a combined 7-for-26 on 3-point shots -- will soon find a rhythm: 
.
Follow Jeff Faraudo of Cal Sports Report on Twitter: @jefffaraudo