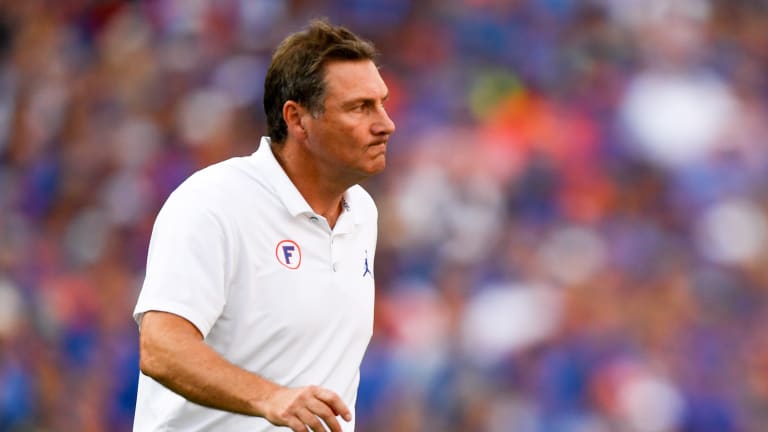 Five reasons why the Gators could pull off another Top 10 victory against LSU
Florida pulled off an upset win at home against Auburn last week. Here's how they can do it on the road against LSU on Saturday.
Well, here we go again. 
One week after a Top 10 SEC matchup in a prime television slot that brought College Gameday to town, the Florida Gators are going on the road for - you guessed it - a Top 10 SEC matchup in a prime television slot that is bringing College Gameday to town.
This time, the test is just a wee bit different.
The obvious is that the Gators aren't just going on the road this week, they're going to one of the most intimidating settings in all of College Football: Death Valley. 
The No. 5 LSU Tigers are a really good football team. And that's not to say Auburn wasn't good, but the Gators exposed a lot of flaws about Auburn, both offensively and defensively.
LSU hasn't really shown many issues to this point. They have run through their schedule like a freight train so far and have some believing they have a case for the best team in the country.
It's interesting how good they've been so far because this is not your father's LSU. While you could argue that this isn't a typical LSU defense, even though they still rank 17th in total defense in the country, they let up 38 points to both Texas and Vanderbilt, their only Power 5 competition thus far.
The reason this team is so different from what we usually see from LSU starts with the offense. Arguably the best in the country to date, the Tigers are the highest scoring team in the country and are ranked second in total offense. Averaging 54.6 points per game, this offense looks unlike anything we've ever seen out of Baton Rouge.
A lot has been made of the hiring of passing game coordinator Joe Brady, formerly of the New Orleans Saints, and the effect that he has had on the growth of quarterback Joe Burrow. LSU is playing more up tempo in the spread offense, and Burrow looks like a completely different QB than he did when the Gators picked him off twice in The Swamp last year. Clearly something is different with Burrow and he has made arguably the biggest year to year leap of any player in the country.
Now I know you're reading all those numbers and facts and saying "LSU is only favored by 13.5? I should hammer that!" Not so fast my friend. Let's not forget the Gators were a 2.5 point home underdog against Auburn this past weekend, and we all know how that ended. Underestimating a Dan Mullen coached team is not something I would recommend. Here are five reasons why the Gators could pull this upset off, or at least make it closer than the experts think.
5) Florida and LSU don't blow each other out
Florida and LSU have played each other every year since 1971, but the rivalry has really taken off this century with both teams emerging as national powerhouses, and especially within the past five years or so with the emergence of social media. It seems like every season, this is one of the most talked-about games between the players on Twitter and there is an ever-increasing distaste between these two teams on the field.
With the intensification of the rivalry has come better and closer games than we've ever seen between these two teams. Only two meetings this decade have been decided by more than a touchdown, and the last five have all been one-score games. The longest win streak this century is three games and LSU leads the series just 10-9 since 2000, which is the same record that home teams have over that span.
The point? This series is dead close. There is not a whole lot to separate these two teams and it is always a surprise if one team blows the other out. I would be very surprised if either team really puts the whooping on the other this weekend, and all signs point to a dogfight until the end.
4) Florida's defense is elite
It can not be overstated: After their dominant performance against Auburn, the Gators jumped to 5th in scoring defense (9.5 PPG allowed) and 11th in total defense (276.3 YPG allowed). They also lead the country in interceptions and are fifth in sacks. This is legitimately one of the best defenses in the country and if they play up to their standard no team in the country is going to blow them out.
Jabari Zuniga is expected to be 100% this week and back in the starting lineup for the Gators, a cherry on top of their already dominant pass rush. They were just fine without him against Auburn, recording 14 pressures on Auburn QB Bo Nix, but Florida needs all hands on deck to battle Joe Burrow.
There's also this: LSU has not faced a defense that even belongs on the same field as the Gators defense so far this season. Ranking out of 130 FBS teams, the defenses that LSU has faced are Georgia Southern (60), Utah State (95), Texas (104), Vanderbilt (125) and Northwestern State (112/124 in the FCS.) They just haven't been truly tested yet.
We will learn a lot about Joe Burrow this week and just how improved he really is when he faces this relentless Florida defense. It is up to Todd Grantham and the boys to force Burrow off his spots and put him under some pressure, throw off the timing and force him into the same mistakes we saw him make in The Swamp last year. If they force a few mistakes out of Burrow the Gators have a really good chance to win on Saturday.
3) LSU might be taking Florida lightly
I'm not usually a huge believer in this. I usually think it's a topic that talking heads on sports radio use to fill air space and yammer on about nothing all day with. However, I think there's something to be said about the attitudes from the two sides heading into this week's game.
There is A LOT of noise coming from the LSU side of things right now. Joe Burrow in his press conference this week went with the "We don't like them, they don't like us" approach. LSU defensive lineman Breiden Fehoko was talking about the way Feleipe Franks (whose name he forgot at the time) celebrated after the Gators win last year and said "I hope he plays this week. I don't know if he does but looking forward to getting after him."
First of all, how does LSU not know that Franks is out for the season?
The other part of it is LSU players appear focused on last year's game and the way Franks has behaved, rather than on the task at hand. That has to make every Florida fan out there at least consider that they're being underestimated.
Meanwhile, it's all quiet in Gainesville. There hasn't been any trash talk from Florida players, at least publicly. All the talk has been that LSU is a very good team, they have a tough task at hand and they are focused on preparing for that task and executing to the best of their abilities.
I am not by any means saying that LSU is not prepared or will come out looking that way, but doesn't it always seem like the team that gives out the bulletin board material usually comes out on the wrong side in these types of games?
2) Florida's offense has come through when they need it
Don't get me wrong, Florida's offense has not been great this year. But it's been good enough to get by. 
What Kyle Trask takes away from the offense on the ground he has made up for through the air since coming in for Feleipe Franks. Trask is completing 72% of his passes and has thrown for two touchdowns in every start he's made. He's even added two touchdowns on the ground. He has done what the Gators have needed him to do to win the games he has played in, and dominate teams they are supposed to.
Think about some of the defining plays of the season so far. The deep ball to Josh Hammond in the Miami game that sparked a stagnant offense to go on and win the game. The jet sweep to Josh Hammond that put the Kentucky game on ice after Trask came in and led a couple scoring drives. Then, of course, the 88-yard touchdown run from Lamical Perine that tucked Auburn into bed and gave them a kiss before saying goodnight last weekend.
The most important plays of the Gators 2019 season have surprisingly all come from the offense. For as much credit as we give the defense, and they deserve it, it has been the offense that has put games away when they need it most. If this offense can find a way to make the defining plays of the game on Saturday, it will be hard to imagine a scenario in which the Gators lose.
1) Dan Mullen is a damn good coach
As Mullen said this week, "We were the biggest game in the country last week, we're the biggest game in the country this week. That's what makes you want to play at Florida... so you can play in the biggest games in the country every week." 
These are the games that Mullen came back to Florida for, and he's finding success in these games with Florida compared to his time at Mississippi State. Mullen is 4-1 against Top 25 teams in as Florida's head coach, with three of those wins coming against Top 10 opponents.
Mullen knows how to gameplan to beat the best teams in the country - last week's game, among others, have proved that. Football is without a doubt the sport where coaching is most important and having a guy like Dan Mullen at the helm for this type of game has to make any person feel confident about their chances.
Just look at the way Kyle Trask handled being thrown into the fire, down 11 points on the road against a conference opponent. Teams are a reflection of their leader and the ability to jump into any situation and be prepared is something that without a doubt comes from the top.
Having Mullen is always an advantage for the Gators, and in a game where there is so little of a talent gap between two teams, coaching is definitely something that this game could come down to.
If last week the Gators made a statement, they could make a proclamation to the world with a win in Death Valley this week. It's crazy how quickly the focus shifted here in Gainesville from Auburn to LSU. It was like one day of celebration and talking about how great Saturday was, then right away all the talk was about LSU.
It's been an absolute whirlwind and it's exhausting to an extent, but it's the price that gets paid for having the ability to play in games of this magnitude week in and week out. A price that I'm almost 100% positive the Gators are willing to pay.