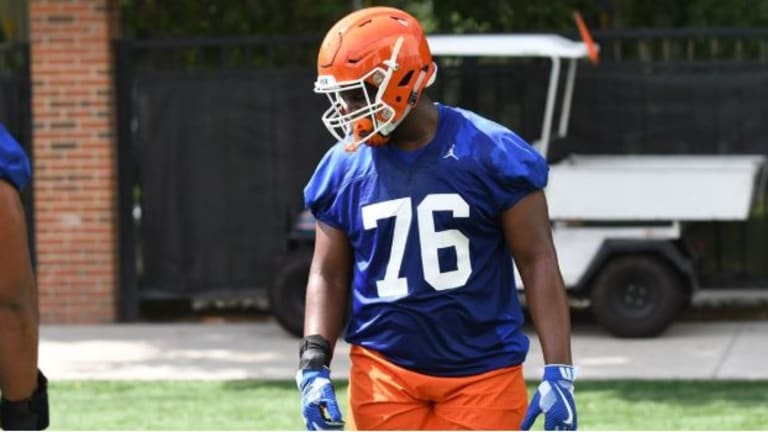 Gators Film Room: Gouraige, White's First Starts Were Promising
How did freshmen guards Richard Gouraige and Ethan White perform in their debut starts?
The Florida Gators entered the 2019 season with questions galore along their offensive line, and understandably so. With four new starters replacing three NFL talents and another high-caliber player, expectations were high for offensive line coach John Hevesy's young, inexperienced group.
The group, however, has struggled throughout the year. Florida's run blocking has been a consistent issue, particularly in zone blocking concepts. The unit's pass protection has been superior to it's run blocking, which as led to 55.3% of Florida's plays being passes compared to 44.7% run. Last season, that split favored the run at 59.2%.
Perhaps a shakeup to the line was necessary earlier in the year, because when it came by force this past Saturday against Vanderbilt, there were plenty of positives to take away.
Following the loss of starting right guard Chris Bleich to the transfer portal, and starting left guard Brett Heggie missing the game with a possible concussion, Florida put two freshmen to work at the guard sports in redshirt freshman Richard Gouraige on the left, and true freshman Ethan White on the right.
Gouraige has been in and out of the lineup this year as the unit has struggled, playing with 309 snaps at left guard and another 39 at left tackle. Gouraige technically started against South Carolina as Bleich missed the game with foot blisters, but the Vandy game was the Gouraige's first contest as a full-time starter.
White, who was a project recruit that weighed nearly 400 lbs. when he stepped on campus this past spring, is now down to 337 lbs and played the first meaningful snaps of his young career.
And the two freshmen played well in their debut. According to Pro Football Focus, the only quarterback pressure given up by the two guards was by White, and it wasn't some terrible play by the young guard either.
White shot into his block a little early on this rep, which lost him the pad level battle and gave up some leverage to the inside. The 3-technique took advantage of this, and utilized a dip move to get around White's inside shoulder and put some pressure on quarterback Kyle Trask - not that it mattered, as Trask completed a corner route pass to tight end Kyle Pitts.
Otherwise, the two guards did a great job in pass protection, and their run blocking was solid as well. But don't just take my word for it (you can do that after checking out the rest of the film room below), but take head coach Dan Mullen's.
Following the 56-0 win over Vanderbilt, Mullen was patient in assessing the guard play, stating that he'd have to "watch it more on film." However, from what he saw live, Mullen came away impressed.
"To me, a lot of times on the field is what I don't see, which is I didn't see any negative things with those two during the course of the game. I'm looking at a lot of different things. I'll watch on film. What I didn't see on the field is any negatives. Just walking off the field, those two guys did a heck of a job having to come in and play and play with confidence."
And after watching the film, Mullen had nothing but praise for White after his first legitimate bit of playing time. "Ethan I thought played really well. I thought he did a great job," Mullen told the media on Monday. "I just think a lot of it was, I mean he was able to stay relaxed and stay confident. He prepared the right way, played with confidence and I thought he played really well."
FILM ROOM
One of the first things that stood out on tape was White's processing of stunts. There was no such thing as tunnel vision in White's first start, as he kept his eyes forward and searching for work. That eye discipline led to White picking up stunts on the defensive front that Bleich sometimes struggled with at right guard.
On stunts, the defensive end uses the 3-technique defensive tackle as a screen across the outside shoulder of the guard and the right tackle in order to move inside and shoot the B-gap, but given his eye discipline and quick mental processing, White comfortably passed his block onto Jean Delance and engaged the B-gap rush, stonewalling the rusher in his tracks.
Gouraige did a good job processing stunts as well. With a solid initial chest punch to the interior defender and a quick hand swipe to force the defender out of his lane and towards left tackle Stone Forsythe on this play, Gouraige was plenty able to disengage the rusher as the edge moved towards the B-gap to shoot with some momentum. Once again, the young guards eliminate a stunt rush.
While this play doesn't result in a long gain, it's hard to imagine that White was pushing 400 lbs. when he stepped on campus this past spring. On a pull block across the line, White moves well and is agile enough to avoid Pitts' feet as he anchors a block himself. After clearing Pitts, White makes an immediate sharp turn to face vertical again, engaging the D-gap linebacker and sealing the interior off for Lamical Perine to cut upfield for a first down.
There were times when the two freshmen guards paired their processing ability as the blocking focal points of a play.
On two QB runs up the right side B-gap, Gouraige was used as a pulling blocker to seal off the edge from the inside, with White getting his hands to the defensive tackle's outside shoulder and driving him inside to the A-gap, clearing out the B-gap with Gouraige to create a running lane. White's pad level being below the defensive tackle's pads is key to create and maintain leverage as he drives this block inside. Trask utilizes the gap for a 10 yard gain on 3rd and 2.
Almost an identical (just missing the right tight end) blocking setup for an RPO here where Emory Jones keeps it. Gouraige pulls again and wins his block with a ton of power, driving his enclosing defender away from the B-gap and backward several yards. Meanwhile, White locks out his defender despite the rusher winning the pad level battle with a sinking rush move, which knocks White a little off-balance through the block but not nearly enough to beat the 337 lb. lineman.
The defender that Gouraige picks up was originally Delance's, who is performing a combo block with intentions of getting vertical to block the outside linebacker. However, Delance got lost in traffic as he moved towards the second level, totally missing the linebacker who moved inside and made a stop, holding Jones to a gain of two.
If Delance completes this combo block correctly, Jones likely advances the ball for a first down with his legs.
Gouraige, with good peripheral vision, anticipates a stunt that comes from the opposite 3-technique on White's outside shoulder. Had Gouraige not picked up on this and rather double-teamed Stone Forsythe's block, the A-gap would have opened up for as easy a sack as the stunting rusher could have found.
White sits patiently in case of a stunt coming his way, while slowing backpedaling in case he needs to provide a double team block to protect the pocket. As no work comes his way, White finds work of his own by pairing with center Nick Buchanan on a double-team vs. the nose tackle.
Like Gouraige, White's peripheral vision comes in clutch as he picks up on Delance getting widened-out by the edge defender, opening a gap that the edge could utilize a counter move to penetrate. As the defensive end attempts to disengage and move into the pocket through the gap, White moves quickly to close the hole and knock the defensive end off his path, likely saving Trask from a pressure given Delance's struggles on one-on-one blocks in space.
Even on this redzone sack (Delance gets beat on a one-on-one in space, go figure), Gouraige and White held their own just fine. Gouraige, with springy feet, mirrors his rusher outside without overpursuing as he expected, and embraced, a counter move inside. The rusher attempts a spin move, but goes nowhere as Gouraige and Co. swallow it up.
White delayed a rush from the defender standing over his outside shoulder. He mirrored the defender to the left, preventing any form of rush. As the defender backed off White went looking for work, and joined Gouraige and Buchanan in fending off the failed counter swim move.
The only negative play on tape from Gouraige was when he was beaten on a swim move. Gouraige advanced vertically with a lot of forward lean, which prevented any ability to set his feet and anchor the incoming rush. The defender utilized that leverage by swimming over Gouraige's helmet with his outside hand, and pushing Gouraige to the ground with his free hand. Like White's pressure above, this is fixable, and Gouraige will improve his balance with experience and further technical development.
All in all, Gators fans should be more than pleased with freshmen guards Richard Gouraige and Ethan White's debut starts. With a healthy Heggie and Bleich in house, Gouraige was still prominent in Florida's offensive lineup. As White performed well and should be considered a building block for this line going forward, expect to see him earn similar playing time as the sixth man when Heggie returns.
Even factoring in the competition level, both players flashed some impressive traits on tape including sharp mental processing, vision, power, agility, and most importantly the duo was constantly looking for work.
That ethic will go a long way in the SEC trenches, and surely left Mullen and Hevesy satisfied with their performances.