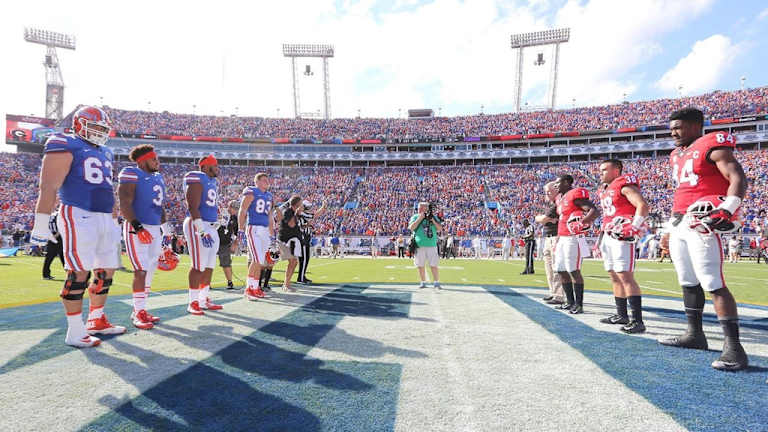 The Florida-Georgia Rivalry Is Woven in Fans' DNA
Florida-Georgia is more than just a football game- it's a tradition that has sparked love. And hate.
It's the early 1940s, and somewhere along the northern shore of Lake Weir in Weirsdale, Florida, stands a frail, feminine Norfolk, Virginia native.
Mary Elizabeth stands at the edge of the dock, with all 10 toes facing out towards the green water.
She dives.
One Mississippi. Two Mississippi. Three Mississippi.
She never comes back up.
Enter her knight in shining armor.
William Leo, a serviceman from WWII who hails from Weirsdale, jumps in after her — just like you see in movies.
Mary Elizabeth hit the sandy bottom and broke her neck. And, rumor has it, William Leo looked at Mary Elizabeth as he carried her ashore and said, "You're mine, now."
How adorable, right? The all-American love story that you're thinking is absolutely fabricated. But it's not.
Actually, it's the story of how my great grandparents met.
Now, what's this got to do with the Florida-Georgia game?
It has EVERYTHING to do with the Florida-Georgia game.
You see, following my great grandfather's heroics, he was so inclined to ask Mary Elizabeth on a date. And while Mary Elizabeth perhaps owed him one after he saved her life, she agreed, nonetheless.
One date turned into two, and so on and so forth.
According to my grandmother, who was used to help generate this timeline of events, the date happened to be the third or fourth date. My great grandfather was taking my great grandmother out of town – to Jacksonville for the big Florida-Georgia game. And in those days, any date out of the county was a BIG deal.
I guess you could say things were getting serious.
My great grandfather, being the 1940s gentleman he was, picked up my great grandmother from her home. Upon arrival, she waltzed out of her front door donning a red and black suit.
The enemy's colors.
The butterflies fluttering around in William Leo's stomach escaped. Instead, he was left with the internal battle of how to bring it up his budding girlfriend, that there was a MAJOR problem.
Unfortunately, he couldn't pull the "it isn't you, it's me." Because it was absolutely her. He couldn't be seen with her while she was wearing that.
My grandmother, who again, helped me tie up the loose ends of this story exaggerated the fact that my great grandmother was very proud of her suits. They imitated those worn by First Lady Kennedy.
How was my great grandfather to criticize that?
Now, the rest of the story is a little muddy. I know, I know, not exactly the cliff you want to be hanging on.
Just let it be known that Mary Elizabeth's red and black attire was replaced with an orange and blue t-shirt the second they got into Jacksonville.
To my granddaddy, it was THAT important. And for Florida-Georgia attendees, it still is.
This game is no joke.
And amazingly enough, the game history stands tall when backing up the passionate rivalry presented in Jacksonville.
For Florida football history geeks like myself, this is a series worth drooling over.
What's a good rivalry without historic disputes? Nothing, probably.
To no surprise, the history of the Florida-Georgia game starts with disagreement.
Like two spouses in a mid-kitchen spat, the University of Georgia claims the first game between the two schools was fielded in 1904. However, the University of Florida didn't dress their first official football team until 1906. And they don't claim to have played the Bulldogs as the Gators until 1915.
The team that the Bulldogs lined up against in 1904 was the Florida Agricultural College's squad – a predecessor of the University of Florida located in Lake City. That Florida football team lost 52-0 that year.
Maybe.
Florida claims that the Florida Agricultural College's football team lost to Georgia with a less-lopsided score of 37-0.
Dan Magill, a UGA sports history buff once said, "That's where Florida was back then. We can't help it if they got run out of Lake City."
I guess we don't really know who was playing that day. But we do know that it rocketed the ill-mannered feelings between these two football programs high into the sky.
And it seems like nothing has happened since to make amends.
Take 1966 for example. Steve Spurrier and the Gators marched into Jacksonville boasting a record of 7-0 and an opportunity to clinch their first SEC division title. Spurrier, who was heeding the weight of a Heisman campaign, threw three interceptions to a Georgia defense that dominated the Gators for four quarters.
Bill Stanfill, an all-American defensive tackle referenced Spurrier while recounting his early life on his family's farm in southwest Georgia.
"Holding pigs for my dad to castrate was quite a challenge. I can't say that helped prepare me for football, but it sure did remind me an awful lot of sacking Steve Spurrier."
Little did Stanfill know, Spurrier was the last guy he wanted to go around insulting. Because No. 11's time at Florida was far from over. Though we're not quite there yet.
Take a look at 1980, which brought on the famous "Run, Lindsay!" call that was heard around the college football world.
Trailing 21-20 to the underdogged Gators, the No. 2 ranked Bulldogs were slipping into urgency as time ticked past them. Faced with a third and long situation from their own 7-yard line, Georgia's quarterback, Buck Belue, hurled a 25-yard pass to Lindsay Scott who galloped down the sideline for the come-from-behind win which set up their 1980 consensus championship.
If you haven't caught on, Florida's beginnings in the Worlds' Largest Outdoor Cocktail Party, were about as humble as they come.
However, Saint Spurrier –that same guy Bill Stanfill jabbed at, entered Gainesville by storm nearly three decades after his Heisman winning campaign with the Gators. This time, as head coach – or rather, head ball coach.
And that snarky, hyperactive guy pacing the sidelines with a visor atop his head always had his sights set on the Bulldogs. Spurrier's Gators busted out to a five-game win streak over the Bulldogs – but in 1995 something special presented itself.
While the stadium in Jacksonville was under construction, the Florida-Georgia game was moved from its neutral site for the first time since 1932. Instead, each team hosted the game at their home field.
In 1994, the Gators defended Florida Field with ease in a 52-14 thumping of the visiting Bulldogs. In the subsequent year, Florida traveled to Sanford Stadium in Athens where a visitor had never hung 50+ points on the home team.
Well, if you know Steve Spurrier, you know exactly what happened next.
In a game nicknamed "half a hundred between the hedges", Coach Spurrier showed no remorse in running up the score to 52-17 in Florida's sixth straight win over Georgia.
What a guy, that Steve is. What a guy.
Now, the impeccable sportsmanship doesn't end there. In fact, it gets even wilder.
The "gator stomp" and the "gator stop" in 2007 and 2008, respectively, represents EXACTLY what this rivalry is all about.
Now, I've never been one to advocate for poor sportsmanship, but this – THIS is what makes college football special.
In 2007, the Gators came into Jacksonville ranked No. nine in the nation. With Heisman front-runner, Tim Tebow at the helm, the Gators had serious championship hopes. However, the No. 20 ranked Bulldogs would be quick to stomp out whatever raging fire the Gators had in terms of post-season aspirations… literally.
Following Knowshon Moreno's score in the Bulldogs' opening drive of the game, all of Mark Richt's Bulldogs would take to the field, stomping around in the end zone in celebration of the score. And while two unsportsmanlike penalties were assessed on the kickoff, the main goal was accomplished – get under Florida's skin. The Bulldogs went on to stomp their way to a 42-30 upset over the Gators.
However, a year later, the "gator stomp" was still fueling a fire deep within the Florida football program.
In 2008, the No. 5 ranked Gators and the No. 8 ranked Bulldogs squared off from Jacksonville in what was arguably the biggest meeting in series history.
While the Bulldogs turned the ball over four times in the second half, the Gators were running away with a 49-10 hosing of the Bulldogs. However, Urban Meyer wasn't ready to put the final nail in the coffin.
Despite the 39-point lead, Meyer proceeded to call his final two timeouts in the final minute of the game – allowing Florida's fans to bask in the glory while giving the few remaining Georgia fans time to get back to their car before the party in Duval commenced.
Those two years? That's Florida-Georgia in a nutshell.
Fast forward to present day, and we haven't had too much drama surrounding the Gators and Dawgs -- minus the social media circus on May 2nd of this year in which Florida fans took to Twitter to graciously remind Georgia fans that it had been 14,000 days since the Bulldogs last won their National Championship in 1980.
However, that doesn't mean it isn't coming. Because I assure you it is.
On the field, it boasts possible playoff implications. But off the field, it's bigger than that.
For Florida and Georgia fans across the country, this matchup is woven into their DNA.
And with such a composition, it's only right that cheap booze flows through their veins – fueling the hate of those dressed in the "enemies colors". All the while, fans begin wars -- hurling profanities at adjacent tailgate tents.
No wonder my granddaddy had my nanny change into an orange and blue t-shirt.
Still, with the little love that surrounds the Florida-Georgia game, major props to my nanny and granddaddy for pulling that off. They found themselves victim to Cupid's arrow in the most unlikely place on earth.
After all, we can't all fall in love at the Florida-Georgia game.
And given this rivalry's history – how could we?