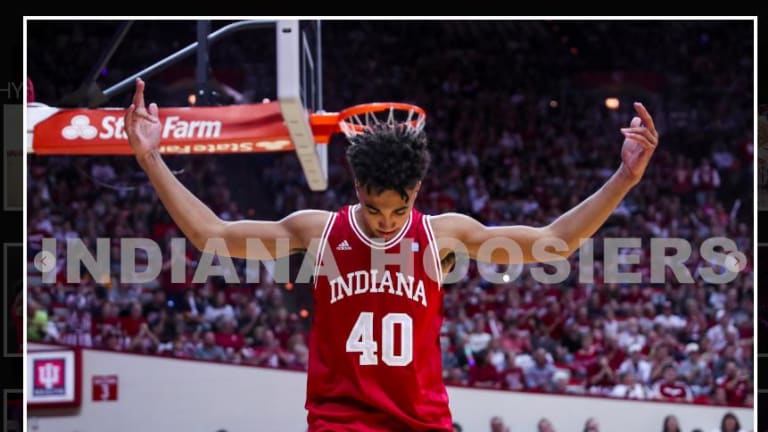 My two cents: Freshman Trayce Jackson-Davis already gets importance of IU history
Newcomer tips his cap, in a manner of speaking, to former Indiana great Calbert Cheaney, which endears him with Hoosiers fans immediately.
Newcomer tips his cap, in a manner of speaking, to former Indiana great Calbert Cheaney, which endears him with Hoosiers fans immediately.
Indiana basketball is all about history and tradition, especially for the older folks in the Hoosier Nation. So when you're a young current Indiana player getting your very first taste of Hoosier love, you can't ever go wrong tapping into IU's past.
Trayce Jackson-Davis already knows that. That's a smart kid, even as a true freshman.
At Hoosier Hysteria on Saturday, the 6-foot-9 freshman from Center Grove turned a lot of heads and raised a lot of eyebrows in the estimated crowd of about 14,000.
The McDonald's All-American has the Hoosier fan base excited anyway, but he took it from desire to outright love in one afternoon.
The day started with a great hello from Indiana coach Archie Miller, who introduced Indiana Hall of Famer Calbert Cheaney near the end of it. The crowd went wild for Cheaney, an all-time fan favorite in Assembly Hall for sure.
It ended with an eight-minute scrimmage, and Jackson-Davis had a few big moments there. But it was just prior to that that he endeared himself to the fans as a new legend.
While winning the Slam Dunk competition, first went through his legs for a dunk, which electrified the crowd.
https://twitter.com/IndianaOnBTN/status/1180594734802194439
But he sealed the deal by donning a Calbert Cheaney No. 40 jersey, and nailing a reverse dunk like Cheaney used to do on breakaways. He got a perfect 10 score from all three judges, including Cheaney.
It was a magical moment, at least magical as a basketball moment can be in the first week in October.
Cheaney, the Big Ten's all-time leading scorer who was a star on the last great Indiana teams in 1992 and 1993 that both contended for national championship, is being inducted in the College Basketball Hall of Fame this year. "That's a tremendous honor,'' he said. "It never gets old for me (coming back to Bloomington), and I'll support this program any way I can.
"I'm really excited to see what they can do this season.''
"That was a tremendous gesture and I really appreciated it,'' he said.
It was a big recruiting night for Indiana as well, and there was plenty of potential future talent in the house, too. IU Class of 2020 commits Anthony Leal (Bloomington South) and Trey Galloway (Culver Academy) were in the house. as were several huge targets in both the 2020 and 2021 classes 
Cheaney is an Evansville, Ind., native, and maybe it was only a coincidence that one of the key targets in the room was Khristian Lander, the No. 1 point guard in the country from Evansville Reitz. Targets Caleb Furst and Trey Kaufman were also in attendance.
"I'm 100 percent behind Archie, and I hope you are too,'' Cheaney said to fans.
Calbert, it seems, also got some quality time in at Nick's on Saturday, which is always a good thing.