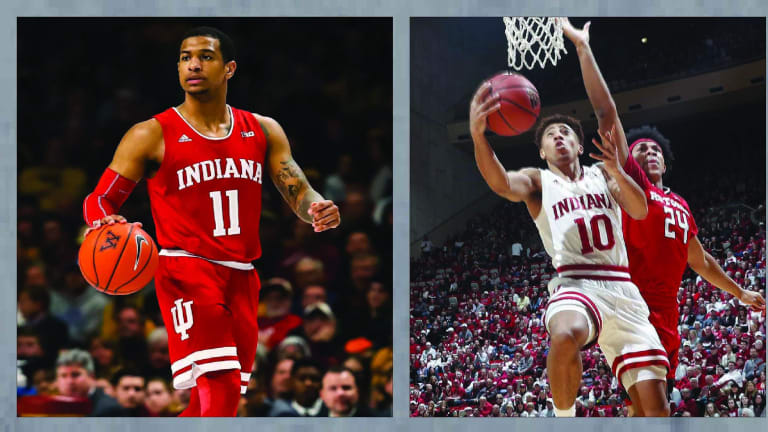 Green, Phinisee out for Indiana Exhibition Opener
The Hoosiers' two projected starting guards are battling injuries and won't play in Tuesday night's opener, so young guys will be counted on early.
BLOOMINGTON, Ind. — Indiana's starting backcourt won't play Tuesday night when the Hoosiers play their lone exhibition game of the season at Simon Skjodt Assembly Hall.
Senior Devonte Green and sophomore point guard Rob Phiniseee have both been slowed by injuries during preseason workouts, Indiana coach Archie Miller said Monday. Green has been in and out of practice with a hamstring issue and Phinissee "hasn't been a part of anything that we've done here in October'' because of a lower abdominal injury, Miller said. 
"We've been battling the injury bug a little bit,'' Miller said. "We're knocking on wood, hoping that it's not too serious as we continue to pursue our nonconference (schedule).''
The exhibition game against Gannon, a Division II school from Erie, Pa., is just one week before the season opener against Western Illinois. Miller doesn't have a timetable for when his two guards will be ready to play.
"We're hopeful that those guys can keep progressing,'' he said. "Devonte has been on a wave of out then back a little bit, now out again. He's dealing with a hamstring, and hamstrings are delicate. We want to make sure we're putting him in a situation where he's confident.

"And to ask (Rob) to play (Tuesday) would be sort of unfair a little bit. Hopefully he's getting closer to getting back to work with us full go.''
With both guards out, junior captain Al Durham has been playing point guard. He played well in a closed-door scrimmage with Marquette last weekend in Indianapolis and will lead the team Tuesday. Armaan Franklin, a true freshman from Indianapolis, likely will get plenty of playing time, too.
"Al is a junior now, and he knows exactly what he's doing,'' Miller said. "He's a leader on our team and a great teammate. As coaching staff, I think we look at him and depend on him every single day for great attitude more than anything. He's kind of leading by example.''
Durham missed the last 10 minutes of the Marquette scrimmage because of a minor injury.
"I'm hopeful that he gets back going full speed, because he was doing such a good job for us the first two to three weeks leading into the scrimmage game, and then he did a nice job with the scrimmage,'' Miller said. "I thought he really played a good floor game for us and pushing the tempo for us in that scrimmage.''
Franklin, who was Indiana's leading scorer in the Marquette scrimmage with 14 points, is being pushed into a key role early because of the injuries, but he's handling it well and showing a lot of maturity for a freshman. 
"Armaan is really important in what we're doing. He's had to handle a significant amount of repetitions in practice,'' Miller said. "He's dealt with his own ankle and some illness here early, but he is doing a good job. He's ahead of schedule in terms of his learning curve. He's a smart guy; he's very coachable. 
"Armaan is going to play a big role for us all season long. He's earning it right now. He's doing a good job.''
Tuesday's exhibition starts at 7 p.m. The game is not being television but it can be streamed on the BTN-Plus service. 
This is Archie Miller's third season with the Hoosiers. They finished 19-16 a year ago.