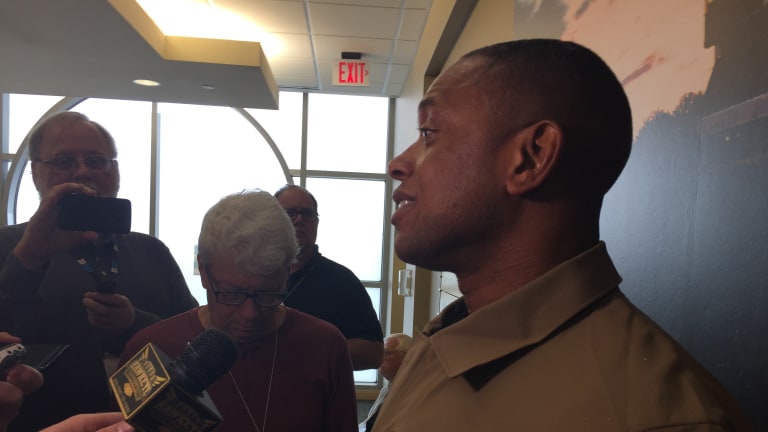 Armstrong: Iowa Feels Like 'Home'
Former guard was Homecoming grand marshal.
Former guard was Homecoming grand marshal.
"That game."
B.J. Armstrong says he has talked about "that game."
It came up in a recent conversation with former Iowa teammate Kevin Gamble. It came up again during lunch in Iowa City with former coach Tom Davis.
"We were still talking about that game, what we could have done," said Armstrong, who was a guard on that 1986-87 Hawkeye team that reached the West Regional final of the NCAA tournament, when Iowa wasted a 16-point halftime lead in an 84-81 loss to UNLV.
Armstrong, back in Iowa City as Iowa's Homecoming grand marshal, talked about his time with the Hawkeyes, when he went to four NCAA tournaments and left as the program's all-time leader in assists.
"From the first moment I stepped foot on campus, it's been incredible," Armstrong said on Saturday before Iowa's football game with Purdue at Kinnick Stadium. "I've always considered this home. They've always welcomed me with open arms.
"As much change as you've had, some things remain the same. It has the same feel, the same warmth, that I remember from 35 years ago."
Armstrong was part of the early years of the Davis era. The 1986-87 team won 30 games and were ranked No. 1 nationally in January.
"I think those years, we had a special group here," Armstrong said. "We had great leadership.
"People, they just took to that team. There was just something about it — the fans, the people, the team — it all came together."
Armstrong and the rest of the roster thrived in Davis' up-tempo style on offense and defense.
"When you play at that style and pace, you play more players," Armstrong said. "Everyone had to be ready. It was great for me, helping get me ready for the NBA.
"I was used to the tempo, the style, how we played — we extended it to a 94-foot game. It was a great opportunity. All of the players, we liked playing that style."
Armstrong went on to an 11-year NBA career that included winning three championships with the Chicago Bulls from 1991-93.
Armstrong met with the current Iowa basketball team on Friday. He called coach Fran McCaffery, "a master of getting guys together. He's one of the best in the business."
Asked what he liked most about Iowa City, Armstrong told about the elevator ride he had in the Kinnick press box before the game.
"There were two women in there, and they just kept smiling," Armstrong said. "I told my wife, 'That's why I came here.' Because people just smiled. People were happy. They talked to you in the elevator. Living in other cities, other places, that doesn't always happen.
"I came from Detroit. I wasn't used to that, people smiling all of the time, people smiling and helping you. I just heard a story, a young lady was saying she lost her jacket last week, and she had money in it. We were joking — if that happens in Los Angeles, you wouldn't see the jacket again, let alone the money in the pocket. Stories like that, it makes this place special. I've always said it's about the people — people make this place special. I'm really proud to say this is home, because it always feels like home."