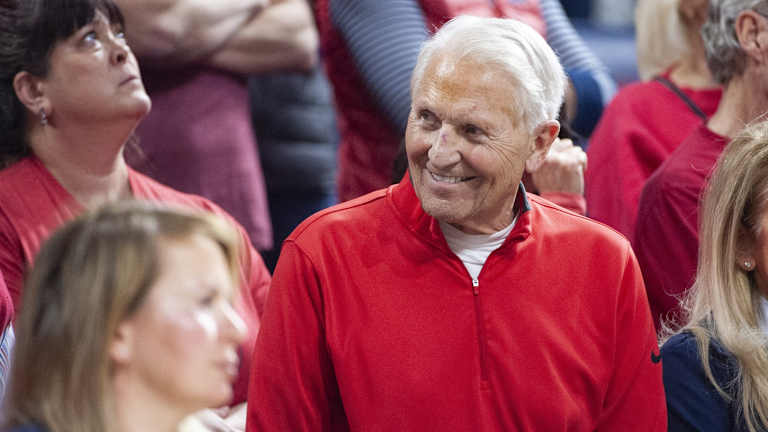 Hall Of Fame Coach Lute Olson Dies
Legendary coach led Iowa to 1980 Final Four as part of his nine-year career with the Hawkeyes.
Lute Olson, the Hall of Fame coach who took Iowa to the 1980 Final Four, died Thursday at age 85.
Olson coached the Hawkeyes from 1974-83, posting a 168-90 record. He left Iowa to coach at Arizona for 25 seasons, winning the NCAA championship in 1997.
Olson was part of a revival period of Iowa athletics when he was hired by athletics director Bump Elliott. Elliott also hired Hayden Fry to be Iowa's head football coach in 1979, and two seasons after he was hired Fry led Iowa to a Big Ten title and a berth in the Rose Bowl. Elliott, Fry, and Olson have all died in the past nine months.
Olson took over at Iowa after one season as head coach at Long Beach State. He went 10-16 in his first season in 1974-75, but two years later the Hawkeyes went 20-7 overall, 12-6 in the Big Ten, the program's first 20-win season in seven years.
The Hawkeyes shared the Big Ten championship in the 1978-79 season, losing to Toledo in the first round of the NCAA Tournament. But that team made up the nucleus of the 1980 team that won 23 games and reached the Final Four.
Iowa defeated VCU and North Carolina State in the first two rounds of the tournament, then knocked off Syracuse in the regional semifinals before a dramatic 81-80 win over Georgetown sent the Hawkeyes to Indianapolis for a chance at the national championship.
But the Hawkeyes lost to Louisville in the national semifinals after guard Ronnie Lester went down with a knee injury.
In 2016, when Olson and Lester returned to Carver-Hawkeye Arena for Iowa's game against Iowa State, Lester's injury was still on Olson's mind.
"We would've won (the national championship) that year if he had been healthy," Olson said.
Olson's next three Hawkeye teams combined for 64 wins, reaching the NCAA Tournament each season. His final team at Iowa reached the regional semifinals, losing to Villanova.
Olson left soon after that for Arizona, but never forgot the success he had at Iowa.
"I look at my nine years in Iowa as a special time in my life,'' he said during his 2016 appearance.
"Coach Olson was a role model for me, not just as a coach but as a man, as a husband, as a father, and that kinds of rubs off on you," Lester said as he stood next to Olson that night in the basketball practice facility at Carver-Hawkeye Arena. Carver-Hawkeye Arena opened in Olson's final season with the Hawkeyes.
Olson went 781-280 in his college coaching career. He is a member of the Basketball Hall of Fame and the National Collegiate Basketball Hall of Fame.