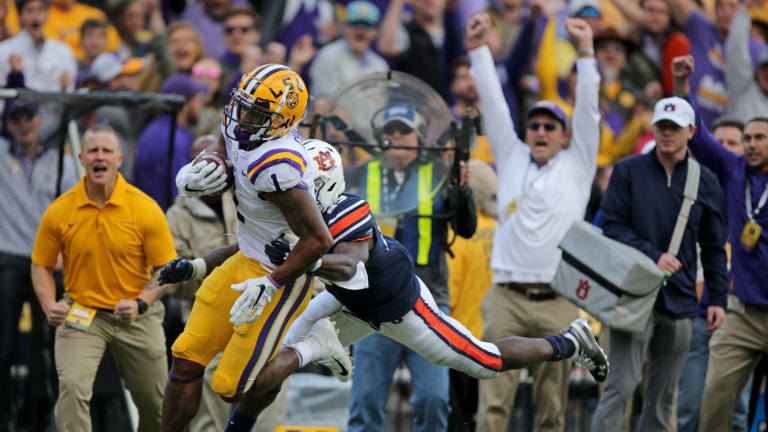 For LSU to Find Success Against Alabama, Fundamentals Must be Pristine
After 12 penalty game against Auburn, much of the bye week has been spent correcting team fundamentals
There's a ton of good things being said about this No. 1 ranked LSU team these days. Coming with those positive outlooks are lofty expectations for a 2019 team that has pretty much re-written the script of what to expect from an LSU play style.
Long gone are the days of the LSU defense trying to keep opposing offenses out of the endzone just so the LSU offense could muster 17 or maybe 20 points.
Nope, this year has been about a revamped offense that proves week in and week out to be among the best college football has to offer and a defense that over the last four weeks has finally seemed to discover an identity.
They've won in blowout fashion and after last week's 23-20 win over Auburn, have won when the team isn't clicking on all cylinders. Last week's game was an eye-opener of what the team can and can't get away with when the offense is going through dry spells.
What they need to do is force turnovers on defense and make sure the offense retains solid field position. Those two can both be marked as successes as LSU forced Auburn into a key interception at the end of the first half and consistently provided Joe Burrow and company with great field position in the second half. 
What can't happen is turnovers on special teams and penalties, which happened in abundance on Saturday against Auburn. 
The Tigers racked up 12 penalties for 118 yards against Auburn, a statistic that simply won't translate to winning come Nov. 9. Five penalties were called on the offense, five on the defense and two on special teams, meaning there's plenty for the team to be working on over the bye week.
Well this week in practice was spent primarily focusing on the fundamental side, knowing every mistake could prove costly against the Crimson Tide.
For the offensive line, this week was spent improving their hand placements on pass protections, being more physical at the point of attack and continuing to make strides in the run game.
Center Lloyd Cushenberry said the success of the offense starts up front with the offensive line, saying if they do their job, it makes the offense run smoothly.
"If we do our job and open up holes for the run game, give Joe time, the offense will be even more special than it already is and we just have to keep that going next week into a hostile environment," Cushenberry said. 
As for the skills positions on offense, particularly the receiver group, the bye week practices were spent working on being more physical at the line, coming back to the ball on routes and adjusting to when defenses try to double team.
Sophomore receiver Ja'Marr Chase has been adjusting to his fair share of double teams in recent weeks, but didn't let that faze him against Auburn, catching eight passes for 123 yards in the win. 
Chase was asked if he expects opposing defenses to continue to double team him, particularly now that fellow sophomore Terrace Marshall is back in the fold.
"I would hope not," Chase said. "If it does come to that then I have to be prepared for it. The only thing I can do is run my routes full speed until I get the ball and take on whoever's with me [in coverage]."
On defense, the secondary focused on eye discipline, breaking towards the ball at a quicker pace and extra "little tricks and techniques" that can make a profound difference in preventing big plays. The LSU defense has turned the page the last month of the season, holding Utah State to six points, Mississippi State to 13 points and Auburn to 20 points this past weekend.
Junior inside linebacker Patrick Queen said the focus for the linebackers was tackling, preventing extra yards and missed tackles for the offensive player, saying that's something the skills players for the Crimson Tide are very proficient at.
"That's where they [Alabama] picks up a lot of yards, is on missed tackles," Queen said. "If we can keep our missed tackles down we'll be fine.
Alabama likes to utilize the middle of the field, firing quick slant routes and allowing their skills players to make plays with their legs. The middle of the field is primarily where Queen and fellow inside linebacker Jacob Phillips will be manning most of the game. Queen says it'll be on them to contain those routes as much as possible and make sure the Alabama receivers don't break into the back half of the secondary.
"That's going to be a big factor so we're really going to try to take those things away and see if they can play in between the tackles," Queen said. 
Queen, as well as the rest of the team, have found ways to reflect on what this matchup symbolizes individually for each player. For Queen, it's about realizing that these opportunities don't come along every day and to make the most of them when they do.
"In high school I was a part of that talk before a big game so I'm pretty used to it, I think a lot of the guys in the locker room are used to it coming from big schools as well," Queen said. "I think us just being experienced with those types of games but being able to block it out at the same time I feel like will be big for us in not over-hyping this game."