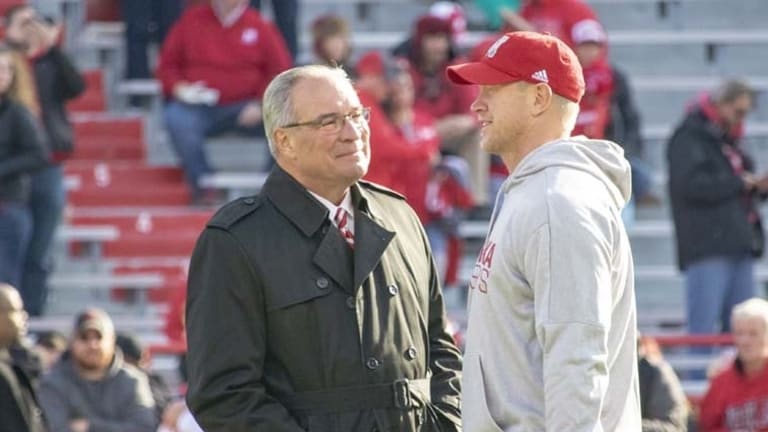 Bill Moos Stepping Down as Nebraska Athletic Director
Major hires and a major project marked his 3½-year tenure.
Major hires and a major project marked his 3½-year tenure.
Nebraska will be looking for a new athletic director.
AD Bill Moos announced Friday morning that he is retiring from the position effective June 30. It will end a 40-year career in collegiate athletics.
"I step away completely content, knowing that our athletic program is reborn and rebuilt and that it has a solid, stable foundation," the 70-year-old Moos said in a statement.
Later Friday, when reached by the Lincoln Journal Star, he declined to say whether the decision to retire at the end of the current fiscal year was solely his.
"I started to think about it a year and a half ago or so," Moos told the newspaper. "Then the pandemic hit and there was no question that this ship needed its captain to navigate through that tough time."
He told the Omaha World-Herald that he'd had conversations recently with University of Nebraska-Lincoln Chancellor Ronnie Green about his buyout and was informed last week that he would retire almost immediately.
"Apparently this was the best time," Moos told the World-Herald while declining to say who told him he'd be retiring.
Moos was hired in 2017 with a contract that ran through the end of 2022. He oversaw the major sports hires of Scott Frost for football, Fred Hoiberg for men's basketball and Will Bolt for baseball. In total, Moos hired 12 Husker head coaches.
The Go Big Project, including the new $155 million football facility, broke ground earlier this year after Moos led the department through the COVID-19 pandemic.
"The incredible challenges posed by the COVID-19 pandemic were numerous and widespread," Moos said in the release, "yet our staff never wavered, never shied away from our fundamental responsibilities to protect health and safety and then to ensure the long-term stability of our Department. I am grateful for our staff's service and commitment to our work and I have no doubt that great things lie ahead for Husker Athletics."
Moos said in a his statement that he is appreciative of his time in Lincoln.
"I have been so fortunate to work as the Director of Athletics at four wonderful schools and have seen a lot but I have never witnessed and experienced the passion of fans like we have at Nebraska. The unflinching support of our programs and of our university is inspiring and unmatched. I have visited every part of our great state and engaged with thousands of Husker fans over the years, and there truly is No Place like Nebraska."
Nebraska will now look to hire the 16th athletic director in school history. Garrett Klassy, senior deputy athletic director for external relations, will se interim athletic director.
This is a developing story. Follow the discussion on HuskerMax, and get additional coverage and analysis via these links. Scroll down for Adam Carriker's gut reaction:
Commentary
Possible candidates
General coverage
Timelines, galleries, etc.
Adam Carriker's gut reaction