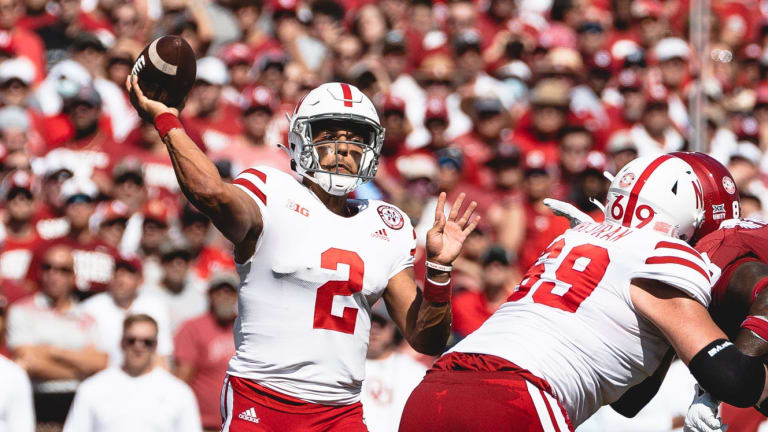 Comparing Current and Transferred Nebraska QBs
Adrian Martinez stands above the rest for 2021 production
The quarterback position has been a known commodity for four seasons with Adrian Martinez at the helm.
But with Martinez starting the majority of games, several Nebraska QBs have come and gone. Here is a look at how the current and former Huskers quarterbacks performed in 2021.
Adrian Martinez, Nebraska
Martinez was the undisputed starter for the Huskers for 11 games. The only game he missed was the season finale, due to injury. He set the program record for offensive yards per game with 308, and extended several career records. Through the end of the regular season, Martinez ranked second nationally in 70-yard runs (2) and fifth in 60-yard runs (2).
Passing: 189-306, 2,863 yards, 10 INTs, 14 TDs
Rushing: 133 attempts, 525 yards, 13 TDs
Logan Smothers, Nebraska
Smothers made his first career start in the season finale, throwing for 198 yards and rushing for a pair of touchdowns. He appeared in five other games during the season.
Passing: 23-33, 317 yards, 1 INT, 0 TDs
Rushing: 37 attempts, 133 yards, 2 TDs
Heinrich Haarberg, Nebraska
The true freshman did not appear in a game in 2021.
Passing: 0-0, 0 yards, 0 INTs, 0 TDs
Rushing: 0 attempts, 0 yards, 0 TDs
Matt Masker, Nebraska
The walk-on sophomore made it into two games during the season.
Passing: 3-3, 17 yards, 0 INTs, 0 TDs
Rushing: 1 attempt, 13 yards, 0 TDs
Luke McCaffrey, Rice
Made his only two starts of the season in the first three games before being relegated on the depth chart. Ultimately appeared in nine games for the Owls.
Passing: 31-62, 313 yards, 4 INTs, 2 TDs
Rushing: 41 attempts, 132 yards, 2 TDs
Noah Vedral, Rutgers
The former UCF Knight who followed Scott Frost to Nebraska started all 12 games for Rutgers in 2021. Vedral was voted a team captain.
Passing: 172-290, 1,736 yards, 6 INTs, 7 TDs
Rushing: 92 attempts, 280 yards, 2 TDs
Patrick O'Brien, Washington
After 12 starts in three seasons at Colorado State, O'Brien saw action in just two games for Washington this past season.
Passing: 1-3, 1 yard, 0 INTs, 0 TDs
Rushing: 1 attempt, 12 yards, 0 TDs
Tristan Gebbia, Oregon State
Left Lincoln after losing the job to Martinez early in 2018. Gebbia played in eight games between 2019 and 2020. He injured his hamstring against Oregon last year and did not recover enough to play this season.
Passing: 0-0, 0 yards, 0 INTs, 0 TDs
Rushing: 0 attempts, 0 yards, 0 TDs