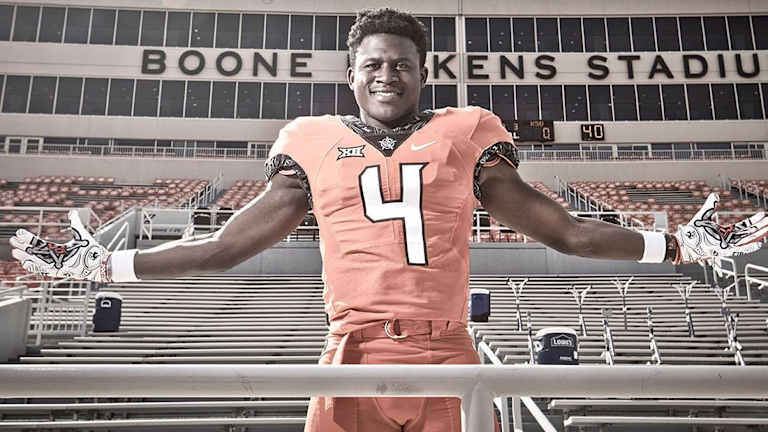 Ngata Changes Commitment Date
Four-star all-purpose running back Daniyel Ngata has changed his commitment date
STILLWATER -- Yesterday, the Oklahoma State faithful were on pins and needles awaiting the commitment decision by four-star 5-9, 180-pound all-purpose back Daniyel Ngata. When the tweet came across, it was a commitment to play in the Pro Football Hall of Fame World Bowl on Dec. 21.
The game is being televised on CBS and it's at this game where Ngata will announce his commitment decision.
Out of the 24 total offers, the other schools that are in the running to land Ngata are Arizona State, Clemson, Texas A&M and Utah, but he's been on official visits to Texas A&M on June 21, Arizona State on Sept 20 and Oklahoma State on Sept 27.
Ngata is not only one of the top all-purpose backs in the country, but he's also one of the top overall prospects as well. According to the 247Sports Composite rankings, Ngata is listed as a four-star prospect and checks in as the No. 56 overall recruiting in the country, the No. 2 all-purpose back and the No. 8 overall prospect out of California in the 2020 class.
Besides being invited to participate in the Pro Football Hall of Fame World Bowl, Ngata has also been selected as an Under Armour All-American, along with current Oklahoma State four-star quarterback commit Shane Illingworth.
To give you an idea of just how good of an athlete Ngata is, this is how he was evaluated by 247Sports National Recruiting Editor Brandon Huffman.
First off, he compares him to Christian McCaffrey. "Runs more powerfully than expected, but lacks optimal size for an every down back. Runs with burst and a threat for a big play whenever ball is in his hands. Shows good patience and vision while waiting for the hole and can hit the hole and get upfield instantly. Shiftiness and ability to make defenders miss. Has superb hands out of the backfield and can be used as a vertical threat, and could play in the slot. Projects as immediate Power 5 contributor and projects as a second day NFL draft pick."
Landing Ngata would be massive for Oklahoma State, not only talent-wise, but also gives a massive boost to recruiting. Ngata is one of two running backs that Oklahoma State is currently trying to land, Owasso's Isaiah Jacobs is the other.
With the possibility of Chuba Hubbard going to the NFL after this season, and with redshirt freshman Jahmyl Jeter entering the transfer portal earlier this fall, it's imperative that Oklahoma State lands two backs in this class.