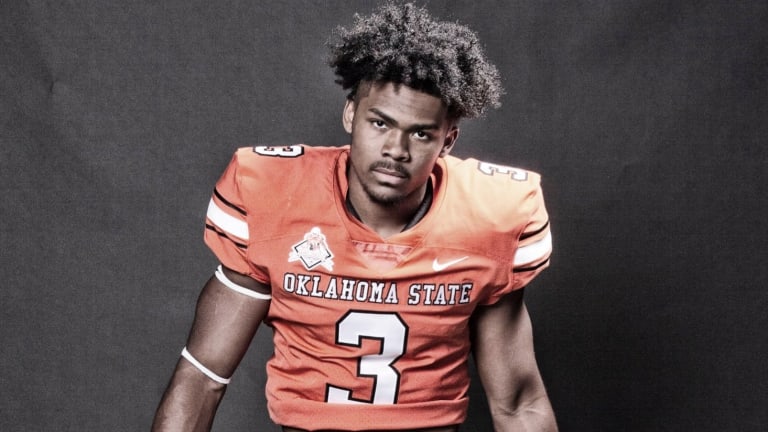 OSU Makes the Cut for Top Oklahoma 2020 Running Back
Owasso 2020 running back Isaiah Jacobs cuts his list of schools down to five
STILLWATER -- The search to land a running back in the 2020 class for Oklahoma State just took another step forward as Owasso running back Isaiah Jacobs including the Pokes in his cut down to five schools.
Jacobs took to Twitter Friday evening to make the announcement. He whittled his list of 15 offers down to the five of Oklahoma State, Arkansas, Maryland, Michigan and Ole Miss.
Isaiah Jacobs, a 5-10, 195-pound running back out of Owasso (OK) High School is one of the more-sought after prospects in the state of Oklahoma.
I spoke with Jacobs just before the start of the season and had said that he was in contact with running backs coach John Wozniak and head coach Mike Gundy just about every day and that the Pokes were very high on his list.
It's very apparent that the Pokes kept up that contact as they've made the cut. I would also imagine that having a Heisman candidate, and top running back in the country in Chuba Hubbard also helps in that department.
Every prospect wants to go where they can flourish and it's obvious that Oklahoma State can consistently churn out great backs.
Jacobs, the younger brother of former Alabama running back, and current Oakland Raider Josh Jacobs, has had a solid senior season. Through the first seven games of the season, only playing in four, he's racked up 632 yards and six touchdowns on 76 carries. He's also hauled in 160 receiving yards and two touchdowns on just 11 receptions.
That's on top of a great junior season where he rushed for 1,024 yards and nine rushing touchdowns on 151 carries and 296 receiving yards and one touchdown on 27 receptions.
Jacobs is listed as a three-star prospect and checks in as the No. 696 ranked prospect in the country, the No. 46 running back and the No. 6 overall prospect from Oklahoma in the 2020 class.