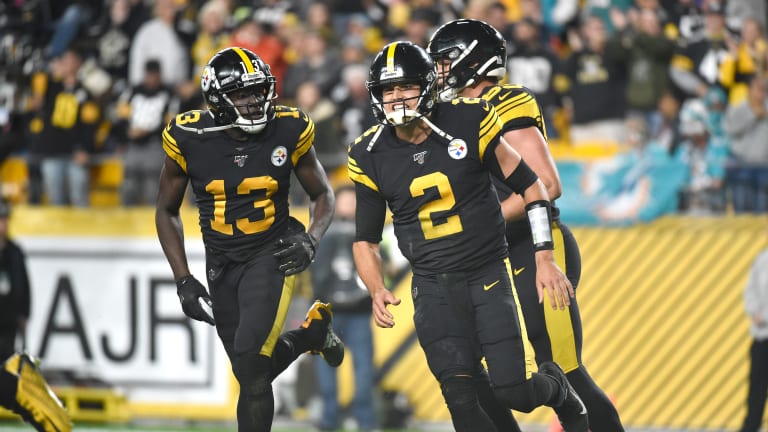 Pokes in the NFL: Week 8
A look at the Pokes in the NFL, including the return of Mason Rudolph
STILLWATER -- Just like the Pokes that are still in Stillwater, it was a very successful week for the Pokes in the NFL. And, of course, that includes the return of Mason Rudolph.
Steelers quarterback Mason Rudolph suffered a concussion against the Ravens in week five and had to sit out week six against the Chargers. The Steelers were off last week, so last night's game against Miami was the return of Rudolph and boy did he shine.
Rudolph started the game 1-for-5 for just 14 yards an interception, but he then started to find his rhythm. Rudolph would finish the game on 20-of-36 passing for a career-high 251 yards with two touchdowns and the one interception en route to a 27-14 win over the Miami Dolphins.
Former Oklahoma State teammate, and current Steelers teammate, receiver James Washington finished the game with just one reception for 21 yards.
One of Rudolph's touchdowns, while it wasn't to Washington, did include an impressive block by Washington, one that Tylan Wallace and Kasey Dunn would be proud of.
The Steelers will be back in action this coming Sunday as they play host to the Indianapolis Colts. Kick is set for 12 noon on CBS.
Dan Bailey and the Minnesota Vikings took on the Washington Redskins and won 19-9, thanks to the leg of Bailey. He was 4-for-4 on field goals and 1-for-1 on extra points to finish the night with 13 points.
The Vikings travel to Kansas City this weekend to face Emmanuel Ogbah and the Chiefs. Kick is set for 12 noon on FOX.
The Seahawks traveled to Atlanta this past weekend and beat the Falcons 27-20. Seattle running back Chris Carson led both sides in both carries and yards, 20 carries for 90 yards and he also had one touchdown.
As for corner Tre Flowers, he had to sit out with a minor injury, but is expected to be back on the field for week nine action against Tampa Bay. That game is scheduled for a 3:05 p.m. CT start on FOX.
We're back to talking about the Los Angeles Chargers once again as offensive lineman Russell Okung made his first start of the season last night. Okung missed the first seven games of the season after suffering a pulmonary embolism back in June and was told that he would never play football again.
Okung played roughly 80 percent of the Chargers snaps, but was forced to come out in the fourth quarter after he sustained a calf injury. It was only then that the Bears recorded their first sack of the game, and it came from Khalil Mack, whom Okung had been blocking all night.
The Chargers came away with a 17-16 win and will play host to the Green Bay Packers this weekend. Kickoff is set for 3:25 p.m. CT on CBS.
The Oakland Raiders fell to the Houston Texans 27-24 this past weekend and neither Marcell Ateman or Justin Phillips recorded any stats. The Raiders play host to the Detroit Lions next week with a 3:05 p.m. CT kick on FOX.
The Kansas City Chiefs played host to one of the hottest teams in football this past Sunday, the Green Bay Packers. Unfortunately for Emmanuel Ogbah and the Oklahoma State fans that root for KC, the Packers came away with the 31-24 win.
Ogbah finished the game with four total tackles, three of which were solo stops. He also recorded one sack and three quarterback hits. As for Tyreek Hill, he finished the night six receptions for 76 yards.