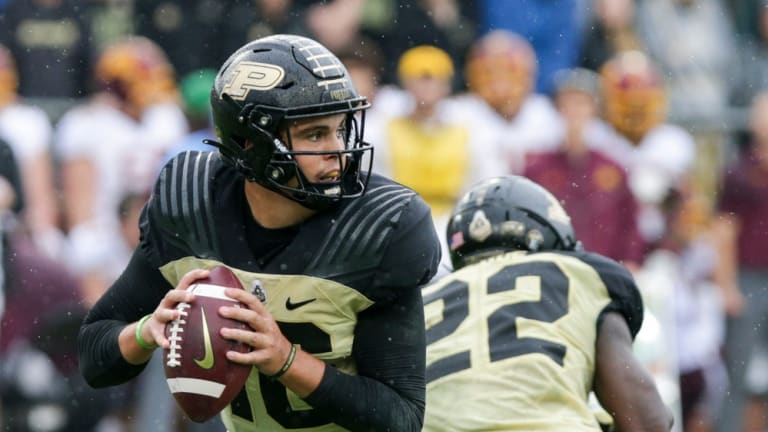 Publish date:
LIVE BLOG: Follow Saturday's Purdue-Iowa Game in Real Time; News & Analysis
The Purdue Boilermakers are back in action Saturday following a bye week. They'll face off against the No. 2 Iowa Hawkeyes on the road at Kinnick Stadium. You can find all the latest updates in real time in our live blog.
WEST LAFAYETTE, Ind. — The Purdue Boilermakers return to game action after a bye week and will look to get back on track. They'll face a tough task with the undefeated, No. 2 Iowa Hawkeyes in front of them. 
Purdue lost to Minnesota 20-13 at Ross-Ade Stadium two weeks ago, bringing the team to a 3-2 record on the year. The game against Iowa is scheduled to kick off at 3:30 p.m. ET. Here's a look at how to watch the game, including TV information and point spreads on the game. CLICK HERE
Here's how our LIVE BLOG works. We'll keep you updated on everything that goes on in the game in real time, keeping you up to date on injuries, scoring plays and trends. Throughout the game, I'll provide my own analysis as well.
Purdue has had success against Iowa during coach Jeff Brohm's tenure, but can it pull off a massive upset? Buckle up for the ride, and we'll see if this group has what it takes: 
3:35 p.m. ET — Iowa wins the coin toss and elected to receive the football to start the game. Purdue's defense out on the field first. 
3:40 p.m. ET — Purdue gave up a huge, 38-yard pass to open the game, but three plays later forced Iowa into a 3rd-and-long situation. Hawkeyes' quarterback Spencer Petras threw into traffic and his pass was intercepted by linebacker Kieren Douglas. 
Aidan O'Connell and the Boilermaker offense takes over for their first drive of the game. 
3:43 p.m. ET — Purdue goes 25 yards in seven plays put ends up punting the ball. Iowa will get its second chance with the football at its own 14-yard line. O'Connell completed passes to three different players before failing to convert on third down. 
3:50 p.m. ET — The Boilermakers take down Petras on third down. Branson Deen credited with the sack, and the Hawkeyes are forced to punt after a three-and-out. Defense off to a strong start here on the road, but it'll be up to the offense to capitalize early on. 
4:00 p.m. ET — Purdue deployed three different quarterbacks on its second drive of the game. Jack Plummer and Austin Burton both entered for designed quarterback rushes. 
O'Connell's arm is what got the Boilermakers inside the red zone, where the team has struggled all season. From the eight-yard line, it took three plays for Purdue to find the end zone. O'Connell got it done with his legs, scrambling up the middle and across the goal line for a touchdown, capping off a 10-play, 67-yard drive. 
Purdue leads Iowa 7-0 with 3:38 remaining in the first quarter. 
4:09 p.m. ET, END Q1 — Iowa on the move after Purdue took a 7-0 lead in the first quarter. The Hawkeyes will have the football with first-and-10 from the Boilermakers' 37-yard line to begin the second quarter. 
4:20 p.m. ET — Jalen Graham had a potential pick-six slip right through his hands on a third-down pass attempt by Petras in the red zone. Defense stands its ground, and Iowa misses a chip shot field goal. 
The Hawkeyes came away with an empty possession after a 17-play, 68-yard drive. Purdue takes over from the seven-yard line. 
4:25 p.m. ET — David Bell versus the Iowa defense: Bell has had the advantage during his career. Facing third down and long, O'Connell hits bell on a short pass. The star receiver broke a tackle and raced 60 yards to the Iowa 16-yard line. 
Purdue offense looks to increase its lead with another red zone opportunity. 
4:28 p.m. ET — Purdue comes up empty as well. A huge missed chance to take a double-digit lead against the No. 2 team in the nation. Kicker Mitchell Fineran fails to connect on a 32-yard attempt. 
Iowa takes over with 8:31 left in the first half, but the Boilermakers still lead 7-0. 
4:39 p.m. ET — Iowa gashed the Purdue defense and marched down the field 80 yards in nine plays. Ivory Kelly-Martin punched in a three-yard rush for a touchdown to help the Hawkeyes tie the game. 
Boilermakers get the ball with 3:20 left in the first half. 
4:58 p.m. ET, END FIRST HALF — 10 plays, 75 yards and just over three minutes. Purdue gets into the end zone from three yards out on third and goal. O'Connell completed an easy scoring throw to wide receiver TJ Sheffield. 
During the drive, wide receiver Broc Thompson made a spectacular catch to help the Boilermakers get into Hawkeye territory. They lead 14-7 heading into the locker room and will receive the ball to start the third quarter. 
Purdue offensive leaders after two quarters: O'Connell - 189 passing yards, Bell - 101 receiving yards, Plummer - 16 rushing yards 
5:28 p.m. ET — Purdue increases its lead after an eight-play, 66-yard drive to start the third quarter. David Bell came away with a huge, 47-yard reception on the series to push his total to 148 on six catches. 
Fineran managed to hit a 31-yard field goal to make it a 17-7 game in favor of the Boilermakers. The Hawkeyes will receive the ball with 11:07 remaining in the third quarter. 
5:51 p.m. ET — Purdue's offense was on the verge of another scoring drive late in the third quarter, and it appeared it reached the end zone on a six-yard passing play from O'Connell to Sheffield. 
However, the scoring play was overturned, as Sheffield dove for the pileon but fumbled the ball, resulting in a touchback. Iowa takes over from its own 20-yard line while Purdue hangs on to 17-7 lead with 1:57 remaining in the third quarter. 
6:00 p.m. ET, END Q3 — Despite the touchback, the Purdue defense forces a three-and-out, giving the ball back in the hands of the offense. One quarter to go, and the Boilermakers are clinging to a 17-7 lead. 
Bell is just 12 receiving yards away from a career day. He posted 197 yards receiving in 2019 against the Hawkeyes and already has 186 through three quarters. 
6:09 p.m. ET — Facing third down and long, O'Connell completes a 20-yard pass to Bell. The junior eclipsed a career-high mark in receiving yards on nine catches, but he wasn't done yet. 
Bell caught another perfectly-thrown ball in the end zone for a 21-yard touchdown. He's caught 10 passes for 227 yards and the score to give Purdue a 24-7 lead over Iowa with 12:29 left to play in the game. 
6:5 p.m. ET, FINAL — Purdue dominates No. 2 Iowa on the road. Bell finished the game with 11 catches for 240 yards and a touchdown. His single-game receiving total ranks second in program history. 
The defense allowed just 271 total yards and produced four takeaways. Petras threw three interceptions in the Hawkeyes' final three drives. 
The Boilermakers move to 4-2 on the year following the 24-7 victory and will play Wisconsin at Ross-Ade Stadium next week. 
Become Part of the Boilermakers Country Community!