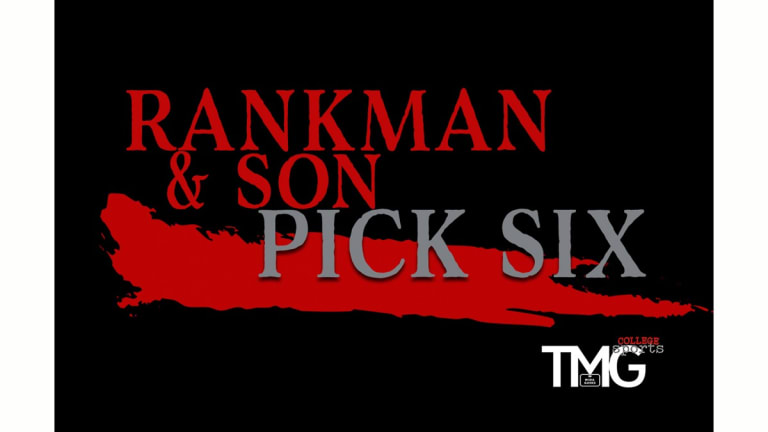 App State "Not, Not, Not" going to cover, Hawaii will, Texas Makes Point At TCU
Rankman & Son look to continue their comeback tour as part of the Pick Six Friday thundering review
​
A second straight 4-2 week has gently lifted the spirits of Dad & Son and also contributed to the health of Team TMG's suddenly decent overall mark of 121-112-7. While Rankman & Son know 22-24-2 is no way to buy a vacation home or pay down student loan debt, it is a significant recovery from the downhill spiral that was two weeks ago. Our aim is to get off the deck the way "Locksmith" has after his dismal start. Tom Luicci Inc. is now snarled in a three-way victory tie with Tony Barnhart and Herb Gould. Tom and Tony are knotted at 26-21-1 while Herb Gould has a better winning percentage at 26-19-3 . Jersey Guy Mark Blaudschun continues to clean up Ralphie's pen at 21-27-0
​
Father Knows Bets
Liberty (-7) at RUTGERS
This is one of craziest "body bag" games in history given the body in this case is the Big Ten home team as a seven-point underdog. We're sure this is NOT what Commissioner Jim Delany had in mind when he invited RU into an otherwise proud conference.
Pick: Liberty
Appalachian State (-26.5) at SOUTH ALABAMA
History lesson here. Last season, as a huge favorite, one week after entering the AP poll (No. 25) for the first time in school history, the Download Apps face-planted with a double-digit loss at Georgia Southern. Boone U, No. 21 this week, won't lose this time…but won't cover.
Pick: South Alabama
Hawaii (-9.5) at NEW MEXICO
These schools are separated by 3,141 miles and completely different notions on the use of SPAM in cooking. The last time Father doubted Hawaii off the island the Warriors won 54-3 at Nevada.
Pick: Hawaii
Son's picks
Texas (-1) at TEXAS CHRISTIAN
Son says last week's Freddy Kruger-type home scare against Kansas could cut two ways: It will either wake Texas up for TCU or send Longhorn Nation on a fade-to-credits cattle ride into the sunset.
Pick: Texas
Washington State at OREGON (65.5)
Son says he doesn't care that Oregon hasn't defeated Wazzu since 2014 so long as we get a repeat of the 2015 game in Eugene in which the teams combined for 83 points.
Pick: Over
Notre Dame (-1) at MICHIGAN
Son would have picked Big Blue if not for fears Harbaugh is going to call for the field-goal team on any attempt beyond 57 yards. Because that worked so well last week against Penn State.
Pick: Notre Dame