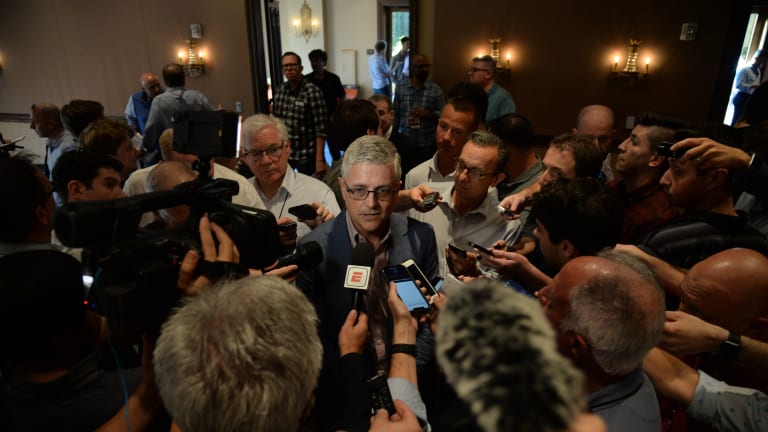 Bang A Gong (Or a Can): Only One Way to Punish Baseball Cheaters
College Football provides an easy answer to the uneasy topic of what to do with the Houston Astros
Let me say this about that…
Why all the teeth-gnashing over what to do with the Houston Astros? The answer is easier than banging a trash can in a dugout tunnel to tip-off batters regarding incoming pitches.
The answer is NOT stripping Houston championships, docking the organization draft picks or suspending players.
The answer is a form of punishment long levied to sinners in college football: punitive probation.
If Rob Manfred wants to restore what credibility he has left he can stand at a microphone today and say these words: "The Houston Astros are ineligible for postseason play in 2020."
Simple, effective, done.
The notion this move will impact competitive balance or entice Astro players to "not try" is simply unfounded.
Ohio State played the 2012 season under house arrest (no bowls) due to severe NCAA violations incurred under former coach Jim Tressel.
The 2012 Buckeyes, led by Urban Meyer, did not tank the season…they went undefeated and laid the foundation for a national title two seasons later.
The postseason ban makes more sense for Major League Baseball than it does for college football.
The NCAA rarely invokes the no-bowl edict now because it unfairly punishes coaches and players years removed from the original transgression.
That would hardly be the case for current Houston administrators and players who were directly tied to the scandal.
Oh, and also unlike college football players who have played under the black eye of a one-year postseason ban, Astro players will get P-A-I-D.
Taking a "won" championship away from a team--as much as it might please the mayor of Los Angeles, the L.A. Times and the 2017 Dodgers--is not nearly as impacting as taking a potential trophy away.
Stripping a team from a championship is retroactive as opposed to a post-season ban, which is proactive.
Not getting chance to play for something is a real price to pay.
​
*******
Colorado's hiring of Karl Dorrell as head football coach has to rank as one of the strangest transactions I've seen come across the wires.
Dorrell was fired after five ho-hum seasons at UCLA after going a final-straw 6-6 in 2007.
We get that Colorado was sort of in a pinch after Mel Tucker recently walked out of Boulder after one season.
It might be also suggested, though, that this Pac 12 hiring of Dorrell could actually benefit long-term UCLA football.
That's if you think trading Mel Tucker for Karl Dorrell in the Pac 12 South is probably a win for the Bruins and Chip Kelly.
​
*******
Not so fast, USC Trojans. It is admirable that you dropped UC Davis from the 2021 schedule to preserve your streak of being one of one three schools to never have played a sub-division opponent (the other two schools are UCLA and Notre Dame).
USC announced last week that it will replace UC Davis with San Jose State.
It seems to me, though, that USC deserves a historical black-mark asterisk for scheduling UC Davis.
I'd say the same thing, swear, if Notre Dame scheduled Citadel and then swapped it out later for Bowling Green.
USC also escaped another "Graham Harrell scare" this week when Colorado chose Dorrell over Harrell and other worthy candidates.
Every time USC fans thought Harrell was safe from a kidnapping some odd-ball coaching move would cause a panic. Mike Leach's departure from Washington State to Mississippi State caused a stoppage of breath but that was probably nothing compared to Mel Tucker's February high-tail to Michigan State suddenly opening up the Colorado job.
I am still not convinced Harrell will open the 2020 season as the Trojans' offensive coordinator because these things can change on a dime all the way into late spring.
Remember that time Louisville football coach Bobby Petrino fell off his motorcycle with his office secretary strapped around its engines?
​
*******
The last place I expected to see UCLA basketball on Sunday morning was…?
On the bubble.
The Bruins' impressive win at Colorado on Saturday pushed Mick Cronin's (powder) blue hot team to the precipice of NCAA consideration.
ESPN bracket-head Joe Lunardi, the second-best tournament handicapper behind TMG's Mark Blaudschun, who went 68-for-68 last year, now has UCLA listed on sacred list of "First Four Out."
This is a far cry from the glory days when UCLA was penciled in annually for "Final Four In."
But, these days, you take what you get. The UCLA team that lost to Cal State Fullerton and Hofstra at home is now 17-11 and a half-game out of first place in the Pac 12.
It took a while for Bruin players to adjust to the defense-first style Cronin has force-fed to Steve Alford's leftovers.
This was the kind of style UCLA fans grew hate after Ben Howland used it to take the Bruins to three straight Final Four appearances.
Looks good, now, though?
​
​