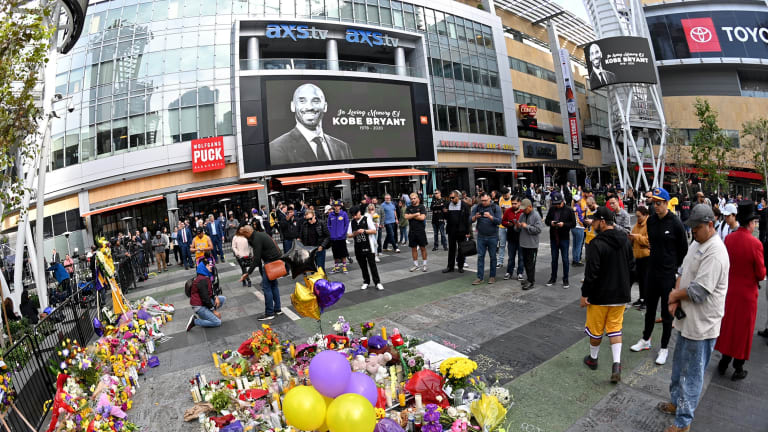 Kobe, Tragedy And The Ties That Bind
Kobe Bryant's death rocked Los Angeles and made the world seem a little smaller...but don't forget the others
Kobe Bryant's death rocked Los Angeles and made the world seem a little smaller...but don't forget the others
This is Tuesday meaning it has been two wrenching days since Kobe Bryant, his daughter Gianna and seven others perished in a helicopter crash near Calabasas.
Seven "others."
This is the standard-operating tagline in a celebrity/tragedy.
"Rick Nelson and six others…"
"Roberto Clemente, others…"
Veteran frequent fliers sometimes play a ghoulish game: guessing where we'll end up in the story if things take a wrong turn.
It is dependent on one's star status relative to others on board. Once, traveling with the Los Angeles Rams on a charter flight to Japan, I marked myself down as a footnote.
Kobe was a supernova, so his death in this horrific circumstance commanded most of the available oxygen.
That's simply how it goes: famous people make the headlines.
All day Sunday, though, during the worldwide outpouring, I kept asking the people on television "Please don't forget the others…"
It was heartening to read Mike Trout of the Angels tweet "My heart and prayers go out the Bryant family and the passengers' family on this sad day."
Some early reports, though, made little mention of the others involved in the crash.
It's understandable, I get it, it's human nature, he's Kobe, he's the celebrity and the icon.
As the hours, days, weeks and months pass: don't forget the others. Each family involved in this god-questioning action is wrecked.
It was encouraging to see, as more details emerged, that more attention was paid to the entire passenger manifest. Let's keep our tabs on that.
Don't forget, or underestimate, all the shortened lives and unfulfilled dreams. They were mothers and fathers and sisters and brothers:
--Alyssa Altobelli (Gianna's teammate)
--John Altobelli (Alyssa's dad)
--Keri Altobelli (Alyssa's mother)
--Christina Mauser (Coach)
--Payton Chester (Gianna's teammate)
--Sarah Chester (Payton's mother).
--Ara Zobayan (Kobe's longtime pilot).
It is truly amazing how small our world can sometimes seem and how fast we can get connected by those six degrees of separation.
Kobe was the giant connector to a generation of fans, across the world, who grew up with him.
The youngest of my three Kobe-fanatic sons was born in 1996, the year Bryant joined the Lakers out of high school.
That son turned Kobe's number last week: 24.
The "1996" kids see themselves now as part of an everlasting fraternity.
When an advisory was issued warning fans not to descend on Staples Center on Sunday because of the Grammys, my three boys stormed the barricade.
But what about other, smaller, strange, connecting tethers?
John Altobelli, 56, was the longtime baseball coach at Orange Coast College. He was taken in the crash along with wife, Keri, and their daughter Alyssa.
Imagine the plans they had.
My wife works at Orange Coast College, not far from the baseball building. When she started at OCC last spring, she remembers a baseball coach opening a door for her.
Monday, my wife drove past the baseball field and saw a single bouquet of flowers on the pitching mound.
Small, cruel, brutal world…
Sarah and Payton Chester, the two last victims named, were good friends of my wife's cousin and her husband, who live in South Orange County.
The cousin, last Friday, had lunch with Sarah Chester.
Kobe Bryant was a parishioner in their church and reportedly attended Mass on Sunday morning.
Remember Kobe—celebrate and mourn him. I'll be the first one in line.
The 50-year-plus arc of my Lakers-following life, which started around 1965, can be connected with one long outlet pass—Jerry West to Kobe Bryant.
West was my boyhood idol and I was as passionate about Jerry as my three boys would later become about Bryant.
West played for MY Lakers and then, in 1996, as GM, he orchestrated the deal for 17-year Kobe to join THEIR Lakers.
These are the ties that bind.
Sunday was a gut punch but Monday might have been worse, isolated and working from home in a neighborhood as eerily stone-deaf quiet as I can remember it. Very little car traffic, or bird chirping.
I imagine my "Kobe Quiet" neighborhood wasn't the only one.
But it wasn't just for Kobe.
You are likely not to be familiar with the names Hawkshaw Hawkins and Cowboy Copas.
They were among those lost in the 1963 plane crash that killed country star Patsy Cline.
In 1969, boxing star Rocky Marciano was killed in a crash in which the headline added, "Two Iowans Also Die in Plane."
Those Iowans were Glenn Belz and Frank Farrell.
In 1931, in Kansas, famed Notre Dame Coach Knute Rockne (and seven others) perished in a 1931 plane crash that shocked the nation.
Years later, I remember fixating my face close to an exhibit at the Notre Dame football museum in South Bend. On display was a wing piece of the Fokker F-10 plane that crashed and ended Rockne's life.
On Monday I did a Google search to learn the names of the remaining passengers on that flight manifest:
Just for the record, the seven others: Waldo Miller, H.J. Christen, John Happer, Spencer Goldthwaite, C.A. Robrecht, Robert Fry, Herman Mathias.
May all the headlines in tragedy, and the others, continue to rest in peace.