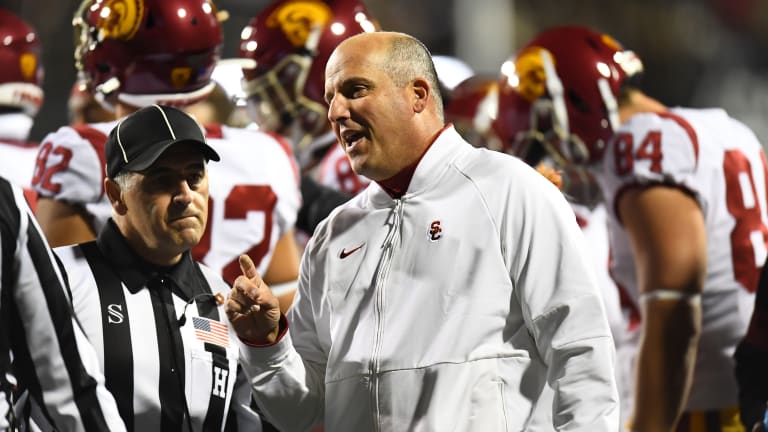 Pac Tracks: Spoiler USC Poised to Wreck Playoff Plans for Oregon and Utah
USC can't make the college football playoff this year but can win the Pac 12 and knock out Oregon and Utah
What a fantastic, terrific, stupendous weekend for the Pac 12 and Commissioner Larry Scott except for, as always, the continued embarrassment shown by his league's marauding band of whistle-blowers known as "The Gang That Couldn't Toot Straight."
A cursory review of Oregon's win over Washington State revealed approximately two hours of a game that lasted 3:36 were occupied by Pac 12 refs reviewing, explaining and/or mangling the overall situation.
Two officials were on TV so much they had to apply for SAG cards.
Yet, not even Manny, Moe and back judge could undermine the significance of Saturday's results.
The only results that mattered were that Oregon and Utah both won important games on a "moving day" Saturday.
The one-loss Ducks and one-loss Utes woke up Sunday ranked in the top 10 of all the leading indexes, putting the left-for-dead Pac 12 in the middle of the four-team playoff hunt.
Oregon is No. 7 in the latest AP poll, with Utah at No. 9.
The Ducks and Utes are No. 8 and No. 10 in the USA Today coaches' poll.
The only index that matters, the College Football Playoff ranking, debuts on Nov. 5.
There is still plenty that can go wrong before now and the final rendering in December.
Oregon and Utah are now in single-elimination mode meaning one loss puts them out.
The SEC, with five teams ranked in the AP top 11, will be on a never-ending campaign to demand all four spots in the four-team field.
But here's the real Pac 12 spoiler alert: USC.
If the Trojans can round up enough healthy players to finish the season, and that's a big if, they can eliminate the Pac 12 from the playoff.
USC can take Oregon out next week when the Ducks visit the Coliseum in a center-stage 5 p.m. kickoff on FOX.
And get this: Utah can win the rest of its games STILL not make the playoff if USC wins the rest of its games.
In that scenario the Trojans, by virtue of their win over Utah, would claim the South Division and advance to the Pac 12 championship game.
It would take a lot of mayhem to imagine Utah making the playoff as a non-champion of the Pac 12.
That kind of stuff only happens in the South, where Alabama has won two titles under Nick Saban without winning the West.
In fact, that same scenario is in play as Alabama and LSU prepare to meet on Nov. 9.
The loser of that that game, so long as that game is fairly close and the loser finishes with one loss, is supremely better positioned for a playoff berth.
It is almost funny to think that USC, winners of 11 national titles and 25 Rose Bowls, could be playing the part of a thorn.
The Trojans and their fans, of course, had higher aspirations than this. But sometimes a season just is what it is.