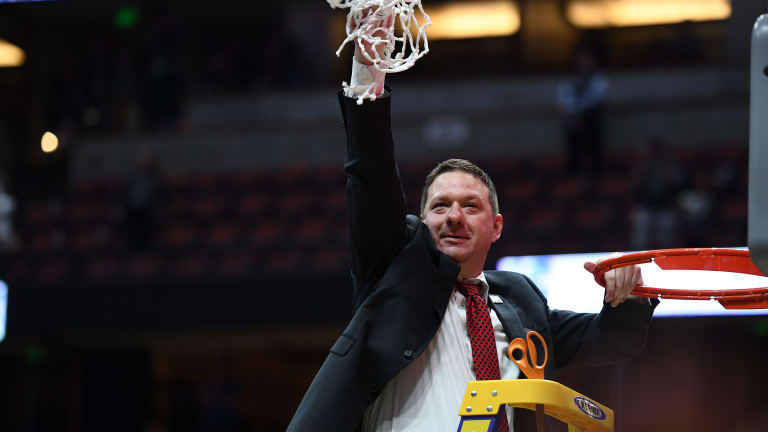 Texas Tech (And Its Radio Network) Scramble to Make Final Four History
Red Raiders come back on Gonzaga, 75-69, to make first First Final Four. Also, a great comeback by Texas Tech radio.
ANAHEIM, Ca. —What Texas Tech basketball did in the second half on Saturday will go down in the annals of school history.
But it was nothing, in my opinion, compared to the second-half work put in by the Red Raiders Radio Network.
Now THAT was a clutch performance. I watched it all, one row above courtside, at the Honda Center.
The basketball team was only down three mid-way through the second half. The radio team charged with bringing history home to Lubbock was down…the Internet.
Oh sure, Texas Tech hoops defeated top-seeded Gonzaga, 75-69, to claim the West Regional and earn the school's first Final Four appearance.
That'll be the day, they said, but it happened.
It was wonderful, stupendous and tenacious, as Texas Tech's hardwood scissors-hands defense carved up its fourth straight NCAA opponent.
The Most Outstanding Performance was officially presented to forward Jarrett Culver and nobody had a gripe with that.
I took part in the MOP vote, as a dues-paying member of the USBWA, and was forced to hand my ballot over with 4:23 left, as if anything after that in a regional final could ever change your thinking.
Personally, though, I wanted to pencil in Geoff Haxton, the Texas Tech play-by-play man KTTU-FM 97.3.
What he did under duress should go down in radio history.
As Texas Tech was marching toward history, the internet system mix went out on the live feed for Haxton and Chris Level, his color analyst.
Are you kidding me?
Haxton pounded his fist down on the table—hard--as the Red Raiders inched toward a net-cutting ceremony.
"Once in a lifetime," Haxton would tell me later courtside, as he plugged a chaw of tobacco into his mouth. "This was once in a lifetime."
It was an amazing, clutch performance. Texas Tech only had to fight back from a three-point deficit in the second half. Haxton put on his big boy pants and somehow, on his cell phone, rigged a back-channel way to get a live call back to Lubbock.
"It wasn't very good quality," he admitted.
But he did it--everyone at Texas Tech did it.
Haxton then grabbed another wad of chaw, "I usually only have one," and watched the Red Raiders cut last snippets down from the rim.
Haxton and his crew donned hats and t-shirts and joined the celebration.
"This was supposed to be the best day of my life, after my kids and getting married," Haxton said. "And then technology shit all over me…"
The story of his radio work should join Texas Tech in Final Four lore. This kind of thing has never happened in Lubbock.
Bob Knight, remember, coached at Texas Tech and never got this far.
Chris Beard did it in his third year, with a defensive philosophy born in a junk yard.
Texas Tech players defend like jackals and leave opponents feeling like their pockets have just been picked.
"They're really, really handsy on defense," Gonzaga star Brandon Clarke said.
Clarke committed six of his team's 16 turnovers.
"In the first half I turned the ball over five times, something I've never done," he said.
Texas Tech also held Gonzaga to 42.4% shooting and 19 points under its season average. This was after holding three NCAA opponents to 57, 44 and 48 points. Michigan, a pretty good program, missed its first 18 three-point attempts in Thursday's semifinal loss to Texas Tech.
Gonzaga looked like a championship team until it ran into the spike strips from West Texas.
It was also a cruel fate for Mark Few, coach of a program that has scoured the world for international talent, to have been undermined by a shooting guard who likes his pasta al dente.
The gods dictated that Davide Moretti, a sophomore from Bologna, Italy, would make two three-pointers in the final minutes to help send the Zags back to Spokane.
How did Few let this guy get away?
Mamma mia.
Moretti's second three gave Texas Tech a 66-60 lead and he also made two technical shots with 11 seconds left after Josh Perkins was called for illegally touching the in-bounds pass--just after Gonzaga had cut the lead to two.
"Instinctively reached in, bonehead play," Perkins said. "Something I will think about forever."
An international player led a team to the Final Four, but it wasn't for Gonzaga.
Moretti's family flew in from Italy to see it live.
"It means a lot that they can see what I'm living right now," Moretti said.
What they saw him living was a dream.
And Texas Tech radio, somehow, patched up a system to get the final call back to Lubbock.
Signing off, court side, this is KTTU-FM, 97.3, see you in Minneapolis.