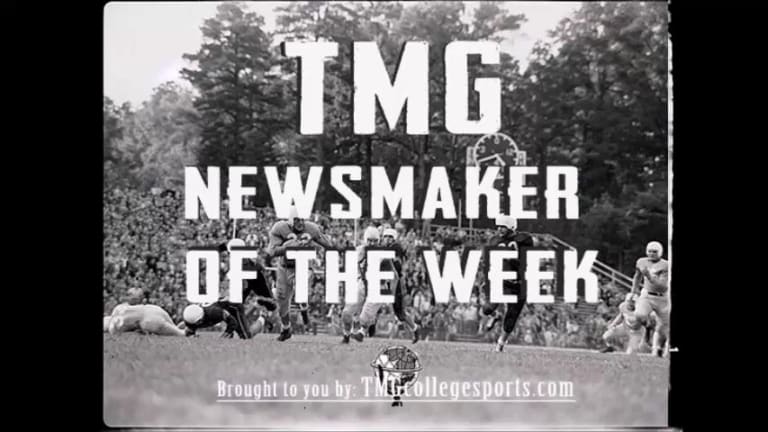 TMG NEWSMAKER: Gardner Minshew
Washington State quarterback Gardner Minshew has led his team to 7-1 start
By Mark Blaudschun
In another season and a different conference his story would be the stuff of legend--as it is already is in his home state of Mississippi.
But then again, who would have ever predicted Gardner Minshew? The country boy from the Deep South ending up in the Far Northwest of the college football world, Pullman, Washington, a town much closer to Moscow (Idaho) than the glitter of Manhattan? A place where even the best stories sometimes take their sweet suburban time to filter through the system.
Barely heard of Gardner Minshew?
Well, let's catch you up real quick. He is a 6-foot-2 inch 220 pound graduate transfer who arrived at Washington State this spring looking for a job as the starting QB, a job which tragically opened when when quarterback Tyler Hilinski committed suicide in January.
The Cougars had no choice but to move forward, so coach Mike Leach networked some of his coaching buddies, one of which was passing guru Hal Mumme. Leach had been Mumme's offensive coordinator at Kentucky and then implemented his style at Texas Tech and at Washington State.
Mumme told Leach he indeed had a local kid who might just be what Leach needed. But more importantly, it was what Gardner Minshew had wanted for as long as he could remember.
Minshew had been a Mississippi phenom for more than a decade, dating back to his days in junior high school. Former Alabama player and coach, Ray Perkins, who was easing his way back into his home state culture, watched Minshew play a game in Hattiesburg and declared Minshew the best junior high QB he had ever seen.
​
Minshew was pretty good in high school as well, too, throwing 105 TD passes for 11,222 yards as the QB at Brandon High School. From that point, Minshew became a traveling road show. He didn't attract a lot of attention from the major schools, but did get chased by Northwest Mississippi Community College. Minshew wanted to go higher and took an offer at Troy University. But six months into his stay, he found himself buried too deep on the depth chart and went back to Northwest Mississippi, which offered no promises.
It didn't matter, 12 games, 3,228 yards and 28 TD passes later, Northwest Mississippi had a national championship and Minshew was off to East Carolina, where in 17 games he had almost 3,500 more yards and 24 TD passes.
After earning his degree at ECU last winter and with a year of eligibility remaining, Minshew went shopping again. Alabama offered him a spot, but the Tide depth chart was loaded with Tua Tagovailoa and Jalen Hurts.
Enter Leach, who was coaching at Texas Tech a decade ago when Minshew was growing up as an avid Texas Tech fan because of the way they attacked on offense with their passing game.
When Leach called Minshew, he asked a simple question. "Do you want to come out here and lead the country in passing?''
It wasn't a trick question. Minshew accepted on the spot and the rest, as they say is the stuff of legends and maybe Heisman's, if not for the presence of Tua at Alabama.
Consider the numbers that Minshew has put up in leading the Cougars, who were picked fifth in the Pac-12 West in preseason polls to a 7-1 record.
--26 TD passes and only 6 interceptions.
--3,183 passing yards for an average of (FBS leading) 397.8 passing yards per game.
In Washington State's latest triumph, a 41-38 victory over Stanford, all Minshew do was throw for 438 yards and 3 TD passes, including 19 straight completions at the start of the second half.
In the Cougars' game-winning drive with the score tied at 38-38, it was Minshew's 42 yard completion to Jamire Calvin, which set up Blake Mazza's 42-yard winning field goal.
Washington's only blemish is a three-point loss at USC, when the Trojans blocked a last-second field goal that would have sent the game to overtime.
In the super cyber quick information world, lots of people now know Minshew's name, including Heisman Trophy voters and NFL scouts. Challenges and more recognition await.
For all of that, Gardner Minshew is TMG's Newsmaker of the Week.