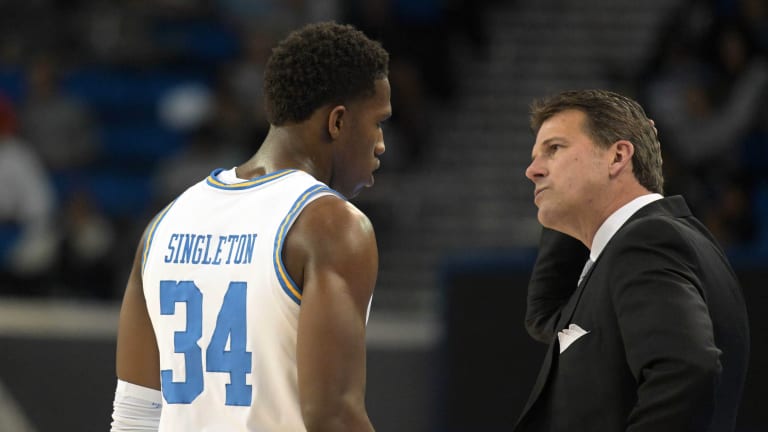 UCLA Fires Steve Alford...What Now?
Bruin Basketball Back in Crisis Mode After Losses to Belmont and Liberty
Steve Alford was fired Monday but, frankly, I'm done trying to hire basketball coaches for UCLA.
Losing to Belmont and Liberty at home was too much for even AD Dan Guerrero to stomach so, now, in ironies of ironies, UCLA will be led the rest of the season by Murry Bartow.
He's the son of Gene Bartow, the man who had the gall to follow John Wooden and go only 52-9 in two seasons before he was peach-canned.
Times and expectations have changed. UCLA hasn't won a national title since 1995 and would be lucky, now, to get a coach of Gene Bartow's caliber.
Too late. Ultimately, Steve Alford may have put too much faith in LaVar Ball's family bailing him out of trouble.
He had Lonzo for one year but couldn't win the Pac 12 regular season, or conference, title.
Second son LiAngelo escalated Alford's slide into Monday after that embarrassing shop-lifting scandal in China. LiAngelo was recently spotted at a local CVS in Chino Hills as clerks rushed to make sure there was tape in the security cameras.
Third-son LaMelo is the real deal but never got close to saving Alford at UCLA.
So what now?
In 2013, after UCLA fired Ben Howland, I informed UCLA via the L.A. Times that the Bruins' next coach was located at an NCAA sub-regional in Salt Lake City.
All Guerrero had to do was pick the right candidate in that pod. The candidates included Mark Few (Gonzaga), Jamie Dixon (Pitt), Gregg Marshall (Wichita State), Steve Alford (New Mexico) and Tommy Amaker (Harvard).
Just like on "Let's Make A Deal," Dan picked the wrong box.
He chose Alford, an indifferent Midwesterner who played at Indiana for Bob Knight who had a pathological habit of criticizing John Wooden.
Guerrero chose Alford right after his New Mexico team seemed to lay down and quit in an NCAA game against Harvard. Alford was out-coached in that game by Tommy Amaker.
The right answers in that Salt Lake group were Few, Dixon or Marshall.
Few wasn't going to budge out of Gonzaga. UCLA made a hard pitch for him after Steve Lavin but Few found out he could not fly fish anywhere near Pauley Pavilion.
Dixon was another excellent consideration but the best option was Gregg Marshall of Wichita, a rising star who would have listened had UCLA persisted.
So, in the end, UCLA got what it deserved, a Ground-Hog Day hire and five more seasons of winter.
I tried, Dan, to help you out back in 2013. I think UCLA basketball is important and deserves to be nationally relevant, if only to get Dick Vitale off your back.
At that 2013 Salt Lake City regional I looked deep into the soul of Gregg Marshall, who looked at me in a way to construe he might have considered moving to Westwood.
Instead, you chose the guy who lost to Harvard that weekend and played for the coach who disparages John Wooden.
Alford was not a terrible hire at the time, but it was uninspired. Ben Howland looks better in the rear-view mirror and so does Gene Bartow.
For now, Dan, you'll have to settle for Murry.
This time you fired a coach so early so I can't even point you to the right sub-regional.
This time, Dan, you're on your own.