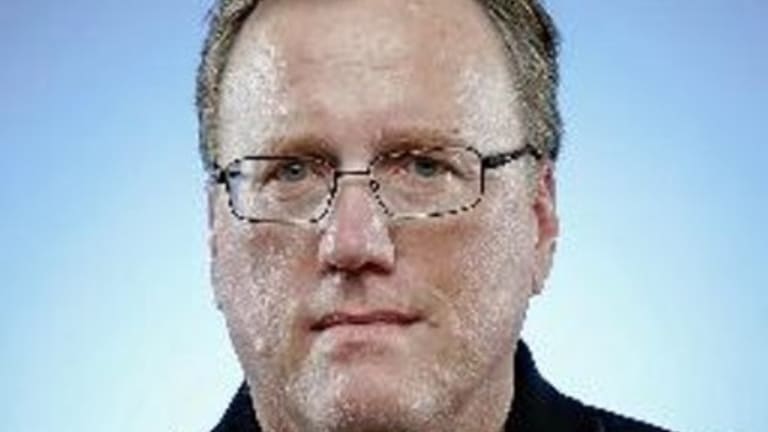 Updated Pac 12 preview: Time for USC and Washington football to row the boat
Let's just assume I'll get stuck in Los Angeles traffic Wednesday morning and miss Commissioner Larry Scott's opening…
Let's just assume I'll get stuck in Los Angeles traffic Wednesday morning and miss Commissioner Larry Scott's opening remarks at Pac 12 Media Days.
The event is being held at the intersection of Hollywood & Highland, but there's a good chance I'll be stuck at the corner of Gridlock & Horn Honk.
One year, at one of Larry's premieres held at a movie studio, a reporter left Santa Rosa at 6 a.m., drove to Oakland Airport, hopped on a plane, and beat me to Pac 12 Day by a half-hour. I was, technically, only 43.8 miles away by car.
So pay no mind to that man behind the giant Pac 12 curtain. I have no doubt Larry will tout the vital statistics as if they were handed to him from a burning bush.
(Update: I missed Commissioner's opening statements by only two hours. Traffic was murder in a way it wouldn't even hire a lawyer to contest the charges. I checked Google maps about 15 times before choosing a strategy to get from Chino Hills to 1755 Highland. Interestingly, it was shorter distance to walk by almost five miles with two different routes. One route was 39.5 miles if I walked side streets through Walnut, Industry Hills and El Monte. That was 13 hours and 23 minutes. Interestingly, Google provided another walking path of 39.8 walking through Rosemead down the 10 Freeway. But that was six minutes longer and seemed more dangerous. I chose the internal combustion option and got to Pac 12 Day at the most important time: lunch. A colleague filled me in on Scott's opening address and said I didn't miss much. He said Larry came out guns blazing tauting the conference's success in...rowing. No way. But I checked the ASAP transcript and he was right: "The University of Washington rowing team were part of a banner year overall," Scott said. If the SEC commissioner tried this he'd be pulled off the podium faster than Hugh Freeze was escorted out of Oxford. Of course, though, commissioner Scott is correct. The Pac 12 is the most successful conference of all time, with 501 combined national championships. So row, row, row your boats. Later, after lunch, Scott tried to sell the league's entire competitive package secretly knowing that Power 5 conferences are graded on two sports--football and basketball. Those are the sports that create revenue and help to pay his $4 million annual salary. Or, maybe Scott was just trying to toss a few oars in the water to divert attention?) 
Here's what I know: the best news for Pac 12 football this year is that it doesn't look very good.
"Parity" is the most overrated word in a King commissioner's language and usually code for "we don't have a team that can win it all."
ESPN's Adam Rittenberg beat me to this obvious angle on Wednesday while I was dealing with a loose mooring on one of my yachts, the "Rank-tiki."
"The Conference of Champions can no longer be the Conference of Parity," Rittenberg wrote in a storylinked here under the Journalists Professional Courtesy Act of Just Now.
The Pac 12 has been very good for a good chunk of the last decade and hasn't produced a national champion since USC in 2004.
The conference has, since, solidified its overall health with the addition of Utah and Colorado.
Having too many good teams, though, doesn't help you navigate the artful-dodging subjectivity of a football championship run, where one loss hurts and two defeats put you in a regular-year Rose Parade.
The only conference that wants it both ways is the Southeastern, which has boasted of being balanced and bloodthirsty. But part of the SEC's excellence has come from playing an eight-game schedule in a 14-team league. That has produced an extra "free" out-of-conference win every year and also key misses in the league schedule.
Did you know, for instance, that Alabama and Georgia almost never play in the regular season? You can set a comet return to them: 2008, 2015 and not again until 2020.
Georgia, a few years ago, came 10 yards from a national title game appearance in part by missing every good team in the SEC West.
No sir, what you need to win it all is two strong teams, flanked by 10 or 12 play things, that won't meet until the conference title game.
That's the scenario this year in the Pac 12 with USC and Washington.
The Trojans and Huskies, who finished third and fourth in the final AP poll last year, return enough important pieces to make a deep playoff run.
The media agreed when they picked Washington and USC, by a substantial margin, to win the North and South divisions. Mind you, last year's media poll had Colorado finishing last in the Pac South. The Buffaloes ended up winning it. USC was picked to win the league for the 33rd time. Note, the media has only picked the correct champion twice in the last 10 polls. Note 2: I did not vote in the poll.
USC and Washington return the league's top two quarterbacks, Sam Darnold, and Jake Browning, who should be even better after shoulder surgery to repair the wing that fluttered all those deep passes against Alabama in last year's semi-final playoff.
Browning, now a junior, said Wednesday his shoulder was 100% healthy.
It doesn't hurt that USC and Washington are the two most pedigreed Pac programs, with a proud history of championships, booster interference and even cheating.
USC has the non-conference schedule advantage in that it plays Texas and Notre Dame, which are marquee in name but currently struggling on the field. The Longhorns and Irish combined last year to go 9-15.
Washington will be laughed at again for the weak non-league effort of Rutgers, Montana and Fresno State. Last year it was Rutgers, Idaho and Portland State. Those opponents led to UW being edged out by Texas A&M for the No. 4 spot in last year's first CFB playoff ranking.
Yet, it didn't ultimately cost Washington last year, and it won't hurt this year if the Huskies can get to highly-ranked USC in the Pac 12 title game.
The rest of the league, frankly, looks like "and the rest" on Gilligan's Island. In the north, Stanford will be Stanford but loses Christian McCaffrey while hoping quarterback Keller Chryst can recover from major knee surgery.
Oregon is in full re-boot mode after last year's disastrous 4-8 season. People aren't snickering yet, but some are sneaker-ing. The Ducks need to recover their street cred fast under first-year coach Willie Taggart.
Washington State will be its usual, quirky self, a team that last year built an eight-game win streak around losing streaks of two and three.
In the south, Colorado will be hard-pressed to repeat last year's stunning divisional title as the Buffs replace their starting quarterback and most of their defense.
Utah returns only seven starters out of 22 while UCLA could be a surprise if junior quarterback Josh Rosen finally becomes a leader and puts on a new hat: "Make UCLA Football Great Again."
Meanwhile, the coaches at Arizona and Arizona State are fighting to save their jobs.
So, there it is, sitting on a platter for USC and Washington.
Florida State won two national titles in the 1990s by overpowering a weak-kneed ACC.
Florida State and Clemson have won recent national titles in a better, but hardly dominant, conference.
Most people I respect would rate the top five conferences right now in this order: SEC\ ACC, Big Ten, Pac 12 and Big 12.
The conference continues to operate without a Pac 12 Network deal with DirecTV, causing it to fall significantly behind the Big Ten and SEC in annual distribution.
Last year, at media day, Scott said his schools have enough money to compete.
Wednesday he said "I don't spend a lot of time worrying in any given year whether a conference has more money than us."
And he's right: sometimes less is better. It is better to have great teams than 12 good ones. He has to hope USC and Washington live up to preseason projections.
That may seem like a step back for the Pac 12, but this actually provides the best pathway to reach Atlanta, site of this year's national title game.
It's great that Washington took home an NCAA crew title, but it's time for the the air craft carriers to row the boat.
@@@@
And now, we pause for this commercial message: If you are a TMG subscriber, thank you! And please tell your friends about us. . . . If you aren't, please go push the Pre-Season Special $14.95 button. That's like buying us a round of beers in exchange for a a whole annum of occasionally interesting sportswriting. We are making our stuff available for now, but our paywall will be going up again soon. Because we have used up our college eligibility. Cheers!