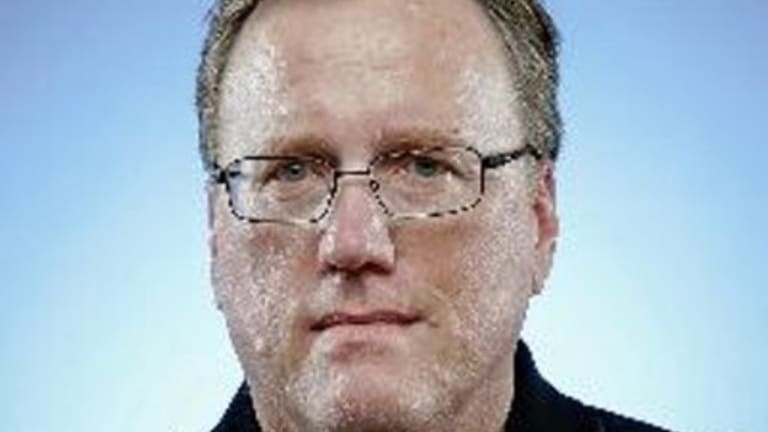 West crashes Final Four: Congrats to the Pacific North Pest(s)
You can't spell W-E-S-T without W-E so let's just log split-it out: W-E did it. Well, they did it, but not without the…
You can't spell W-E-S-T without W-E so let's just log split-it out: W-E did it. Well, they did it, but not without the…
You can't spell W-E-S-T without W-E so let's just log split-it out: W-E did it.
Well, they did it, but not without the Birkenstock backing of left-leaners who unabashedly cheered, not so much for players or coaches, but for a geographical region.
Rankman Inc. put all his stock in west-coast NCAA teams this year, knowing full well no school near the Pacific Rim had touched a Final Four rim since UCLA in 2008.
No school from the West has won the NCAA title since Arizona in 1997, so projecting three teams to this year's Final Four seemed like a Dick Fosbury flop waiting to happen.
Except, if you remember Fosbury, you know he was a mold-breaking Olympic high jumper from …Oregon.
(Ok, Fosbury attended Oregon State, not Oregon, but he was close enough to go on a mile run to Eugene.)
Sometimes, in life, you just have raise the bar and leap over it backward.
To paraphrase the poet Robert Browning, "Rankman's reach should exceed his grasp, or what's a hoop heaven for?"
So, two Sundays ago, we took a flying leap and postulated a Final Four of Villanova, Gonzaga, UCLA and Oregon.
Two out of four isn't bad, Gonzaga and Oregon, especially when you consider this marks the first time two teams from the Pacific Time zone have EVER shared the same Final Four.
First, it is important to address bracket failure, understand what went wrong, and move on.
Villanova, the defending national champions and No.1 in the East, got the heave-ho by Wisconsin senior Nigel Hayes' super-nifty baseline spin on the first weekend in Buffalo.
UCLA?
Well, LaVar Ball could write a book and then pitch it to Simon and Schuster as better than anything Hemingway ever scribbled on a cocktail napkin in Havana.
LaVar, also, no doubt, could have taken Hemingway one-on-one in his driveway.
The Bruins were loaded this year, capable of winning it all, but fell down during the South Regional semis.
The nation's best freshman guard was on the court in Memphis, but it was Kentucky's De'Aaron Fox, not UCLA's Lonzo Ball.
Fox scored 39 points to Lonzo's 10 in a performance that could make Fox the top pick in this year's NBA draft.
LaVar Ball isn't going to like that but, in the end, facts win.
The good news is we may not have to hear LaVar on talk radio this week, blaming the Chino Hills high school coach for going 30-3 this year.
Sending your talented son to UCLA is different than sending him to, say, Washington State.
UCLA had a great season, and so did Lonzo.
But the school only measures success against the 11 NCAA banners hanging in Pauley Pavilion.
And UCLA players are measured against Walt Hazzard, Gail Goodrich, Lew Alcindor, Bill Walton, Marques Johnson and Dave Meyers.
Russell Westbrook played for UCLA, too, as did one-and-done Kevin Love.
All of those players did more for UCLA.
Lonzo, who announced after the Kentucky loss that he was turning pro, got UCLA back on a positive program track.
He did not, however, lead UCLA to a conference title, a conference tournament title, or past the NCAA round of 16.
Lonzo, despite his off night against Kentucky, still has the makings of a very fine NBA player. He should make millions.
He was NOT, though, the chosen one, at least not at UCLA.
I thought N-O-W might be a good time for Steve Alford to jump the train and go back to Indiana. It seemed his last best chance to coach his alma mater with a get-out-of-UCLA jail card free.
Alford is staying, though, and maybe it ultimately should be his responsibility to handle LaVar and the two younger Ball brothers who are verbally committed to UCLA.
The Ball "backlash" we predicted is already raging.
You can't blame LaVar for bragging on his sons, but his biggest mistake turned out to be bragging about himself without
intention of waiting for his boys to grow up.
He sold a billion-dollar marketing plan, to the cover of the L.A. Times and USA Today, on high school exploits.
LaVar struck when the iron was warm, instead of hot, and faced national ridicule when his braggadocios fell short.
UCLA did not win the national title this year and Chino Hills did not even win the CIF Southern Section.
It's up to Steve Alford to keep LaVar in check and, frankly, maybe he's the only man who can do it.
In an outrageous breach last week, even for talk radio, LaVar publicly blamed Chino Hills Coach Stephan Gilling for not matching last year's state title march.
USA Today outlined an ugly saga in a story that describes LaVar's influence on Chino Hills basketball.
The story, written by Andrew Joseph, was well-sourced and, mostly, all on the record. LaVar Ball declined to comment. The story begins with Ball berating the coach at a December tournament in Las Vegas.
LaVar Ball was counter-coaching the team from the stands, then entered the locker room after the game (a win).
Gilling, the story states, ordered Ball out of the room but Mr. Ball was still hot when the team got back to the hotel.
"An assistant coach comes up to me and tells me that he sees LaVar rallying the team up," Gilling said. "I guess he got them out of their rooms on the 18th floor and tells the team that it was his system that won. That we're doing what he says. 'I run Chino Hills! I run UCLA, about to run the NBA!'
In the USA Today story, Chino Hills athletic director Jeff Schuld stated he stood 100% behind…Gilling.
Asked if he would back Gilling over LaVar, Schuld answered "Absolutely."
LiAngelo Ball is headed to UCLA next year. LaMelo Ball, the very talented guard who scored 92 points in a game this season, still has two more years of high school remaining.
How is this all going to play out?
Can you imagine LaVar walking into the UCLA locker room?
Enough of that…on to the fun stuff.
This week's Final Four is an unexpected hoot.
Call it the "Finally Four."
Gonzaga finally broke through the Elite Eight barrier and delivered for all Zags dating to John Stockton.
Coach Mark Few finally had plenty to say: this is his best team.
"Absolutely, I mean it is," he said after Gonzaga defeated Xavier to win the West Regional.
The Bulldogs will face equally-good story in South Carolina, also making its first Final Four.
The Gamecocks, a No. 7 seed, sneaked into the at-large field and are led by scare-you-straight coach Frank Martin.
On the other side, Oregon faces North Carolina in a clash of basketball, and political, cultures.
Oregon got out-shouted in the Pac 12 this year, by pedigrees UCLA and Arizona, and then was generally dismissed after big-man Chris Boucher tore his ACL in the Pac 12 Tournament.
Jordan Bell, though, has upped his game and forms a lethal team along with tandem guards Dillon Brooks and Tyler Dorsey.
North Carolina, ho-hum, making its 20th Final Four appearance, is seeking its sixth NCAA title.
The Tar Heels, under the cloud of NCAA scrutiny, will be this week's villains as they try to make amends for last year's buzzer-beater loss to Villanova in the finals.
Oregon is back in the finals for the first time since 1939, when the "Tall Firs" claimed the first NCAA title in Evanston.
All praise to those trail-blazer "Web foots," led by Laddie Gale, Bobby Anet, John Dick and Slim Wintermute, who took out Ohio State in front of a crowd of 5,500 in Northwestern's gym.
Hey look: 78 years later it's all come back to North and West.
"Nineteen thirty-nine is a long drought," Ducks Coach Dana Altman said after Oregon pecked Kansas to death in the Midwest.
My bracket picked Gonzaga to upend UCLA for the title, but my gut now thinks Oregon will take down the Zags next Monday night.
Either way, especially in Eugene, it may rain on the parade.