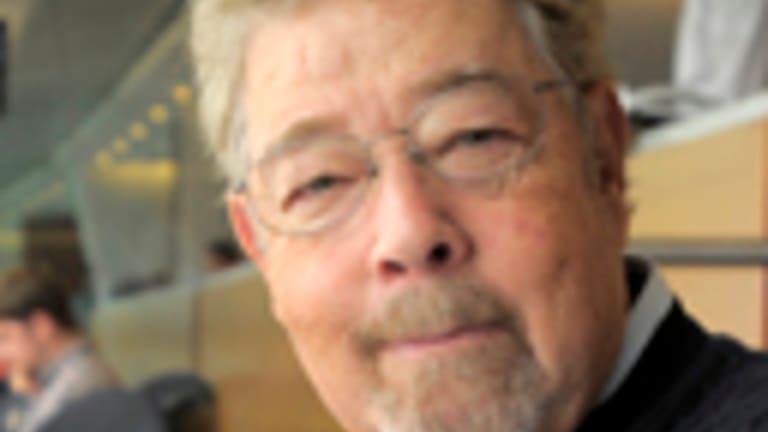 Bo & Ditka paved way for Jim `What's your deal?' Harbaugh
``What's your deal?'' I love that question. I loved it when it was popped by Pete Carroll during an icy postgame…
``What's your deal?'' I love that question. I loved it when it was popped by Pete Carroll during an icy postgame…
``What's your deal?''
I love that question. I loved it when it was popped by Pete Carroll during an icy postgame handshake in 2009 after Stanford had throttled USC 55-21. After Jim Harbaugh had gone for two following the Cardinal's seventh touchdown.
And I loved Harbaugh's response: ``What's your deal?''
It's still the first question that comes to mind in trying to understand Harbaugh, a brilliant coach who often moves in mysterious, unblinkingly baffling ways.
I still don't really know what his deal is.
But I love the combination of his predictably outstanding results on the football field and his unpredictably outlandish antics off the field.
I wouldn't want to be covering him on the Michigan beat, unless we were triple-teaming him. But what unblinking entertainment for the rest of us. [membership level="0"] The rest of this article is available to subscribers only - to become a subscriber click here.[/membership] [membership]
Check out the ``Top 10 Harbaugh temper tantrums'' on YouTube. I'm a big fan of No. 5, ``the violent handshake'' with the Detroit Lions coach.
In a way, we shouldn't be surprised. This is a guy who studied from the playbooks of Bo Schembechler and Mike Ditka, two of the more volcanic coaches the game of football has ever known.
And this is where—aren't you lucky to be a subscriber to TMGcollegesports.com?—I can segue into two of my all-time favorite Bo and Ditka Stories.
First, Bo. . . In 1973, Michigan and Ohio State played to a 10-10 tie, which meant that, in those quaint times, Big Ten athletic directors would vote on who went to the Rose Bowl. Michigan seemed to have the inside track because Ohio State had gone the year before. But a vote was a vote.
Right around then, Bo came out with a biography, ``Man in Motion,'' co-authored by Detroit sports columnist Joe Falls, whom I had the great pleasure of knowing—but that's a tale for another day.
Anyway, Bo and Joe wrote that when Bo interviewed for the Wisconsin job in 1967, it was a stupid waste of time because Wisconsin already had agreed to hire John Coatta.
Knowing that would irritate Wisconsin, Michigan AD Don Canham came out and said, ``Oh, Bo didn't mean that. Ya da, ya da.''
And then Bo responded, ``Oh, yes, I did.''
They went back and forth like this for a while.
I was working on the sports desk at the Wisconsin State Journal at the time, and we had a blast with that.
A footnote. . . around then, when Wisconsin was hiring a basketball coach, a young guy from Army, Bobby Knight, was interviewed for the job. He accepted, but said he needed time to inform people at West Point. If the news leaked, he said, he would deny the report and would not take the job.
The news leaked.
And so, I ended up watching the Badgers of John Powless (88-108) and John Coatta (3-26-1) instead of Bobby Knight (902-371) and Bo Schembechler (234-65-8) during my undergraduate years. Actually, Coatta was gone by the time I got there. I watched John Jardine (37-47-3), who fared better than Coatta but still was no Bo.
Think about that. I certainly have. Although Bobby and Bo would not have been a good fit in anti-war Madison in the early '70s.
But I digress. . . Bo stood firm on trashing the Badgers. And Ohio State went to the Rose Bowl after winning the Big Ten AD vote, 6-4.
Now. For Ditka. . .
In 1988, I was splitting my time between Notre Dame and the Bears, which included writing a Sunday NFL notebook.
The week after the Bears had beaten the Packers 24-6 on Sept. 25 in Green Bay, in Lindy Infante's first game against the Bears as the Packers' head coach, I ran a note saying Infante was angry because Ditka not only refused to shake his hand. The new Packer boss believed Ditka had given him the finger after the game—apparently because he was pissed off that the Packers had taken some final-minute timeouts even though they were hopelessly behind.
A week later, after the Bears had beaten Buffalo 24-3 on Oct. 2 in Soldier Field, I was standing in the Bears locker room, getting some minor injury updates from Ditka with three or four other reporters when Ditka said, ``I want to see YOU in here,'' gesturing to an empty training room.
At first I thought he was pointing to Tribune columnist Bob Verdi. I hadn't even been around the Bears recently except for game days. And having complete trust in Bob McGinn, the Green Bay writer who had given me the Infante note, it hadn't crossed my mind that Ditka was upset about that.
``What's this stuff about me giving Lindy Infante the finger?'' he said. ``I saw that when I was going to church this morning, and I nearly lost my breakfast.''
``You didn't do that?'' I stammered. ``I got that from a really good place. And the Packers were pretty upset about it.''
This is the kind of thing that would be a major post-game topic today. Back then, when media coverage wasn't so unblinking, it slipped through the cracks.
``Well, I would never do that to another coach,'' Ditka insisted. ``You better check your facts.''
Nervous but standing my ground, I tried to figure out how this had happened.
``Did you make a gesture that the Packers could have mistaken?'' I said. ``You seemed upset they were calling those timeouts.''
Something? Anything? I hoped.
``Well, yeah. I flipped off Tim Harris,'' Ditka said. ``He's a helluva linebacker, but that son of a gun kept calling time out. You should know, though, that I'd never do that to another coach.''
Phew.
Sorry for rambling on. All I have to say is, these are the people who raised Jim Harbaugh. They liked to win. And they didn't take any guff. Remind you of anybody?
If you're wondering what Harbaugh's deal is, I hope this helps. Maybe we'll figure it out together. [/membership]