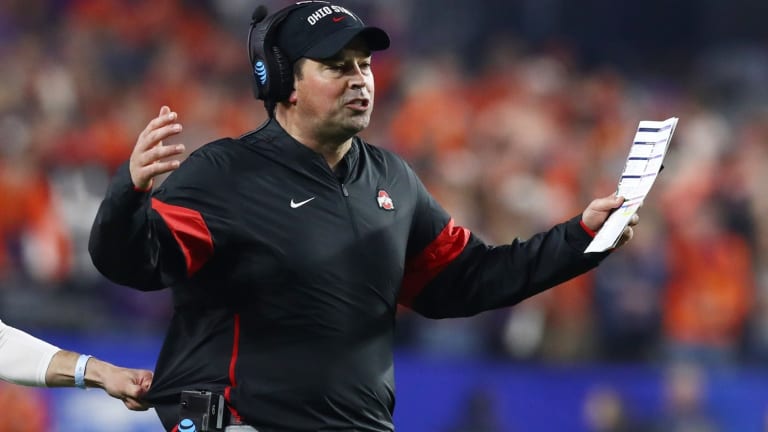 For Buckeyes, Heartache at Not Being Able to Finish. But They Will Be Back.
Ohio State left to ponder so many missed chances to prevail. But Clemson did what champions do. It found a way.
Even if Ryan Day goes on to win a bunch of national championships at Ohio State, the memories of the Buckeyes' wrenching 29-23 loss to Clemson will always be there.
This game will be remembered as the one that proved dramatically that Ohio State belongs in that elite group of perennial national championship contenders—Clemson and LSU and Alabama and Georgia and whatever other SEC powers decide to eat their spinach.
The Good Ol' Boys have everything figured out: They have the best coaching and phenomenal facilities. They are located in the heart of fertile recruiting territory and they know how to jigger their schedules to perfection.
They are a tough nut to crack.
But so is a Buckeye.
The immediate memory will be the disappointment of a game that got away:
@ There were those three first-half trips to the red zone that produced nine points and a 16-0 lead that could have been so much more.
@ There was the targeting ejection of the Buckeyes' star cornerback, Shaun Wade, late in the second quarter. That ignited the Tigers' first touchdown drive and gave Clemson the momentum to be down by a mere 16-14 at halftime of a game that Ohio State had dominated for so long. That halftime score easily could have been 20-7. Or more.
No argument with the Wade ejection call here. These targeting ejections are harsh, but designed to reduce head trauma—an absolutely necessary goal. It wouldn't be a bad idea, though, to have a two-tier penalty system—maybe a personal foul without ejection for certain inadvertent helmet-to-helmet hits. Don't be surprised if that becomes an off-season rules-change topic.
@ In the third quarter, Buckeyes safety Jordan Fuller scooped up a fumble by Clemson wide receiver Justyn Ross and returned it 29 yards for a touchdown that seemed to give Ohio State a 23-21 lead.
Upon further review, the bang-bang play was ruled an incomplete pass and the Buckeyes remained down 21-16.
I'm not going to say the reversal was a bad call.
What I will say is: Stop telling us indisputable evidence is required to change a ruling on the field.
There was nothing indisputable on that replay, nothing that demanded a change. That's my gripe with replay in general. Don't re-officiate the game. Just correct obvious mistakes.
@ On Ohio State's last gasp, with 37 seconds left, receiver Chris Olave broke off his route, hoping to give Justin Fields an open target. Fields stuck to the plan and threw a game-ending interception.
That was the final heartbreaker among many.
I kind of wonder about another break of the game, the one in which J.K. Dobbins injured his left ankle. He returned and made some plays. But he was electric before the injury. Afterward, not so much.
Recapping: Wade ejected. Dobbins hobbled. A fumble recovery for a TD taken off the board. And those three sub-standard first-half trips inside the 20 yard line.
All of that said, all credit to Clemson. Ohio State delivered its best shot and Dabo Swinney's dynastic juggernaut answered. Trevor Lawrence was a wizard, a warrior and a sprinter.
But Day called a big-time game.
A favorite moment: When Day had Fields call a quick snap while the Clemson defense was looking to the sideline for instructions, catching the Tigers flatfooted for an easy first down.
Another: On fourth-and-one at the Clemson 23 yardline, Day called a touchdown pass from Fields to Olave. Very bold for a rookie coach on a big stage. Day looked very comfortable coaching against Swinney, whose legendary status continues to grow.
There are no moral victories at Ohio State—especially not in a coulda-shoulda-woulda loss like this.
But people in Columbus—once they get over the disappointment of coming up short against Clemson—ought to be very excited about the future.