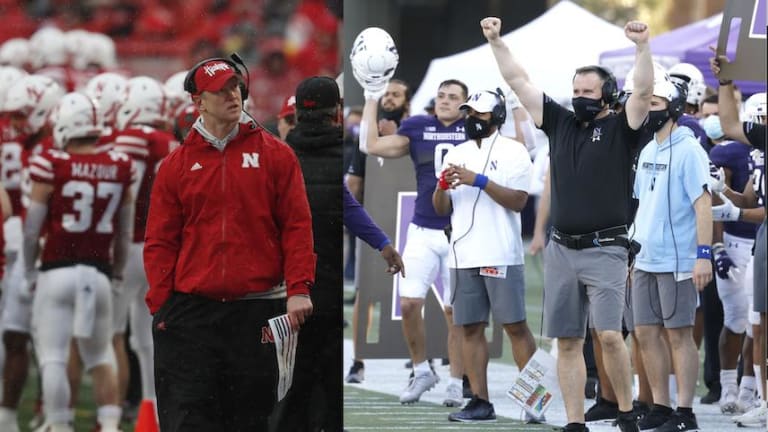 Fitz & Frost: A Tale of Two NUs
While Nebraska endures transfers, Northwestern locks in its coach
Two Big Ten teams answer to the initials NU.
Both are coached by alums who were star players in the '90s.
One was the quarterback of a national championship team. The other was the defensive anchor of a celebrated Rose Bowl team.
From there, the similarities are more difficult to find.
That was apparent this week.
Nebraska coach Scott Frost was trying to spin the troubling exodus of important players who have entered the transfer portal. That group includes Dylan McCaffrey, the Cornhuskers' quarterback of the future; and big-play receiver Wan'Dale Robinson.
Robinson is transferring to Kentucky to be closer to his mother, who has health issues. McCaffrey's departure is not so easily explained.
Also transferring are reserve offensive lineman Will Farniok, whose older brother, Matt, was a starting offensive lineman and captain the last two years. and receiver Kade Warner, the son of NFL standout Kurt Warner. A former walk-on, Kade earned a scholarship and was a captain in 2020.
This is a really gloomy development for Frost, who already is in murky waters. After three years, he is just 12-20. And the tarnish and the questions continue to mount.
When Frost arrived, he looked like the perfect hire. Inheriting a team that had gone 0-12 at Central Florida, he was 6-7 and 13-0 in two seasons there. No one expected that kind of miracle in Lincoln. But more was expected than the 4-8, 5-7 and 3-5 campaigns Nebraska has endured with Frost.
When Nebraska tees it up in 2021, the questions will be: What does Frost need to do to keep his job? And… If Scott Frost can't win at Nebraska, who can?
When you include Nebraska's feather-ruffling stand on wanting to play football last fall after the Big Ten shut down the season,  another sign of the Huskers' awkward adjustment to the Big Ten, these are difficult times at one of the nation's most historic football programs.
Meanwhile, at the other NU, Northwestern just gave Pat Fitzgerald an extension through 2030. This is well-deserved for a coach who has guided the Big Ten's only private institution to two of the last three Big Ten championship games.
It addresses speculation that Fitzgerald, who once again had serious inquiries from the NFL, might leave Evanston.
Even a longterm extension does not come with an ironclad guarantee. But Fitz is a perfect fit at Northwestern. And this agreement is another example of the excellent stewardship of departing athletic director Jim Phillips, who will become ACC commissioner. next month.
Considering that Fitzgerald, who reportedly was the fourth best paid Big Ten coach at $5.2 million last fall, he most likely got a pretty good bump that moves him even higher. on that list. A lot of money? Yes. But that's the nature of ``amateur'' college sports these days.
Even more significantly, this extension is a strong sign that Fitzgerald expects a smooth transition and working relationship with Northwestern's next athletic director—yet another accomplishment for Phillips.
And so, while one NU wonders whether it has the right coach while it restlessly waits for better days, the Big Ten's other NU is relieved to know its coach is committed to staying.
Nebraska is in turmoil. And Northwestern is basking in continued success.
A lot of things have changed since Frost and Fitzgerald were putting on shoulder pads.