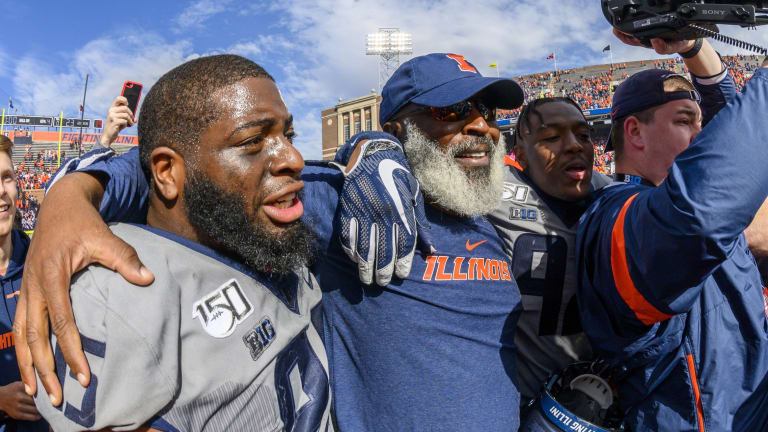 On Hot Seat Two Weeks Ago, Lovie Smith Has Earned Right to Carry on at Illinois
By snuffing Wisconsin and Purdue, embattled coach has shown progress and kindled hope. No sense in changing now.
Like many people, I was skeptical.
I thought Lovie Smith was a good hire to restore some much-needed respect and integrity at Illinois. But I also thought that while Lovie was a good choice to lead Illinois out of a bad situation, he was not the guy to lead the Illini to the promised land of being a consistent winner.
Restoring order in the wake of Tim Beckman, who made Illini Nation cringe with his bizarre ways even before he was fired in disgrace amid allegations of abusing players, is one thing.
Building a successful program at a school where it's not easy to win after spending two decades away from the intricacies of the college game is something else.
But you know what? Lovie has shown that he deserves more time to prove he can do that.
In just eight days, Smith and his ascending Illini have changed the narrative.
Before the ground-rattling 24-23 upset of Wisconsin and the business-like 24-6 trouncing of Purdue, this was looking like a season on the brink of Illinois needing to find a coach for 2020.
Two weeks ago, Lovie had notched only two Big Ten wins—not counting Rutgers; everybody beats Rutgers—in 3½ seasons. He was only 2-2 against Mid-American opponents. That's no way to excite a fan base.
Now, it's looking like Lovie deserves an extension and a resounding vote of confidence.
Illinois isn't merely winning. It's playing an appealing brand of football: Tough defense. Hard-nosed running game. It's cutting down mistakes. And showing a will to win.
First, the Illini need to notch their fifth victory against ragtag Rutgers this Saturday. From there, it would be nice if they could get to 6-6. They'll have three shots—at Michigan State, at Iowa and in Champaign against Northwestern.
The 1-6 Wildcats look the most vulnerable. But the way Illinois is playing, let's not rule anything out. Or in.
I guess I should say I was wrong. But two quick wins is a little too much of a headspin for that. Because a wipeout against the Scarlet Knights and the rest of the November slate would put a serious dent in the forward progress that seems to be in place.
What I want to see, and what Illini Nation wants to see, is further progress.
The Illini don't have to win the Big Ten West. But stability and maybe an eight-win season in the near future? That would qualify as the promised land for a program that was an embarrassment when Lovie Smith arrived.
Do that and I will deliver a full mea culpa.
With its 4-4 record, including 2-3 in Big Ten play, Illinois has equalled its best win total in four years under Smith. who is 13-31, including a 6-26 Big Ten mark.
This is a start. And Smith, 61, who made an unlikely return to college coaching after a solid 21 years in the NFL, deserves a chance to see if he can finish the job.
I have little doubt that that's where Illinois athletic director Josh Whitman is headed. With six wins, it's a no-brainer. And even with five, if the remaining losses are competitive, it would be foolish to blow up the Lovie era.
Unless Urban Meyer suddenly decides he wants back in—in Champaign.
(pause for laughter)
Here's the thing: This is sort of a trend in college football at the moment. Old guys are hot stuff.
Herm Edwards, 65, another longtime NFL coach (and broadcaster), is proving his many skeptics wrong about his ability to go back to college. Arizona State is 12-9 in his two years in Tempe.
When North Carolina brought back Mack Brown, 68, there was a chorus of doubters. Same deal with Les Miles, 65, at Kansas. Brown is 4-4 and Miles is 3-5 this fall.
They also have a pair of terrific losses. Brown's Tar Heels came within a two-point conversion of taking down Clemson. And Miles' Jayhawks went toe-to-toe with Texas before losing 50-48 in Austin.
What these four old guys are doing isn't entirely about wins and losses, though.
They are restoring hope at programs that needed strong doses of that.
Which is really cool. . .