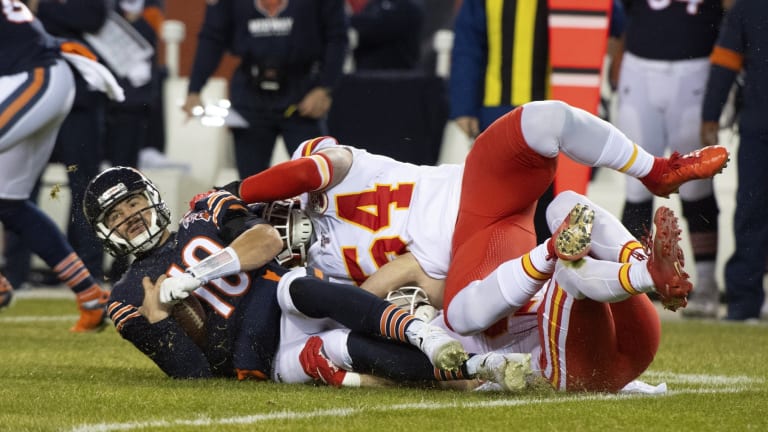 Weary Christmas: Trubisky Latest in Long Line of Incomplete Bears Quarterbacks
Gift idea: Stop building up QBs. Spare Bears fans agony of debate on why latest guy isn't the answer.
If I could give Chicago sports fans a Christmas present, it would be freedom. . . from agonizing over Mitch Trubisky.
Enough, already.
Bears fans are dedicated and loyal. They have to be, to stick with a team that, except for the happy accident of 1985, has under-performed with clockwork regularity in my viewing lifetime, which essentially began with the joyous but asterisk-tainted NFL championship of 1963.
It was in that year, you may recall, that Packers running back Paul Hornung and Lions defensive lineman Alex Karras were suspended for gambling, allowing the Beloved (11-1-2), as some of my friends refer to the Bears, to nudge past the Packers (10-2-1) for the Western Division title.
Billy Wade was the Bears quarterback in '63. By 1965, he had lost the starting job to Rudy Bukich. These two journeymen alternated taking snaps in my youth.
By 1985, when a strange set of circumstances forced Mike Ditka to live with a defensive coordinator, Buddy Ryan, he never saw eye-to-eye with, the Bears had found their best quarterback, Jim McMahon, since Sid Luckman ``thrilled the nation with the T formation'' in 1941.
Yes, the Bears have the best fight song in pro football. (The Redskins' is decent. The others that I have heard are. . . weak. Or non-existent. So take that, Packers.)
Unfortunately, McMahon was brittle and fearless, and has endured myriad health problems in retirement. McMahon also was a rebel. By 1989, Halas grandson Michael McCaskey, who was running the team, had McMahon banished to San Diego.
The Bears quarterbacks in 1989 were the Ohio State-Michigan tandem of Mike Tomczak and Jim Harbaugh. Which produced a 6-10 record.
The point is, the words ``Bears'' and ``quarterback'' never go well together in the same sentence. For decades, the team understood this and didn't bother.
Bears running backs? Now you're talking. Red Grange, Gale Sayers. Walter Payton.
Linebackers? Oh, yeah. Bill George. Dick Butkus. Brian Urlacher.
Quarterbacks? Nope.
But lately, the Bears have tried to alter this fact of life. With disastrous results.
First, they hitched their wagon to Jay Cutler, who had a great arm but was semi-literate when it came to reading defenses.
And then, they decided Mitch Trubisky was the next JoeMontanaSteveYoungTomBradyBrettFavrePeytonManningAaronRodgers.
They not only drafted him second. They gave up a fistful of draft picks to move up from No. 3, infamously ignoring Patrick Mahomes and Deshaun Watson, who went 10th and 12th.
Now people are yelling at Trubisky because he's not as good as those guys.
I say it's not his fault. Trubisky would have been a not-great-but-not-terrible pick at 20th. He shouldn't be blamed because boy-wonder GM Ryan Pace saw something that. . . wasn't there.
I do not wonder why Trubisky isn't better. I wonder if Trubisky was in Kansas City and Mahomes was in Chicago, the pro-football world would be celebrating Trubisky and excoriating Mahomes. Probably not. But there is an environmental element to quarterback success and failure. And quarterback air in Chicago is rare.
To make matters worse, the Bears pulled off a fabulous trade for Khalil Mack that threatened to make a good defense awesome.
All that was needed was for Trubisky to be the Bears' best quarterback since McMahon and the Bears would be Super-Bowl-bound.
Last year, they forgot to find a competent kicker and were bounced from the playoffs in their first game.
This year, they had a perilous schedule and they played poorly at the exact wrong times—turning what was supposed to be a wonderful season into a dismal under-achieving mess.
What a way for a storied charter member to ring in the NFL's 100th season.
And through it all, the obsessive focus remains on Trubisky. One decent year at North Carolina, and he's supposed to be Johnny Unitas with Wheels.
I say, not his fault.
Get off his back. Matt Nagy, a promising young coach whom I want to like, does not have clean hands in all of this. He does some things well, but he's learning on the job.
He's no Andy Reid yet.
Oh, for the days when we knew the Bears would not be good, but we could enjoy watching Dick Butkus or Doug Plank tear some heads off. Or relish Rudy Keuchenberg making a failed attempt to strip the ball on a kickoff return.
Bears fans should not have to agonize over mediocre quarterback play. That's in the franchise's blood.
The team should understand that.
Analyzing Trubisky is not going to be productive or pleasant.
Given that the Bears can't give the gift of success, is it asking too much to spare fans the agony of creating false quarterback expectations?
That seems like a Christmas present the Bears could manage.