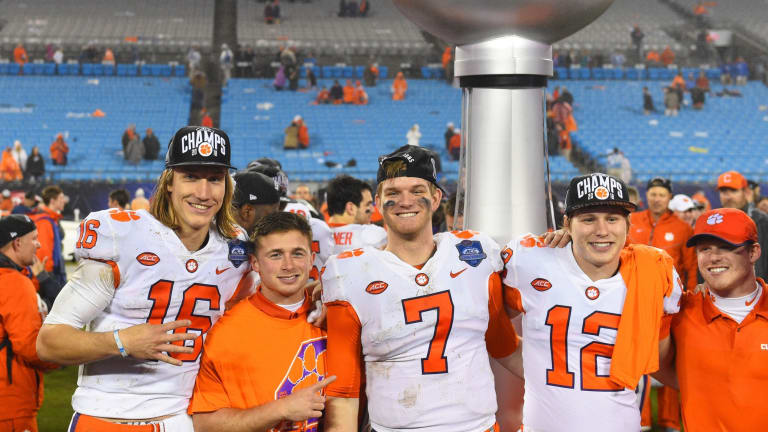 A JERSEY GUY: Clemson Acting and Looking Like National Champions--Again
LSU might be No. 1 but it would be foolish to dismiss Clemson as a serious threat to win another nat. champ in CFB
(As the new year approaches, a few thoughts we were just wondering about in the wide world of college sports and beyond)
When are people going to learn about Clemson?
The Tigers might be coming out of what is perceived as a very weak Atlantic Coast Conference, but that does nothing to diminish their talent--and hunger for another national title.
In case you haven't been paying attention, Clemson has now won 29 straight games and two of the last three national championships.
Coach Dabo Swinney's team--as it did a year ago--came into the Final Four semifinals lacking in the total respect it felt it deserved.
The criticism was that the ACC was weak and that Clemson struggled early in the season against weak teams.
Let's make one thing clear.
Clemson can only beat the teams on IT'S schedule. The Tigers have done that for two consecutive seasons without a misstep.
Their latest conquest was on Saturday night against No. 2 seed Ohio State in the Fiesta Bowl in a dramatic last-minute come-from behind win.
That puts them in the national championship game against the No. 1 LSU Tigers n New Orleans in two weeks.
And the Clemson Tigers are already underdogs--5 points.
Careful with that one.
A year ago, Clemson went into the Final Four semifinals as underdogs and took care of UNBEATEN Notre Dame and UNBEATEN Alabama by a combined score of 74-19.
That's not BC and UAB. That's Alabama and Notre Dame.
​​Clemson may be in the ACC, but its more of an SEC school than Vanderbilt, Kentucky and half a dozen other schools from that conference.
And if Clemson and Coach Dabo Swinney pick up their third national championship in four years, the lack of respect issue should be retired--permanently.
***
Now that Ohio State is done for the season, look for new Boston College football coach (and former OSU co-defensive coordinator) Jeff Hafley to return to Boston in the next few days and announce his coaching staff and pick up the on-going recruiting search for better players.
Nothing official yet, but lots of rumors are floating around The Heights. It appears that BC wide receivers (and interim head coach) Rich Gunnell has the best (and possibly only chance) of being retained from former BC coach Steve Addazio's staff.
BC finishes its season on Thursday with a meeting against Cincinnati in the Birmingham Bowl.
There is the possibility that offensive line coach Phil Trautwein might survive as well as Special Teams Coordinator and Outside Linebackers coach Ricky Brown, but those appear to be long shots.
The key hires are offensive coordinator and defensive coordinator.
Until announced otherwise, I'm sticking with Carolina Panthers (interim ) offensive coordinator Scott Turner, who will presumably be looking for a new job with the end of the NFL regular season on Sunday.
Turner was elevated from QB coach after Ron Rivera was fired in mid-season and is the son of long time NFL assistant coach Norv Turner.
More importantly, Turner and Hafley worked together at Pittsburgh ten years ago.
Defensively, there are a number of possibilities, ranging from former BC assistant (and Jersey Guy) Anthony Campanile coming back from Michigan where he is the linebackers coach) to former UConn head coach Bob Diaco (and Jersey Guy who is the DC at Louisiana Tech).
Another possible staff member could be former BC linebacker Sean Duggan, who was a graduate assistant on OSU Ryan Day's staff this season.
***
There are some things that are just wrong.
Let's start by NOT having a meaningful college football bowl game being played this year on January 1. That's what happens when college football sells its soul and television rights and dilutes the New Year's Day package (which has always been college football's prime viewing day).
And then there is this.
The "Cotton Bowl'' was played on Saturday Dec. 28th between Penn State and Memphis in AT&T Stadium in Arlington, while the real Cotton Bowl will host an NFL Winter Classic game between the Dallas Stars and Buffalo Sabres. Game time temperatures are expected between 47 and 54 degrees.
***
Heisman winner, LSU QB Joe Burrow proved his skills again against Oklahoma with 7 TD passes (in the first half) and one running TD. Any Heisman voter who didn't have Burrow in their Top 3 (and five percent of the voters did not) should have their Heisman vote taken away.
​