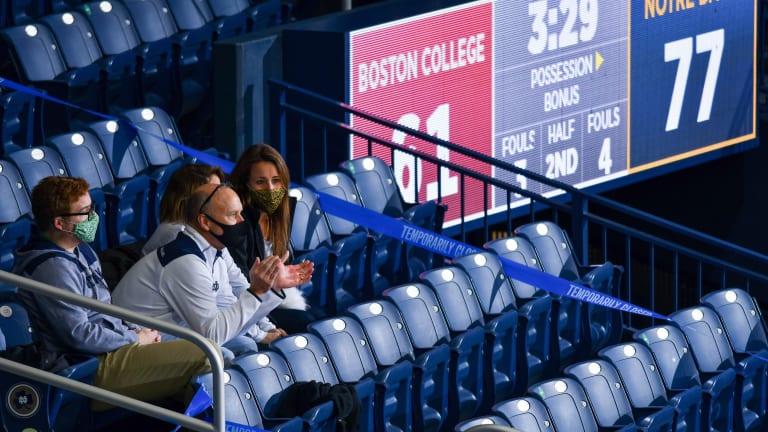 A Jersey Guy: Not so "Hidden Figure'' in BC Coaching Search
BC Senior Associate Athletic Director Jocelyn Gates may be playing a key role in the quest for a new men's basketball coach at The Heights.
BC Senior Associate Athletic Director Jocelyn Gates may be playing a key role in the quest for a new men's basketball coach at The Heights.
You may not know her name, but that might change, which is not surprising since she is a rising super star in athletic administrative circles.
Her name is Jocelyn Fisher Gates and she is the top women's administrator in the BC athletic department, who somewhat ironically is better known nationally than she is locally.
Gates moved to the next level last fall when she was named FBS Administrator of The Year, an award given to the top female college administrator in the country for their contributions to their home institution in the form of diversity, and gender equity practices, character, leadership, tenacity and commitment to excellence.
What should be noted here is that Gates' husband Dennis is the current basketball coach at Cleveland State and according to published reports a prime candidate to be named as the replacement for Jim Christian, who was fired two weeks ago.
Ostensibly, new BC athletic director Pat Kraft is conducting the search which has focused much of its attention on finding qualified minority candidates with head college coaching experience.
Whether Gates has recused herself from the process this time is unclear, but it would be unusual because published reports have stated that she played a key role in hiring current BC women's basketball coach Joanna Bernabei-McNamme as well as volleyball coach Jason Kennedy and football coach Jeff Haflely.
Gates arrived at BC in July 2017 as part of new athletic director Martin Jarmond's administration at The Heights.
All of those coaching hires were made by Jarmond, not by Kraft who came to BC last summer when Jarmond took a job as the AD at UCLA.
But Gates, who previously has held high administrative jobs at South Florida and Duke, has seen her status steadily rise.
Reportedly, she was given strong consideration as Jarmond's replacement last summer.
Although she didn't get that job, it seems clear that she will be high on the candidate list for future major FBS AD openings.
Another intriguing part of the story is that while Joclyen and Dennis Gates have been married for several years and have two children, they have not lived in the same city during most, if not all, of their marriage.
Jocelyn has been at BC for the past four years and was at South Florida and Duke before that, while her husband has spent the last two years in Cleveland, where has revived the Cleveland State team into an NCAA tournament caliber program. 
Before that, Gates was an assistant on Leonard Hamilton's staff at FSU for eight years.
Dennis Gates' credentials as a candidate at BC are boosted by his academic pedigree, which includes an undergraduate degree at the University of California, Berkeley, where he was a 2-time Pac-12 All-Academic selection as well as being named the team's best defensive player in his last season.
Earning his undergraduate degree at Cal in sociology in three years, Gates received a Master of Science degree in adult education and human resource development during his stint at FSU.
His coaching resume, including his time with Hamilton at FSU, gets him points as a recruiter at the highest level. And, his success with Cleveland State, combined with is young age—he turned 41 in January—also fits the profile Kraft apparently wants.
Combine that with the relatively low salary he is earning at Cleveland State—he signed a 5 year $1.45 million contract in 2019, a total that Christian was being paid ANNUALLY at BC—and you see why Gates could be a person of interest for BC.
The key here with Jocelyn Gates' administrative role is the optics—and potential questions of nepotism that might be raised.
There are still other candidates involved, including former BC player Howard Eisley, who is an assistant on Juwan Howard's staff at Michigan and has a strong contingent of backers at BC all the way up to the Board of Trustee level.
As for Gates, me may receive a better offer from a place like Penn  State, which is also conducting a coaching search.
Gates would also be a better fit in State College.
Whether this gets done in the next few days or is put on hold as coaching candidates evolve into the tournament phase of their season also is unclear.
The ultimate call, as it always has been, will be made by BC President Father William Leahy.