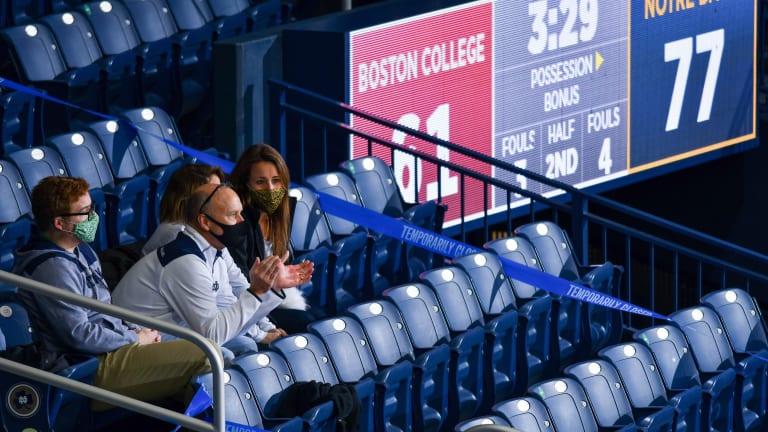 A Jersey Guy: BC Focusing On Schmidt, But Is It Real?
Boston College coaching search continues to take strange twists.
Boston College coaching search continues to take strange twists.
The interview process for finding a new men's basketball coach at Boston College is set to begin, most likely thru zoom calls, but in typical BC fashion there are more than a few facets involved.
According to sources familiar with the process, Boston College athletic director Pat Kraft is set to interview St. Bonaventure head coach Mark Schmidt early next week.
In a normal search cycle, this would make sense in many ways.
Schmidt is a Boston College graduate, who has done an outstanding job since arriving at St. Bonaventure's in 2007. The Bonnies, who are on the cusp of another NCAA bid, have not had a losing season in eight years.
Schmidt is a good solid coach in the mold of Northeastern's Bill Coen, who has done basically the same job with the Huskies as Schmidt has at St. Bonaventure.
The issue at BC is diversity, or lack of it, which is why the top of the candidate list has been filled with black head coaches, preferably with college head coaching experience.
Schmidt also has BC pedigree, which is the prime reason why Michigan assistant head coach Howard Eisley is also high on the BC search list, but his biggest draw back is lack of head coaching experience.
The other issue Kraft and BC must deal with is a direct competition with Penn State, which is also looking for a head coach, and is also leaning to a minority hire.
In many ways, the profile for the candidates at BC and  Penn State are identical, with Penn State regarded as the better opportunity for a variety of reasons.
Kraft is now also dealing with post season basketball, which means that a good portion of his wish list will be occupied with games for the next several days and perhaps weeks.
BC appears to have had minimal interest in coaches who could agree to a deal immediately, with potential candidates such as Harvard's Tommy Amaker, former Georgetown coach John Thompson III among that group.
Another possibility could be UCF coach Johnny Dawkins, whose season is likely to conclude sometime in the next several days.
Another name which popped up on the coaching radar screen for BC is South Carolina coach Frank Martin, whose job could be in jeopardy in the next several days.
Kraft had hoped to wrap up the process by the end of next week, before the NCAA tournament started. 
That may not be a realistic goal since it is unlikely that any head coach with an NCAA tournament bid is going to announce he is leaving.
Such would seem to be the case with Schmidt, 58, who played at BC  from 1981 to 1985 under coaches Tom Davis and Gary Williams. He's also a Massachusetts kid who prepped at Bishop Feehan High School in Attleboro.
Schmidt has flirted with BC before and would almost certainly accept an offer, but it would be surprising if any announcement is made before the Bonnies' season ends..
The key question with Schmidt is  basic: Would BC hire a middle aged white coach, even one with BC roots, if its prime goal has been to increase diversity from a pool of  candidates some with better credentials than Schmidt?