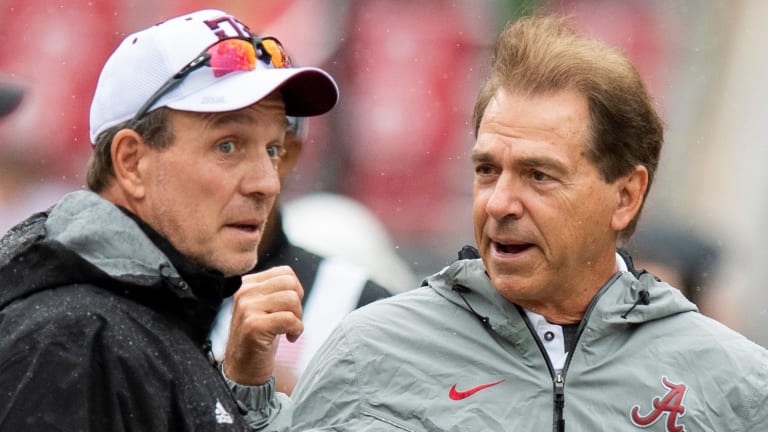 A Jersey Guy: Free Agency On Its Way
With more freedom for college football and basketball players looming, can chaos be far behind?
With more freedom for college football and basketball players looming, can chaos be far behind?
Some things won't change or return to normal.
Defending national champion Alabama will hold its annual spring game on Saturday and Coach Nick Saban will unveil another Top 5 championship contending team.
The crowd at Bryant-Denny Stadium will only be at 50 percent of capacity because of COVID  issues, which is up from the 20 percent capacity limit of regular season games last fall.
Similar stories will be told in Columbus, Ohio , Athens, Ga and Clemson, South Carolina.
Normally once the practices are held and the spring games played, college football goes into a small period of hibernation. Coaches even schedule family vacations.
This year will be different, perhaps permanently so.
It all started with what is now known as the "transfer portal'' a place where college football and basketball players submitted their names if they wanted to switch schools.
 Such move came with an asterisk which required a year of lag time as well as the approval of the transfer by the school or,  in some instances, a conference.
That was before COVID-19 sent the NCAA into a panic mode and before a new wave of legislation giving college athletes more unrestricted freedom of movement and more access to income generated by their image or likeness.
A tsunami in both college basketball and football--the two top revenue producing sports in college athletics--is upon us, energized by NCAA legislation which will allow one time (in a career) immediate transfers..
Since August 1, more than 1,500 college football players have placed their name in the transfer portal
With the college  basketball season just ending, more than 1,100 players have expressed an interest in playing at a different school next season.
The off-season movement in college football has seen some major potential changes which will affect the Top 25 landscape.
Those moves were fueled by player uncertainty.
With the conclusion of spring drills, coaches will assess their strengths and weaknesses and depth charts and attempt to fill in gaps by checking the transfer portal list to see who is available.
Add that to the confusion being created by the NCAA's ruling of basically a free year of eligibility because of COVID issues and you have an incubator set up for chaos.
That is only one part of the equation.
The issue of compensation for using the likeness or image of football or basketball players as well as the subplot of whether the players are indeed "student-athletes'' or "employees'' who perform almost at will for multi million dollar athletic operations also is approaching a cross-roads, which could very well be clarified by the United States Supreme court in the next several weeks.
The decision made to play the majority of FBS and Division 1 college basketball seasons through the pandemic over the past several months has increased the turmoil and uncertainty, as well as been a financial pitfall.
All of which leaves the immediate future--the next 3 to five years--of college football and basketball in a state of flux and potential instability.
Outside of corporate headquarters in Indianapolis, there is no sense of confidence in the leadership of NCAA President Mark Emmert and his staff to make the proper moves.
At the Presidential level, there is also uneasiness about how rulings in the courts could wipe out any semblance of amateurism in big time college athletics.