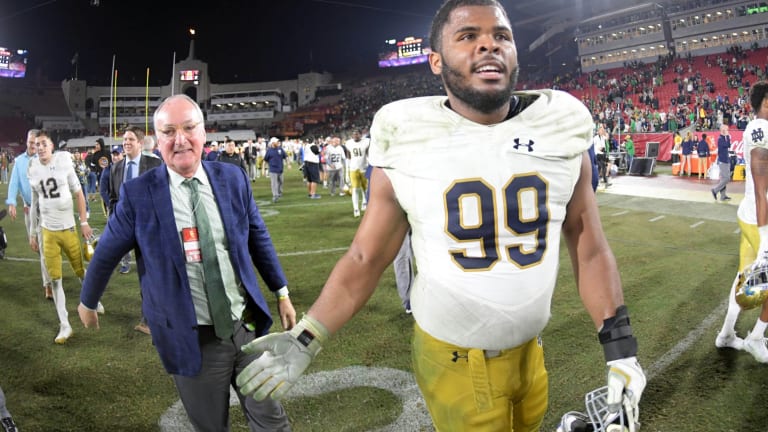 Maybe it's Time to Downgrade ND Football
ND flops again in a big bowl game, which is becoming more of a way of life for the Golden Domers
Stop me if you have heard this tale before.
An unbeaten Notre Dame team comes into a national championship game and leaves without its unbeaten record or a national championship.
Wait.
Oh, yes that happened in the BCS title game in 2012 when the unbeaten Irish stepped up in class against Alabama and was totally embarrassed in a 42-14 loss.
An unbeaten Notre Dame team comes into the CFB Final Four semifinal against No. 2 Clemson in the Cotton Bowl with the No. 3 ranking, saying that it is better than the 2012 team that lost to Alabama.
Wait.
Oh, yes, the final score was 30-3 Clemson and Notre Dame left the Cotton Bowl without its unbeaten record or a spot in the national championship.
Notre Dame brings teams to the Fiesta Bowl in 1994, 2000, 2005, 2015.
Wait
. Oh yes, ND comes away with a L and L, and L and an L.
Notre Dame takes teams to the Orange (2), Fiesta (4). Sugar (1) and Cotton (1) bowls.
Wait.
Oh, yes, Notre Dame is 0-8 in its last New Year's Six bowl appearances.
See a pattern here.
If we learned anything about the world of college football following Saturday's Final Four semifinals in the Orange Bowl and Cotton Bowl, it is that Alabama and Clemson are a cut above the rest of the field, which we already knew going into the 2018 season.
Next Monday's national championship game in Santa Clara, California will be the fourth consecutive year the two teams have met in the CFB playoffs, with Alabama holding a 2-1 edge.
And what we learned on Saturday in the Cotton Bowl was that Notre Dame again is not ready for prime time, which is why the silence from the normally loud and often obnoxious ND contingent is deafening this morning.
You could certainly make an argument that not only were the Irish not better than No. 2 Clemson, but also No.1 Alabama which took care of No. 4 Oklahoma in the Orange Bowl semifinal game on Saturday night, No. 5 Georgia and No. 6 Ohio State.
If you want to do some comparative score match ups, I will make an argument that unbeaten UCF (a 45-14 winner over Pitt) is also better than the Irish, who managed only a 19-14 win over the Panthers.
Yet the public and the media keep buying the Notre Dame brand of greatness when the Irish win all of their games, despite evidence which suggests otherwise.
It needs to stop now.
Notre Dame's last 8 failures in New Year's Six competition, spread over more than 20 years should be considered.
As for this year?
Look at some of the "key'' ND wins.
The Irish beat teams from USC, FSU Virginia Tech and Stanford who had below average seasons. Their best win was an opening victory at home over Michigan, which must now be looked with a jaundiced eye considering that the Wolverines are 0-2 in their last two games, being outscored by Ohio State and Florida by a combined score of 103-54.
The CFB committee should lump ND in with the Group of five conferences who have one committed spot in the New Year's Six bowl rotation each year.
If the Irish want a seat at the grown up table let them join a conference--presumably the Atlantic Coast Conference, to which they are already a member in men's and women's basketball and are committed to playing five games against ACC competition each year--which earns them a slot in the ACC bowl rotation)
They can still play a quality non-conference schedule of 4 games--USC, Stanford and Michigan and Navy would be fine. If they survive that AND make it through the ACC season, then they would deserve any spot in the New Year's Six bowl rotation.
But for now, after another stink bomb, ND needs to be downgraded.
​
​
​