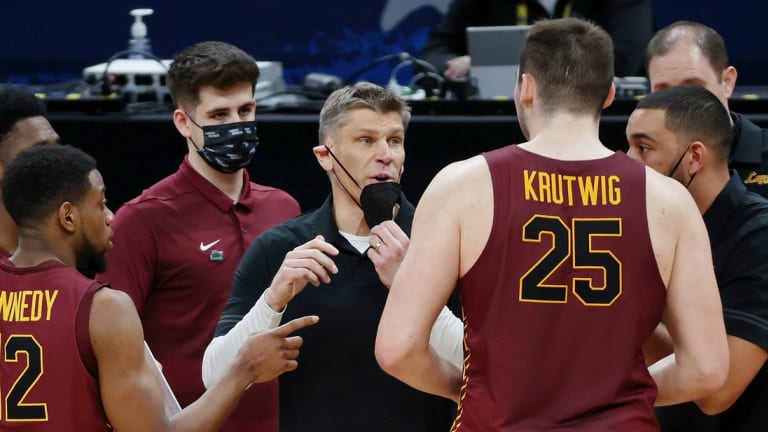 A Jersey Guy: Is Moser Ready To Move?
Loyola (Chicago) basketball coach Porter Moser is the hottest coach on the market.
Loyola (Chicago) basketball coach Porter Moser is the hottest coach on the market.
He is the "coach dejour'' in college basketball right now,  the person with the right star power whose next move could make him the leader of the next group of super star college basketball coaches.
A decade ago, the hottest "young'' coaches in college basketball were Brad Stevens at Butler and Jay Wright at Villanova.
Stevens parlayed Butler's rise to Final Four status to the next level of the NBA, where he is firmly entrenched as the head coach of the Boston Celtics.
Wright's chose to remain in college basketball and has elevated himself to the elite level at Villanova, witih two national championships in the past 6 seasons--and still a chance--of a third title in the next two weeks.
But this season the role is being filled by Porter Moser.
Moser (for now)  is the coach of a Loyola (Chicago) team that is a pair of wins away from its second Final Four berth in 3 seasons,  which would be a remarkable achievement considering this is Loyola, not Kentucky, Duke or North Carolina.
"For now'' are the key words here, because the consensus buzz  in the compact world of college basketball in Indianapolis is that Moser will be coaching somewhere else within days after Loyola concludes its season.
The only possible road block to that would be if Moser and the Ramblers are cutting down national championship nets on April 5th, with a loyal group of followers arguing that Moser would be hard pressed to walk away from a program he turned into a  national champion.
Conventional wisdom suggests that Moser, who arrived at Loyola 10 years ago, has taken the Missouri Valley conference champion program as high as he can.
It is time for new challenges at the "major'' conference level, 
Marquette would seem to have had a slight edge if  you fit in the pieces, which includes Porter's Jesuit background. but that appears to have disappeared with reports that Marquette was hiring Texas' coach Shaka Smart.
DePaul is also open and could be a possibility as well as a slight upgrade to the Big East Conference
Indiana  would seem more logical, but now so does staying at Loyola, which  has visons of turning into a Midwest Jesuit version of Gonzaga.
And now Texas and Oklahoma are open in the Big 12.
 Moser came out of Benet Academy in Naperville, Illinois, moved to Creighton as a player and then an assistant, as well as another stop at St. Louis.
At the age of 32, Moser made his head coaching debut at Arkansas-Little  Rock and has been a rising star ever since.
It is not hard to see the comparison's to Wright, who came out of Bucknell University in Pennsylvania, worked his way through a few assistant jobs and was named the head coach at Hofstra at the age of 33 in 1994.
After three consecutive losing seasons, Wright found a  magic formula which has produced only 2 losing seasons in the past 24 years.
Since his arrival at Villanova in 2001, Wright's teams have won 8 Big East titles,made  16 NCAA tournament appearances, 3 Final 'Four appearances and won two national championships. 
Unlike Loyola, which is a solid favorite over No. 12 seed Oregon State in Saturday's Midwest Regional semifinal, No. 5 seed Villanova  is a significant underdog to No. 1 seed Baylor in the South regional semifinals.
It would be foolish to dismiss Villanova because of the presence of Wright, just as it is becoming more difficult to overlook Loyola because of what Moser has been able to do  in turning the mid-major Ramblers into a major conference tournament-buster.
For the next few days, or perhaps the next few weeks, Moser seems content to play the cards he holds.
After Loyola scored  a major upset last weekend by knocking off No. 1 seed Illinois by 13 points, Moser, preferred to talk about what he had, rather than what he wanted.
""I've said this before as the coach of Loyola,'' he said  "It's amazing what happens when you get a group of young men who believe, and these guys believed.  A lot of the stuff we've done is hard work in the summer, hard work in the off-season. This wasn't just the switch being switched in the last 48 hours. |These guys have invested in what we do and they believe in it.''
Moser and Loyola's climb has had its speed bumps The Ramblers had losing seasons in four of the first five years of Moser's tenure at Loyola, which began in 2011.
The Ramblers have spiked in the last three seasons, however, earning a Final Four bid in 2017-18. while blitzing through the MVC this season with a 26-4 record.
""You know, just thinking back where we came from 10 years ago, to moving up into the Missouri Valley and then the last six years,'' he said. ""i kept on saying it, I just feel like this has a high ceiling, what you can do when you get a lo of people believing.'' 
If Loyola beats Oregon State, it will then take on the winner of the other Midwest Regional semifinal between Syracuse and Houston.
No Sequoias in that pairing as well, which could keep Loyola in Indianapolis for another week.
It would also allow Porter Moser to continue examining his options, none of them appearing to be all that bad.
"The journey of enjoying each moment with these guys,'' said Moser. ""And the practice and the game planning and the game."'