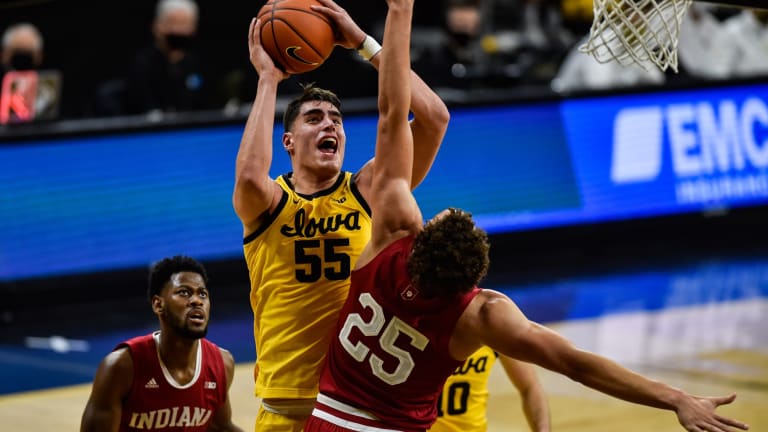 A Jersey Guy: March Chaos Already Starting
A week away from the end of the regular season and almost nothing feels normal.
A week away from the end of the regular season and almost nothing feels normal.
March Madness.
Finally!
Hopefully?
Ok. You figure out what any of it means or if it means anything at all.
Consider the last several days of the 2021 COVID-laced college basketball season.
Twelve of the Top 25 Associated Press teams lost last week.
.No. 2 Baylor, coming off a 21-day COVID-generated shutdown, lost its first game of the season, showing its rust in a 71-58 lost to Kansas.
Iowa, which has had peaks and valleys throughout the season, had a two game road trip at Big Ten heavyweights Michigan and Ohio State. 
The Hawkeyes were blown out in the second half at Michigan in a 73-57 defeat, losing a pair of key players with injuries, Connor McCaffery (ankle) and Jack Nunge (knee). Nunge's injury (torn meniscus right knee) is serious and he is done for the season.
How did Coach Fran McCaffrey's team respond? The Hawekyes went into Columbus on Sunday and rolled past the Buckeyes, 73-57.
Villanova, the top team in the Big East,  dropped a 73-61 decision to Butler, whose only path to the NCAA tournament is by winning next week's Big East tournament.
USC and UCLA, the two top teams in the Pac-12, went on the road over the weekend and lost to Colorado and Utah.
Virginia, which clung to a narrow lead in the ACC, has lost three straight, and is an unimpressive 1-3 vs. ranked teams.
On a lower profile note, the America East started conference tournament play over the weekend and UMass-Lowell, a No. 6 seed, won two games, knocking off Stony Brook and New Hampshire. 
Coach Pat Duquette's team is now 10-11 for the season and faces No. 2 seed UM-Baltimore Count in the semifinals on Saturday.
Some form did hold up as Gonzaga remained unbeaten at No. 1 in the country, while newly No. 2 ranked Michigan has but one loss.
The Madness begins this weekend as some teams finish their regular season play, while a few mid-major conferences will dive into conference tournament play.
  A few leagues--the Ohio Valley on Saturday and the Big South, Atlantic Sun  and Missouri Valley Conference on Sunday--will crown their  conference champions and hope that they have no positive COVID tests before the NCAA tournaments tips off on March 18th.
Let the countdown begin.
Sweet 16 Projections.
No.1 seeds--Gonzaga, Michigan,  Baylor, Ohio State
No. 2 seeds--Illinois, Alabama, Iowa and West Virginia
No. 3 seeds--Villanova, Kansas, Florida State and Houston
No. 4 seeds--Tennessee, Virginia, Texas Tech, Oklahoma