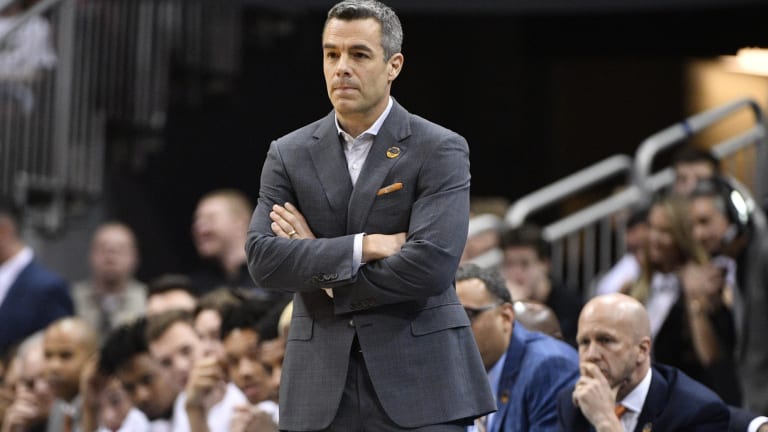 Virginia Is On A Mission
UVA will forever be haunted by its loss to UMBC in last year's NCAA tournament, but it's what motivates the Cavs.
It has been with them the past two weeks as they have clawed their way through the challenge that is the NCAA basketball tournament.
It will be with them again on Saturday night when they face Purdue in the South Regional final in Louisville.
If they, win, it will be with them again next weekend in Minneapolis.
In fact, it is part of their NCDNA. Thirty years from now any of them can be at a March Madness party, watching another tournament and the subject will be raised and their part in NCAA history will again be discussed.
It is their legacy and only the University of Virginia Cavaliers carry it and is no doubt using it as a unifying element.
A year and a few weeks have passed since that day in Charlotte last March when No. 16 seed University of Maryland--Baltimore County gave the No. 1 seeded Cavaliers a Star Trek moment (going where no man (team) had gone before) by posting a stunning 74-54 defeat, a milestone previously never reached since the tournament expanded in 1985.
The burden was part of the profile of this season's Virginia team, which raced to the top of the tough Atlantic Coast Conference regular season, vaulting over Duke and North Carolina.
It was part of the pre-tournament chatter in Columbia, South Carolina when the Cavs (now 32-3) opened their March run as the No. 1 seed in the South Region against No. 16 seed Gardner-Webb.
It became a roar when the Cavs fell behind by 14 points in the first half with a "not again'' theme going viral on the internet.
Virginia came back from behind to beat Gardner Webb and then it rolled past Oklahoma and then, on Thursday night, knocking off Oregon to advance to the Regional finals against Purdue.
But as much as defense and clutch shooting, the UMBC game is the primary factor driving this team.
"You had to look that (the loss to UMBC) in the eye, said Cavalier coach Tony Bennett. ""It was ironic. We were a No. 1 seed again in that setting. And then to be down by 14.''
UVA got past the opening round and past Oklahoma and against a pesky Oregon team, which challenged them in all phases before dropping a 53-49 decision.
Bennett sees his team recovering in a steady methodical manner similar to the way it beats opponents on the court by wearing them down.
"Here we are again,'' said Bennett. ""I think certainly, there's an enjoyment and freedom in it, but there's also a desire to play well and advance again.''
The Cavs had to struggle until the final seconds to squeeze past No. 12 Oregon, which had put together a 10 game winning streak to literally play its way into the NCAA tournament.
Now they must deal with Purdue, coming off a harrowing overtime victory against No. 2 seed Tennessee.
Of the four No. 1's, Virginia ranks last in fan appeal in competition with Duke, North Carolina and Gonzaga. The Cavs game style is the least exciting, if not the most effective.
Virginia has proven it can handle all challenges presented to it. It has defeated North Carolina, it has beaten Duke, it has overcome the demon losing a first round NCAA tournament game.
No one from outside the ACC has beaten the Cavaliers this season. If Virginia beats Purdue, it may to have fend off more ACC teams (North Carolina, Duke or Virginia Tech) to win a national championship.
Those are formidable challenges.
""I think it's as much as you have to block out,''' said point guard Ty Jerome, who scored 13 points in the win over Oregon. ""I think you have to embrace it and let it fuel you.''
A year ago, after the UMBC loss, Virginia basketball had crumbled for all intents and purposes.
Where it will be a day from now, or a week from now, remains one of the more intriguing questions of the 2019 college basketball season.