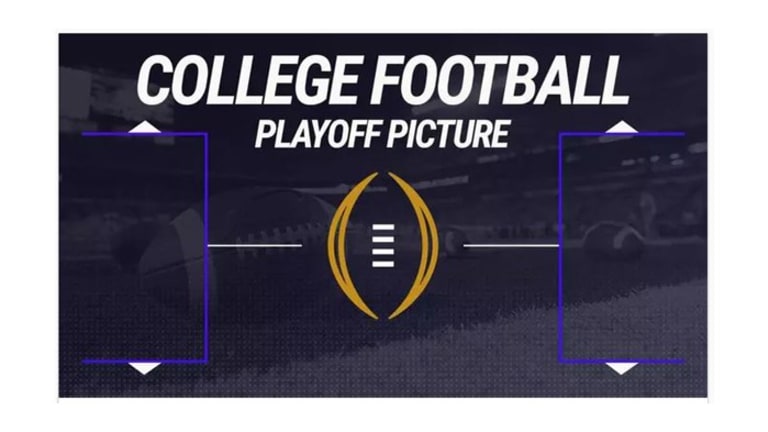 What the CFB Playoffs COULD Look Like
On conference championship game weekend, here's what an 8-team CFB playoff picture would look like
It's conference championship game week and the full College Football Final Four will emerge from the winners of the SEC title game (Alabama-Ga.), ACC title game (Clemson vs. Pitt), Big 12 title game (Oklahoma-Texas), Big Ten title game (Ohio State-Northwestern and American Athletic Conference title game (UCF-Memphis).
Unbeaten Notre Dame has finished its regular season and is already (unofficially of course) in the field and the Pac-12 is unlikely to have a team that can climb high enough in the rankings. And even if UCF, playing without starting QB Mackenzie Milton, beats Memphis, it will take some huge upsets for UCF to reach the Final Four.
Just for fun and comparison, we offer an alternate weekend of games, which would be played in the quarterfinal round on Friday and Saturday of an 8-team CFB playoff. The games would be played at the campus of the higher seeded team.
The Seeds
Alabama (SEC)
Clemson (ACC)
Notre Dame (At-large)
Georgia (At-large)
Oklahoma (Big 12)
Ohio State (Big 10)
UCF (Group of 5)
Washington (Pac-12)
The Games
No 8 Washington at No. 1 Alabama
No.7 UCF at No. 2 Clemson
No. 6 Ohio State at No. 3 Notre Dame
No 5 Oklahoma at No.4 Georgia
No divisions would exist in conferences and regular season champion would be determined by tie breakers.
Campus sites would give more incentive to finish first.
All 5 major conferences would be represented, no matter what the record of their champion.
Group of 5 would have a guaranteed spot in the playoff for its highest ranked team.
Games could be played at neutral sites, such as Arlington, Texas (Big 12), Charlotte, N.C (ACC), Santa Clara, Ca (Pac-12), Indianapolis (Big 10), and Atlanta (SEC) if so desired, to keep big game atmosphere created by conference championship games.
Four winners would advance to the semifinals in (this year) the Cotton Bowl and Orange Bowl on Dec. 29th. The national championship game would be held in Santa Clara, Ca. on January 7.
The losers of the four quarterfinal games would drop back into the bowl pool of their respective conferences or tie ins and still participate in a bowl experience.
The CFB Playoff Bowls match ups might look like this.
Cotton Bowl-Alabama vs. Georgia
Orange Bowl-Clemson vs. ND
Rose Bowl-Ohio State vs. Washington
Sugar Bowl-Oklahoma vs. LSU
Fiesta Bowl-UCF vs. Washington St.
Peach Bowl--Michigan vs. Fla.
This season the only team that would really have a gripe might be No. 7 Michigan, but they would get a consolation prize of playing in a New Year's 6 game like the Peach Bowl.
You make the call. Which system is better, which is more fair?