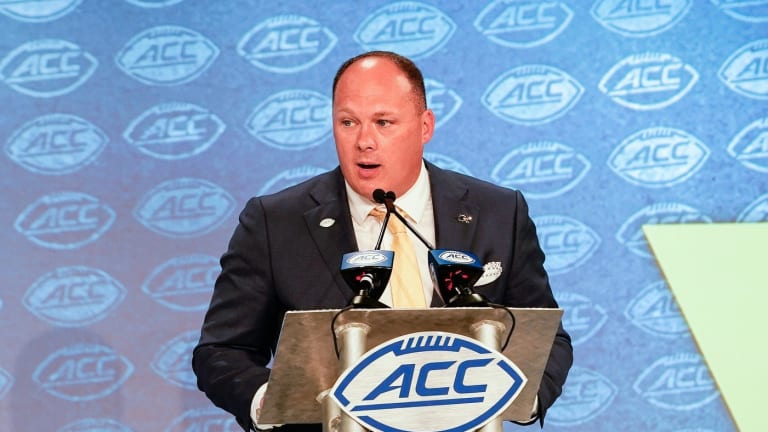 Georgia Tech, Collins want nothing less than a 404 Takeover
Geoff Collins uses social media, 21st century branding to get out the message: It's a new day at Georgia Tech.
Atlanta--In 2000 Geoff Collins was a 29-year old graduate assistant coach at Georgia Tech who spent a lot of his time bugging the hell out of head coach George O'Leary.
Despite the fact that he was not a full-time assistant Collins, who had come to Georgia Tech from Division III Albright College, wanted to prove to O'Leary that he could recruit at the Power 5 level. O'Leary wanted Collins to get out of his office.
"So he said 'We have six states that we're primarily recruiting so you take the other 44, wise guy,'" Collins said.
Georgia Tech's next recruiting class included five players from the 44 states assigned to Collins.
That is just one of many stories of persistence and perseverance that have followed Collins on the journey from his home in Conyers, Ga. (40 minutes east of Atlanta) to the Edge Athletic Center on Bobby Dodd Way where, on Dec. 7, 2018, he was named the head coach at Georgia Tech.
"This is always the place I have wanted to be," said Collins, who was the head coach at Temple for two seasons before taking this job. "I've always believed that Atlanta was the epicenter of the college football universe. And I've always had a clear idea of what this place can be and should be.
"No limitations."
Oh by the way. Collins's first game as Georgia Tech's 20th head coach will be Thursday night against Clemson, the defending national champs. It will be the first-ever football game televised on the ACC Network.
No pressure there.
No place Collins would rather be.
There is a lot of college football history here:
Robert Lee "Bobby" Dodd is the icon for whom the stadium is named. Dodd was the head coach for 22 years (1945-66) and won a national championship in 1952. Dodd served Georgia Tech as an assistant coach, head coach, and athletics director for 57 years. He is one of only four men who are in the College Football Hall of Fame as both a player and a coach. (Amos Alonzo Stagg, Bowden Wyatt, and Steve Spurrier are the others.)
Bobby Ross (1987-91) won a national championship at Georgia Tech in 1990.
Georgia Tech had varying degrees of success under Bill Curry, O'Leary, Chan Gailey, and Paul Johnson, who won an ACC championship in 2009.
But after 11 years of running Johnson's triple option offense, it safe to say that as transitions go, this one is going to be a doozy for Georgia Tech.
Things are different here at Georgia Tech. The signs are everywhere:
**--In the staff meeting room are two copies of the book "Recruit or Die. How any business can beat the big guys in the war for young talent."
That is exactly what Georgia Tech must do if it is going to compete with the elite of the SEC and the ACC, which all recruit heavily in the state of Georgia.
"Eleven of the last 13 schools that have won the national championship are within a five-hour radius of Atlanta," said Collins.
While the folks in Miami brag about the talent in the 305 area code, it would be hard to match The 404, which represents the perimeter around downtown Atlanta. During off days Collins would call for a "404 Takeover" where each assistant would visit eight schools in the area in a 24-hour period. The T-shirts are already in the Georgia Tech bookstore.
Collins believes that in Atlanta, which is on the cutting edge of music, fashion, technology, and business, he has an excellent product to sell to the modern-day recruit. Atlanta is home to 16 Fortune 500 companies.
"We had 38 guys who did internships with major companies this summer," said Collins.
**--There are two quotes in the football offices that the Georgia Tech players see every day:
"Either love your players or get out of coaching."—Bobby Dodd.
"People don't care how much you know until they know how much you care."--Theodore Roosevelt.
"The first thing we did when we got here was make sure the players knew that we were completely invested in their development," said Collins. "Every day it is our job to make sure our players know how much we love them. Then the rest of the things we have to do can really take place."
**--Under Collins, Georgia Tech will not have a depth chart. Instead, there is a sheet of paper with a line drawn through the center.
"If you're above the line then you have earned the right to play based on your performance during the week," said Collins. "If you're below the line the coaches specifically lay out 'here is why you're not playing and here is what you need to do to get above the line.'
"We believe that if you are told that you're a backup you'll act that you're a backup," said Collins.
At 48, there is no question that Collins is ready for this job. This is his 13th college stop. He spent three years at Mississippi State and three years at Florida as defensive coordinator. He spent two years as head coach at Temple when his buddy, Matt Rhule, left there to become the head coach at Baylor. Collins took the Owls to a bowls in 2017 and 2018.
He was big on social media before social media was cool. He understood and implemented the concept of branding long, long ago. The business cards for Collins and his coaches are shaped like a football player. When meeting with a recruit, they put the player's high school number on the card so they can visualize themselves in a Georgia Tech uniform.
So the foundation is being built and the culture is being installed at Georgia Tech. But now there is the matter of the 2019 season that begins against the defending national champions. The boys in Vegas have the over/under of wins for Georgia Tech this season at four.
But for Collins, this is a dream that has been more than 20 years in the making. He can wait a little a little longer.