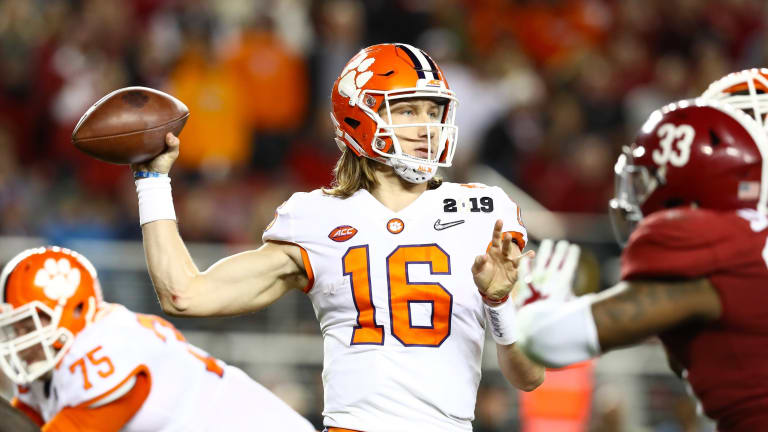 Mr. CFB/Tony Barnhart: Should we worry about the future of college football?
With falling attendance figures and a record number of players leaving early, how healthy is the game's future?
In January, as I was making my way back home after the CFP national championship game in San Jose, I ran into a friend who has been involved in the world of the college football for a long time.
"I'm a little worried about our game," he said.
And that sparked a conversation that leads me to ask this question today:
Should WE be worried about college football?
Now let's get this out right up front: College football, as it is played on the field, is the best it has ever been. There is no other sport—and that includes the mighty NFL—that week after week delivers more moments that make you say "Wow!"
But over the past few years there have been a lot of changes in college football. And there is more change to come. College football fans don't like change.
Vince Thompson, the CEO of MELT, an Atlanta-based sports marketing firm, calls them "storm clouds on the horizon that require our attention." Here are just a few:
ATTENDANCE: Overall attendance for college football at the FBS level has declined for four straight seasons. In 2017 it dropped 3.2 percent (biggest drop since 1983) as a growing segment of fans decide, for some games, that the in-stadium experience is less attractive than the in-home experience.
"Making the stadium experience better is something we work on every day," said Greg McGarity, the director of athletics at Georgia.
STUDENT ATTENDANCE: Student attendance continues to decline as the Millennials send signals that they want something very different when they go to the stadium. Several schools have already reduced the ticket allotment they set aside for students. Alabama's upcoming $75 million renovation of Bryant-Denny stadium will include a terrace for students in the South end zone to make it more of a social scene.
They want excellent Wi-Fi and it ain't cheap. Florida invested $6.3 million in a Wi-Fi upgrade. It also created a fenced-in beer garden and upgraded the food choices both inside the stadium and out.
"When Coach (Steve) Spurrier got here 25 years ago these kinds of things were not a big issue," said Scott Stricklin, the director of athletics at Florida. "They are now and we've got to figure out a way to address it. The world has changed and we have to change with it."
This is important because the current students comprise a big part of the fan base (and the donor base) of the future.
"If they aren't going to the stadium now, when they have to pay relatively little (or nothing) for tickets, who is going to make the donations and buy the tickets in the future?" said Gary Stokan, the President and CEO of the Chick-fil-A Peach Bowl.
PLAYERS LEAVING EARLY: In 2018 a record number of players with eligibility remaining (135) left college football in order to enter the NFL Draft. That number is never going to go down.
In 2016 only two players (Leonard Fournette, Christian McCaffrey) chose to skip their bowl games. Last season it that number was 19. That number is never going to go down.
"Don't be surprised if that number doubles next year," a bowl executive told me.
THE TRANSFER PORTAL: Because of it, more players than ever are seeking to transfer. Also, because of a change in the rules, more players are requesting and receiving waivers in order to be immediately eligible and not have to sit out a year. NCAA granted a waiver to Justin Fields, who played for Georgia in the Sugar Bowl on Jan. 1. He is now enrolled at Ohio State and could be the starting quarterback this fall.
FANS ARE TRAVELING LESS: Even in the SEC fans are not traveling in as great a numbers as in the past. According to a report in the Tuscaloosa News, over the past six years opponents have returned 14.1 percent of the tickets allotted to play in Tuscaloosa. Other schools have cut back on the number of tickets they allot for visiting teams.
Stricklin said Florida usually sets aside 8,000 tickets for visiting fans.
"Frankly we could lose 4,000 of those seats and be fine," said Stricklin.
THE COURTS: Sometime this year a federal judge in Oakland, Calif., will rule on a lawsuit that says the NCAA's cap on what an athletic scholarship is worth is a violation of anti-trust law. In short, if judge Claudia Wilken rules in favor of the plaintiffs, whose number is over 53,000, schools will be free to pay the players whatever they choose.
"That," said Stokan, "would change everything."
So, anybody worried yet?
Well, you shouldn't be. Not all of this change is bad. In fact, a lot of it was inevitable.
The transfer rules have long been tilted towards the schools so that coaches could restrict player movement and better manage their rosters. Now the players have just a taste of the freedom the coaches have long enjoyed. The coaches will have to adjust as will the fans.
Players leaving school early or choosing to skip bowl games is strictly a risk/reward calculation that every player and his family must make. If a player is a lock to be a first-round draft choice and his team is not in the College Football Playoff, the risk of playing might not be worth the reward of being with his teammates one last time.
The downturn in game attendance was completely predictable because of the technology that makes the in-home experience so good.
College football will adjust. There will be a conversation about game times and when they are set. There will be a conversation about "cupcake games" and what they cost. Crowds will be smaller as schools take down the total number of seats add more premium seats with more amenities.
So here's the bottom line: For a game whose cornerstone is tradition, all of this change can be a bit unsettling. Shoot. They are moving the date of the Georgia-Auburn game out of November in 2020.
But college football is too good. It's too strong. It is too ingrained in our culture. It will simply adapt.
"You have to understand that the challenge for college football is not the other schools that it plays, but it's Mercedes-Benz Stadium in Atlanta," said Thompson. "Once people get a taste of those amenities they expect more out of a stadium experience."
In short, college football will continue to change. And all of us will have to change with it. But it's going to be just fine.
Agree or disagree?