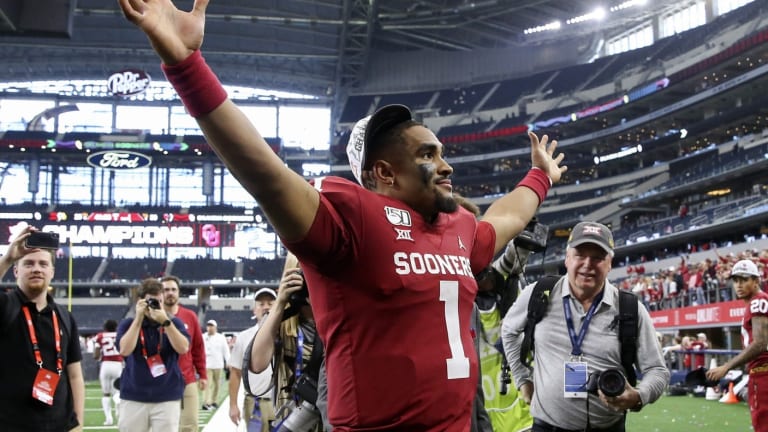 Oklahoma QB Jalen Hurts Has Had One Helluva Ride. Can It Continue Vs. LSU?
Hurts, the transfer from Alabama, will be playing in his fourth straight CFP semifinal.
Atlanta—Here are my five favorite story lines as we prepare for Saturday's College Football Playoff semifinal between No. 1 LSU (13-0) and No. 4 Oklahoma (12-1):
1—Jalen Hurts: It's been a helluva ride.
When the transfer quarterback from Alabama takes his first snap for Oklahoma on Saturday, he will form a club of one. He'll be the only person to play in each of the last four College Football Playoff semifinals. And if Oklahoma upsets LSU, Hurts will play in his fourth straight national championship game.
A quick recap:
2016: As a freshman, Hurts was the SEC offensive player the year. The Crimson Tide beat Florida (in Atlanta) for the SEC championship, beat Washington (in Atlanta) in the CFP semifinals. Against Clemson in the national championship game, Hurts had apparently won the game when he ran 30 yards for a touchdown with 2:07 left. But Clemson came back and won the game 35-31 with a touchdown with one second left.
2017: Hurts was the offensive MVP in the CFP semifinal win over Clemson (24-6), but was benched in the second half of the national championship game against Georgia at Mercedes-Benz Stadium. Tua Tagovailoa threw a 46-yard touchdown pass in overtime as Alabama won 26-23. Hurts lost his job.
2018: After suffering the lowest point in his career in Atlanta the year before, Hurts came off the bench for an injured Tagovailoa in the SEC championship game led Alabama to a 35-28 win over Georgia. That game was also at Mercedes-Benz Stadium.
So how sweet would it be for Hurts to come back to Atlanta one more time and beat the No. 1 team in the land?
Pretty damned sweet.
And what do Hurts and LSU quarterback Joe Burrow have in common? They both transferred (from Ohio State and Alabama respectively) in order to be on this stage.
2—285: That's the number of yards that Burrow, the Heisman Trophy winner, needs in this game to reach 5,000 for the season. He set the SEC record for passing yards in a season earlier this year and enters this game with 4,715 yards. Kentucky's Tim Couch is second all-time with 4,275 yards. No SEC quarterback has ever thrown for 5,000 yards in a season.
3—77.9: Burrow's completion percentage this season. That is No. 1 in the FBS behind Utah's Tyler Huntley (73.7). It is worth mentioning that Burrow has attempted 161 more passes than Huntley. If Burrow can maintain this completion percentage through the end of his season, he will break the NCAA record of 76.7 percent set by Colt McCoy of Texas in 2008.
4—Oklahoma's MIA: It has not been a good stretch since Oklahoma beat Baylor on Dec. 7 to advance to this CFP semifinal. Three Sooners, including their best pass rusher, Donnie Perkins, have been suspended for this game. No cause was given. Oklahoma will also be without safety Delarin Turner-Yell, the team's second-leading tackler with 75. Turner-Yell has a broken collar bone.
When the other team has a guy who can fling it like Joe Burrow, it is not a good sign to have your best pass rusher and your No. 2 tackler on the bench.
5—Clyde Edwards-Helaire:To play or not to play?
In the final few weeks of the season the LSU running back has become quite a weapon both running and throwing the football. But he has been nursing a bad hamstring suffered in practice last week.
Coach Ed Orgeron did not tip his hand on Edwards-Helaire during Thursday's Media Day at the College Football Hall of Fame. But to that point, he noted, the LSU running back had not practiced.
Offensive coordinator Steve Ensminger told The Advocate of Baton Rouge "I do believe we will have Clyde. That's my opinion."
Keep this in mind: After the national semifinals on Saturday, there will be a 16-day layoff before the national championship game in New Orleans on Jan. 13.
So do you rest Edwards-Helaire so that you'll have him for a championship game? Or does LSU roll the dice knowing there will be no tomorrow without a win?
My call? He's not going to play.
Bonus story line: Oklahoma head coach Lincoln Riley vs. LSU defensive coordinator Dave Aranda.
Riley, considered to be one of the best play callers of his generation, has sent his last three quarterbacks to the Heisman Trophy presentation with two of them (Baker Mayfield, Kyler Murray) emerging as winners.
Dave Aranda is the highest paid defensive coordinator in college football at $2.5 million per season.
How these two men push the right (or wrong) buttons will go a long way in determining the winner.