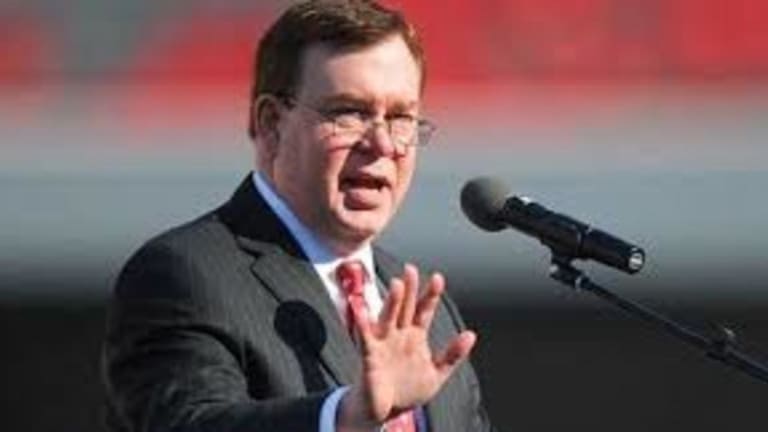 We are ecstatic beyond measure to announce that Tony Barnhart, aka Mr. College Football, has accepted an offer to join TMG College Sports as columnist, senior editor and equal-equity podcaster.
Tony begins providing exclusive TMG content this week.
"I am more than thrilled to be working, not just with great writers, but with great friends," Barnhart said of joining TMG. "I am honored to be a part of it."
Barnhart's arrival completes our original vision of providing coast-to-coast map coverage of college football. TMG was founded in July of 2016 by sportswriters Chris Dufresne, Mark Blaudschun and Herb Gould.
We can think of no more qualified a person to anchor coverage of the SEC and ACC conferences, although Tony is well-versed across many spectrums and can chime in on whatever floats his boat.
Barnhart is considered by many (including us) the most authoritative, connected, fair-minded and graceful chronicler of Southern football of his generation.
He is an award-winning writer and broadcast analyst, with more than four decades in the business, and his arrival gives TMG more than 150 combined years in journalism experience.
Barnhart, a Georgia native and University of Georgia graduate, has won numerous awards in his distinguished career, including Georgia Sportswriter of the year in 1999. His television work has twice been nominated for Southern Regional Emmy awards.
Tony spent the majority of his professional writing career with the Atlanta-Journal Constitution, but long ago developed into a multi-platform talent. He has provided sideline and studio work for CBS Sports and the SEC Network and, most recently, was a columnist for Gridiron.com.
"We're thrilled to have Tony Barnhart in the huddle," TMG co-founder Herb Gould said. "No one is more knowledgeable, level-headed and passionate about SEC doings in particular, and college football in general. He always tells me something I don't know, and he tells it well. Welcome aboard, Mr. College Football."
Barnhart is a past president of the Football and Basketball writers' associations. In 2009, he received the Bert McGrane (HOF) award, the highest award given by the Football Writers Assn. of America.
He is the author of five books, including "Southern Fried Football: the History, Passion and Glory of the Great Southern Game."
Tony lives in Atlanta, with his wife Maria. He is proud father to Sara and doting grand-daddy to the incomparable Sloane.
Barnhart's TMG timing is perfect, with this year's College Football Playoff national title game being played in his home town: Atlanta.
Talking season is over…it's time to play ball!
We can't wait for Tony to get started.