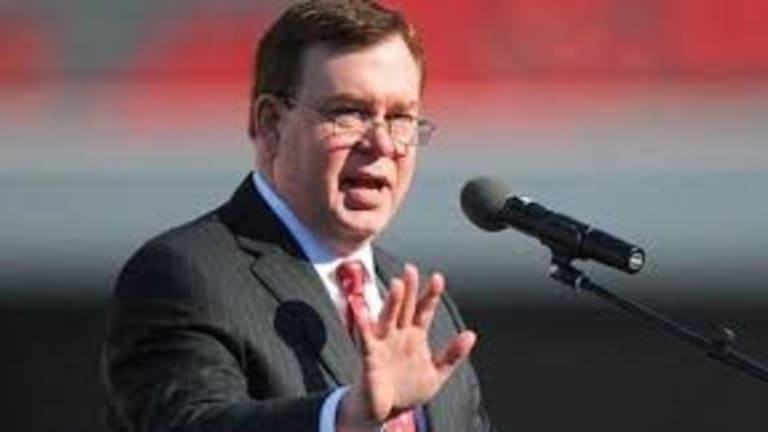 What makes Nick Saban so good?
TUSCALOOSA, Ala.—An old coach once told me that most people use statistics the way a drunk uses a lamp post: For support…
TUSCALOOSA, Ala.—An old coach once told me that most people use statistics the way a drunk uses a lamp post: For support…
TUSCALOOSA, Ala.—An old coach once told me that most people use statistics the way a drunk uses a lamp post: For support and not for illumination.
More simply put: Most of the time in sports and in life, you can take numbers and make them mean whatever you want them to mean.
But every now and then you run across a statistic that jumps off the page and with utter simplicity, explains so much.
I found this one in the book "Fourth and Goal Every Day," by Phil Savage with Atlanta-based writer Ray Glier. Savage was a colleague with Nick Saban at the Cleveland Browns of Bill Belichick in the early 90s. He later became the Browns' GM. Today he is the analyst on Alabama's Crimson Tide radio network and the executive director of the Reese's Senior Bowl in Mobile, Ala. [membership level="0"] The rest of this article is available to subscribers only - to become a subscriber click here.[/membership] [membership]
I was looking for a statistic to put Saban's remarkable consistency at Alabama (119 wins, five SEC championships, four national championships in 10 seasons) into some kind of historical perspective.
And on page xiii of an introduction by ESPN's Rece Davis, there it was:
"Since the start of the 2008 season, Alabama has played in exactly three regular-season games in which it had been eliminated from the national title chase."
Now think about that. Over the past nine seasons Alabama has played 125 football games. Only three times did the Crimson Tide take the field in a regular-season game knowing they didn't have a chance to play for the national championship. That is remarkable.
"He's won four national championships and if not for the kick-six against Auburn (in 2013) and the two-touchdown lead lost against Ohio State (in the 2014 playoffs) Alabama would have played for a couple more," said Savage. "It is an incredible string of consistency."
So how does Saban do it? The obvious answer is that Alabama recruits great players who have been thoroughly evaluated by Saban before they ever get to Tuscaloosa. Saban is one of the best evaluators of talent—along with Jimmy Johnson—that I have ever seen.
He convinces these great players to come to Alabama and wait their turn behind other great players at their position.
Then he infuses them with his personal work ethic and an unshakeable belief in his "process." Consider this:
Alabama came within one second of going 15-0 and winning the CFP national championship last season. That's how much time was left when Clemson's Deshaun Watson threw the winning touchdown pass down in Tampa. It was a bitter, bitter disappointment for Saban, his players, and the ultra-loyal Alabama fan base. It was Saban's first-ever loss in a national championship game.
By the time he got to SEC Media Days in Hoover, Ala., in July Saban already had his theme for 2017. I was with a small group of reporters who met with Saban when he said:
"I don't want to waste a failure."
A failure?
Did he say that?
14-1.
A third straight SEC championship.
A third straight trip to the College Football Playoff.
A failure?
Yep. He said it and he wanted his players to hear it.
Saban is relentless in his pursuit of excellence. Savage, as ESPN's Davis points out, has had a backstage pass to it all since 2009.
"The most impressive thing to me is that when I met him in 1991 he was the defensive coordinator and defensive backs coach of the Browns," said Savage. "Those were his areas of responsibility.
"When he walks on the field today he's still working with the defensive backs but now he's in charge of everything—the offense, the defense, the media, the strength and conditioning program—everything. But he's still able to keep his hands on the coaching wheel."
Saban doesn't try to downplay how big Saturday's game with No. 3 Florida State is. A win would keep Alabama at No. 1, the same place the Crimson Tided started the 2016 season. But he insists that you also understand that next week's game with Fresno State is just as big.
"It's always been that way for me," Saban said on Monday when I visited Tuscaloosa. "I work with our team to try to make them better—to play to the highest standard regardless of the opponent.
"If your goal is to be the best that you can be—individually or as a team—why does the guy across from you determine the level at which you will play? Why does the scoreboard determine the level that you play?"
That attitude, said Savage, is what gave him the title to the book.
"Alabama has won a lot on game day," said Savage. "But the key is that they also win the other 350 or so days of the year. After I had been there a while I realized that at Alabama it's fourth and goal every day.
"At the end it is the perfect marriage. I don't think that Nick would want to have it any other way."
[/membership]