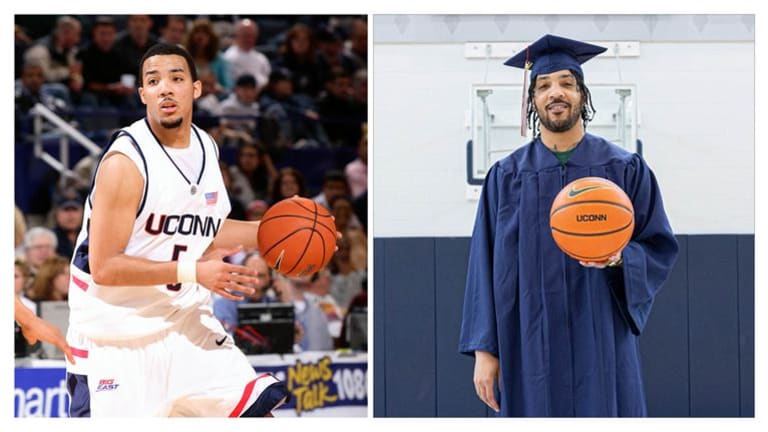 Marcus Williams Returns to Storrs for Graduation Day
There likely weren't many UConn graduates among the 8,000 or so in Gampel Pavilion this weekend older than one 36-year-old, receiving his Bachelor of General Studies degree.
STORRS, Conn. – There likely weren't many UConn graduates among the 8,000 or so in Gampel Pavilion this weekend older than one 36-year-old, receiving his Bachelor of General Studies degree.
And it's even less likely that any of the other graduates has witnessed Gampel Pavilion in another way, as he has, with 10,000 fans cheering and screaming his name.
It's been 16 years since Marcus Williams wore a UConn basketball uniform. Saturday, he wore a UConn gap and gown.
"I've been working on it for about a year and a half," he said. "It was hard. Everything was on-line and so different. I didn't feel like I had that capacity at 35 to buckle down and do it – sit through classes, and study, and do papers."
But Williams, who is back in his hometown of Los Angeles, kept thinking of a promise he had made years ago.
"Before I came to college, I made a promise to my grandmother that I would graduate," he said. "I remember when I was going through the whole NBA draft process, she didn't want me to leave school. I remember her saying, 'Just promise me you'll go back someday.' And I said, 'Oh, I promise .. I'll go back.' She passed away maybe two of three years after that. It's always kind of been on my mind, but mentally, I didn't want to deal with all that while I was playing.
"But then, I stopped playing, and the pandemic hit, and there was nothing to do. So I thought, 'Let me look into it and see what I would have to do."
What he would have to do was going to take time and dedication.
"The people at UConn were great," Williams explained. "I talked to a couple of advisors and they gave me a plan. I had to take one class at El Camino (Junior College), to kind of reinstate myself and once I took that class, I could re-enroll at UConn and take a full schedule. I did spring, two summer sessions, fall, and spring to graduate."
Williams is regarded as one of the finest point guards in UConn basketball history, scoring 627 points and handing out 510 assists in three seasons, from 2003-2006. He still owns the top two assists-per-game seasons in UConn history, 8.6 in 2005-06 and 7.8 in 2004-05 and produced one of just 11 triple-double games in UConn history. A third team all-conference pick in 2004-05 and a second team pick in 2005-06, Williams was the BIG EAST Most Improved Player in 2004-05.
Williams declared himself eligible for the 2006 NBA Draft and was a first-round pick (No. 22 overall) by the New Jersey Nets. He played in the NBA for four years for the Nets, Golden State and Memphis and then literally traveled the world, starting with an All-Star season in the Puerto Rican League. His pro basketball career travelogue includes stints in Russia, China, Spain, back to Russia, Serbia, Montenegro, France, the NBA G League, back to Puerto Rico, and, finally, back to the G League with the Stockton Kings.
"Then the pandemic shut things down," he said, "and I said, 'That's it.' I miss playing, but I don't miss the traveling, the practice and the rest. I'm a little old, man."
But not too old to earn his college degree, which meant enough to he and his family that he came back to Storrs, just to walk across the stage to receive it – flying across the country from Los Angeles (and back) in one day.
"I wanted to get pictures for my son (Kruz, 3) and my parents," Williams said. "It was more for them --- my personality is that I didn't want to come … I was just going to get it and not say anything. But everybody else wanted me to go. I'm a little nervous, but It's been fun."
And perhaps even inspirational? Many of the great UConn players of Williams' era have aged out of their basketball careers. 
"I've talked to Josh (Boone) and he was asking, 'Who do I talk to to get this going?' " Williams said. "I kind of got him in the right direction. He seemed inspired. That was my roommate and he was like, 'Well, if you finished, I've got to finish.' "
Which could well lead to a second career.
"I think I would like to get into coaching and players development … something to do with the game," Williams said. "I've had a lot of basketball experiences. I think I have a lot to offer."
About basketball, most certainly, but also about promises kept – no matter how long it takes. 
Source: UConn Athletics