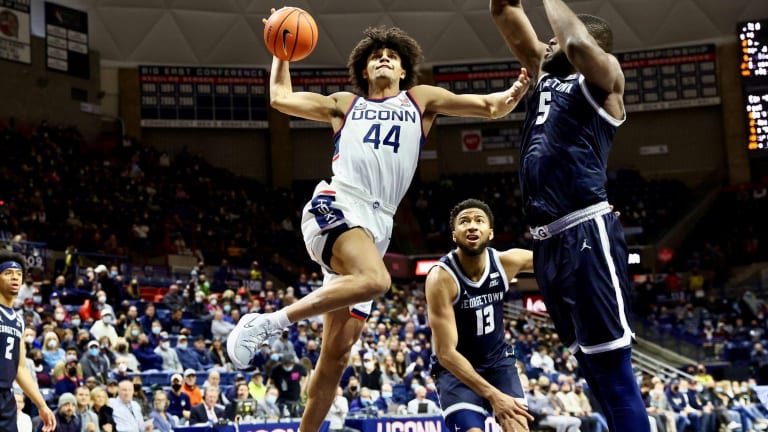 MBB: Huskies hurl 96 at Hoyas for fourth straight win
Five players scored 13 points or more for the Connecticut Huskies, who made easy work of the Georgetown Hoyas on Tuesday night.
STORRS - Back at full strength after meandering through December, the Connecticut Huskies' men's basketball program put on a scoring showcase on Tuesday night at Harry A. Gampel Pavilion.
Five Huskies reached at least 13 points in their latest Big East contest, paced by 19 from Adama Sanogo. With the sophomore star complemented by 15 each from Isaiah Whaley and Andrew Hawkins (both coming one point short of tying their respective season-bests), Connecticut (14-4, 5-2 Big East) was thus able to roll to a 96-73 victory over the reeling Georgetown Hoyas, their third straight win in the matchup since rejoining the Big East.
Sanogo's quest to get back into the realm of double-doubles fell short at eight rebounds, though that shortcoming came from the most desirable means necessary: Connecticut, ranked 20th in the latest Associated Press men's basketball poll, was shooting 52 percent from the field (34-of-66) before relenting once they took their biggest lead of the night at 32 with just under three minutes remaining in the game. Five nights after they put up 51 points in the second half of a road win over Butler, UConn set up Tuesday's big lead by besting that tally by one in the first half, setting a new season-best tally. The hot shooting began by shooting 56 percent (19-of-34) over the first 20 minutes, after which they led 52-40.
Three-pointers ruled the night on both sides, with Georgetown (6-11, 0-6 Big East) winning that category at 11-10. It wasn't enough to best UConn's best scoring output earned in a regulation game since November's opening night win over Central Connecticut State (99). Leading scorer R.J. Cole contributed 14 points to the cause but was impactful in nearly every major area in the box score. He led the team with seven assists and two steals (tied with Sanogo in the latter category) while also pulling down six rebounds. Tyrese Martin was likewise placed next to Sanogo, this time in the rebounding category with eight, while rounding out the Huskies double-figure scorers with 13.
On the losing side, Aminu Mohammed led the Hoyas with 15 points and seven rebounds. The lone winless squad in men's Big East play will have a chance to salvage the season series against the Huskies on Feb. 27 in Washington D.C.
UConn will look to tie its longest winning streak of the season on Saturday night when they hit the road to battle the DePaul Blue Demons in Chicago (6:30 p.m. ET, FS1). The Huskies have won 11 in a row against their upcoming hosts dating back to February 2008. There were three matchups between the pair last season, with UConn finishing off a sweep with a 94-60 win in second-round action at the Big East Men's Basketball Tournament in New York. The Blue Demons (10-9, 1-8 Big East) dropped a 67-43 decision to No. 14 Villanova on Tuesday, their third straight loss after topping a ranked Seton Hall team on Jan. 13.
Geoff Magliocchetti is on Twitter @GeoffJMags