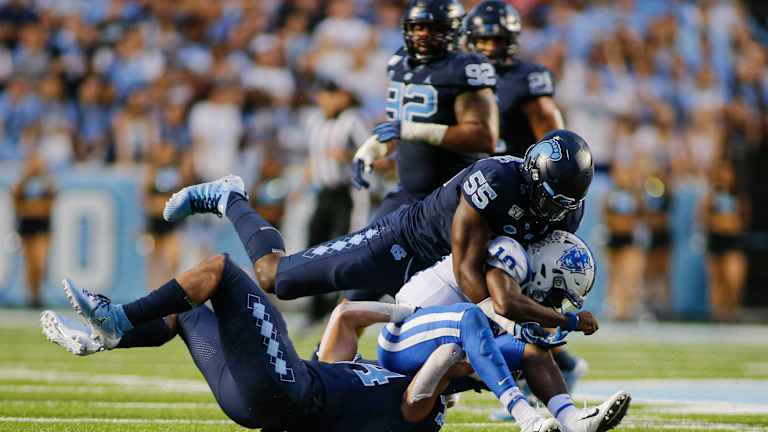 Five Storylines for UNC vs. Virginia: Dazz's Breakout, QB Pressure and Healing Heels
Quarterback pressure could decide the game for both teams.
As North Carolina plays host to Virginia night in a battle between teams tied for first-place in the Coastal Division, here are five storylines to watch for at Kenan Stadium.
Under Pressure
Neither team is particularly good at keeping its quarterback upright.
Having allowed 27 sacks this season, Carolina ranks 122 nationally, while Virginia isn't much better at 119 with 26 allowed.
The issue for the Tar Heels is that the Cavaliers are exceptional at generating pressure, ranking fourth nationally with 32 sacks on the season for an average of four per game. Six different players have at least three sacks for Virginia, led by linebacker Jordan Mack. Carolina will get a brief reprieve on Saturday as Mack will sit out the first half due to a targeting penalty he was flagged for last week.
"We haven't done a great job protecting," Mack Brown said. "They bring a lot of different people and they do a really good job with their schemes, so this ought to be a great challenge for us…"
Overall, Virginia is 11 nationally in total defense, allowing 281.5 yards per game.
"I think they're very talented," Carolina quarterback Sam Howell said. "Their coaches do a really good job, they do a lot of different stuff. They show a lot of different looks and run a lot of different coverages."
Under Pressure, Part 2
After a huge rivalry win on Saturday night, Brown admitted that his team will have to manage its emotions for what is perhaps Carolina's biggest home game since 2015.
"We're in a precarious position right now," he said. "This is a team that hasn't won for two years and all of a sudden now they're playing for a game that really matters late in the year, so we've got to manage this."
It's been a mixed bag for Carolina off big wins this season, coming out on fire vs. Miami in the home-opener, then forgetting to show up at Wake Forest until the second half. The Tar Heels believe they're taking the right approach.
"I think coach Mack does a good job of letting us know what's in front of us, and what's at stake," safety Myles Dorn said. "We did a good job at practice (Tuesday), just coming out and acting like we didn't even play a game last week or acting like we lost."
Receiving Blessings
Beau Corrales has a four-game touchdown streak while Dazz Newsome is playing the best football of his career with 21 catches for 296 yards and four touchdowns in the past three games.
"Dazz Newsome is playing now like I always thought he could," Brown said.
Perhaps most importantly, the speedster is playing instinctively rather than over-analyzing what's happening.
"I think he's to a point now where he's able to play as fast as he can play," offensive coordinator Phil Longo said. "He has speed and he is an athlete, so as soon as you can get anybody like a Dazz Newsome to not have to think when you're playing football, I think you're going to see their best football."
Central, Perkins
There aren't a lot of dudes like Virginia's Bryce Perkins.
The senior quarterback is running less this season, but he's a threat to score every time he has the ball in his hands.
"He is a tremendous player," Carolina defensive coordinator Jay Bateman said. "I think it's a real discredit to the kid to talk about his running because he does run really well, but he can do everything. He can throw it. He knows where to go. He is not fooled in coverage."
On the season, Perkins has completed 62.7 percent of his pass attempts for 1,803 yards with nine touchdowns and eight interceptions while rushing 119 times for 275 yards and five touchdowns.
"There's just plays that he makes that aren't there and he makes it time and time and time again," Brown said. "You've got to try to keep him in the pocket and make him throw the ball."
Guess Who's Back?
For a while, it seemed the Tar Heels would be one injury from suiting up members of the student body in the secondary.
That figures to change this week as Carolina appears likely to get safety Myles Wolfolk and cornerbacks Trey Morrison and Storm Duck — all starters — back from injuries.
On the offensive line, Nick Polino could return and provide a major boost at guard or center — he's practiced in both spots this week — to help protect Howell and shore up a running game that is finding footing behind Javonte Williams and Michael Carter.
Carolina certainly needs all the bodies it can get against one of ACC's most physical opponents.