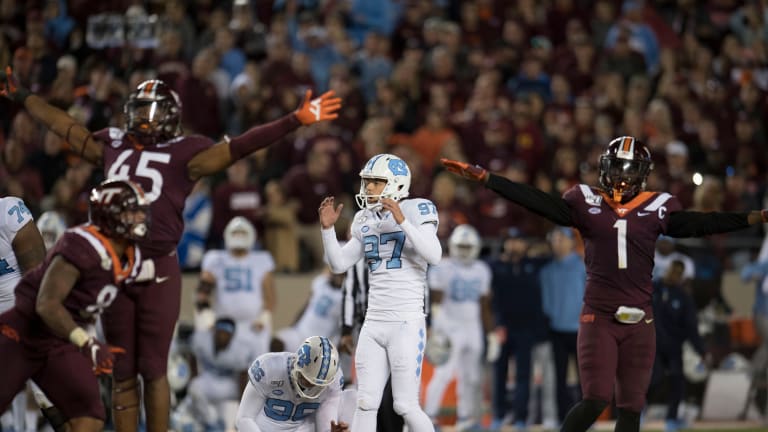 Jonathan Kim takes over kicking duties for Carolina, but Noah Ruggles won't be cast aside
Kim was considered a five-star recruit by Kohl's Kicking
It's been a tight battle all season long, and on Monday morning, North Carolina coach Mack Brown announced that Jonathan Kim would be taking over kicking duties from Noah Ruggles after the sophomore missed two potential game-winning field goal attempts on Saturday at Virginia Tech.
It wasn't an easy decision for Brown, who made a point of speaking with Ruggles at Tuesday's practice, encouraging him to keep at it as the Tar Heels continue to battle for the Coastal Division title.
"I put my arm around him yesterday and said, 'I'm really sorry. I'm sorry you missed the kick for you, I'm sorry you missed it for us and the fans, but it is what it is. Just make them all in practice and wait for another opportunity,'" Brown said. "That's what you do because you still compete every day."
In doing so, he also acknowledged the fact that many seem to ignore when demanding a change, instead only looking at the fact that Ruggles had made 10 of 16 field goal attempts this season.
"I even told him, 'If you need to go talk to somebody about it…,' because it's a hard thing,'" Brown said. "It's a lot of pressure on a young guy to have it down to one kick and miss it. That's a difficult thing. We've told him that we're going to help him any way we can."
Teammates quickly moved on from the misses on Saturday night.
"Noah do what he do all the time in practice, so we know what Noah can do," receiver Dazz Newsome said after the game. "He missed one; everybody makes mistakes on their assignments sometimes. It happens."
Still, it was time for the Tar Heels to make a change, especially after Kim boomed all five of his kickoffs vs. the Hokies for touchbacks.
In fact, Brown said, the decision as to which kicker would play came down to pregame warmups every week. With both kickers performing at the same level, Ruggles held the tiebreaker.
"Since they were even in pregame, Noah had the experience, we just kept going with Noah," Brown said. "So, it's time now to give Jonathan his chance."
Kim, a 6-1, 180-pound true freshman from Fredricksburg, Va., committed to Carolina as a preferred walk-on in February. Traditionally, Brown has brought in kickers and punters as walk-ons, with starters ultimately earning scholarships.
Ranked 42 nationally by Kohl's Kicking, a scouting and training service that specializes in kickers and punting, Kim was considered a five-star recruit.
After a May 2018 camp, Kohl's offered this evaluation:
"He showed again that he is an impressive K/P who is one of the best players in his region. Kim's charts and drill work performances at camp show that he has made technical progress since January and is ready to have a big summer. His overall ball striking on both field goals and kick offs is more consistent than during the winter months. If he can take that momentum and continue to improve in the coming months he will receive multiple offers!"
Since being named starter by Brown on Monday, Kim hasn't skipped a beat in practice.
"I think he's doing well," Brown said. "He made all the kicks today and he kicked the ball deep in the end zone again yesterday and today. So far, he's had a good week."