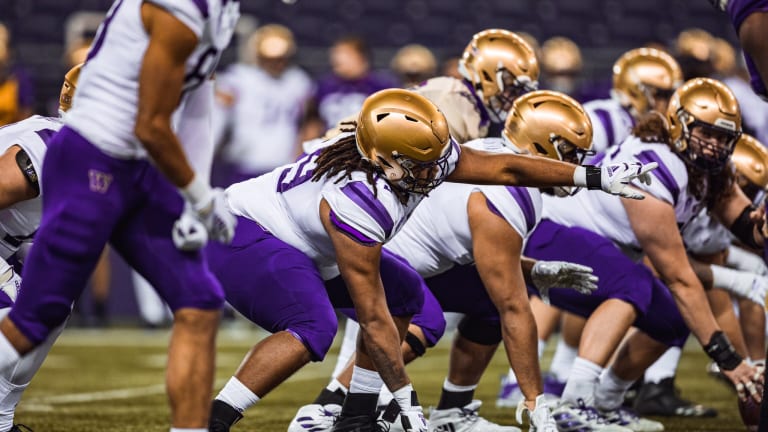 Choosing a UW Starting Lineup: Injecting Athleticism into the Husky O-line
The starting right tackle spot belongs to a Texas transplant. We have photographic proof of this.
The starting right tackle spot belongs to a Texas transplant. We have photographic proof of this.
Same as the Husky football coaching staff, we've experimented with different starting lineups. 
We've inserted a few players here and there on the offensive line just to see how it looked. 
Took in all possible scenarios. Mixed and matched. Shuffled the cards.
We originally had Victor Curne to left tackle because it wasn't out of the question that Jaxson Kirkland could be coaxed into heading off to the NFL early. Or off to a Mr. Universe body-building contest.
However, Kirkland convinced himself he wasn't done with the University of Washington football team and needed some college time at left tackle before he makes a handsome living at it in the pros.
With that said, Curne will be the Huskies' starting right tackle. Don't just take our word for it. Just look on Twitter.
The Huskies have offered photogenic proof of the No. 1 offensive line, at least right side of it, as the accompanying image shows. 
Curne was dominant for three-quarters at the Las Vegas Bowl. He's put on a lot more bulk, up to 330 pounds. Plus, he's a Texan.
With Levi Onwuzurike and Aaron Fuller moving on, the Huskies need some Lone Star state representation in the lineup. Got to have some football craziness in this Northwest collection of talent. So you turn to a Houston guy.
Curne it is.
RT candidates: Victor Curne, 6-foot-3, 330 pounds, sophomore; Julius Buelow, 6-8, 325, redshirt freshman; Corey Luciano, 6-4, 295, junior; Will Pliska, 6-5, 290, sophomore; Samuel Peacock, 6-6, 270, freshman. 
Starting experience: None. 
Our selection: Curne. This South Texas lineman has impressed with plenty of bounce on the football field while packing considerable heft. Against Boise State, in his only extended playing time last season, he repeatedly shoved his guy five yards off the ball, even opening up a hole for Salvon Ahmed to run through and score. Curne might be the most athletic of these big boys up front, who will average 323 pounds per man — which will make them compose the largest offensive line in UW school history. 
Other RT options: Buelow is being slowly groomed for tackle duty, getting his footwork down to match up with his superior size. Luciano has been getting looks at tackle and guard, but more likely plays inside. Pliska keeps hanging around, a walk-on looking for a chance. Peacock has drawn raves for his athleticism on his big frame, but needs weight and strength. 
Greatest Husky RT: Kaleb McGary, hands down. He won the Morris Trophy and was drafted by the NFL in the first round, going to the Atlanta Falcons with the 31st overall pick. He started 47 games on the right side for the Huskies, even when there were vacancies on the left with Trey Adams in the infirmary. First-team All-Pac-12 selection. Immediate NFL starter at right tackle. Total package.
Other RT legends: Siupeli Malamala, starter for the 1991 Rose Bowl and UW national championship team, a 31-game starter; Kevin Gogan, 1985 Orange Bowl starter, pulled 29 first-team assignments in his career; Jeff Toews, 1978 Rose Bowl starter, second-team AP All-American, 32-game starter; Mike Briggs, 1964 Rose Bowl starter, honorable mention AP All-America selection.
The UW Starting Lineup:
Left tackle — Jaxson Kirkland
Left guard — Ulumoo Ale
Center — Luke Wattenberg
Right guard — Henry Bainivalu
Right tackle  — Victor Curne 
Tight end — Cade Otton
Tight end — Devin Culp
Wide receiver — Puka Nacua
Wide receiver — Ty Jones
Running back — Richard Newton
Quarterback — Kevin Thomson
Kicker — Peyton Henry
Punter — 
Outside linebacker — Ryan Bowman
Defensive tackle — Tuli Letuligasenoa
Defensive tackle — Josiah Bronson
Outside linebacker — Sav'ell Smalls
Inside linebacker — Edefuan Ulofoshio
Inside linebacker — Jackson Sirmon
Cornerback — Kyler Gordon
Cornerback — Trent McDuffie
Nickel back — Elijah Molden
Strong safety — 
Free safety — Julius Irvin
Follow Dan Raley of Husky Maven on Twitter: @DanRaley1 and @HuskyMaven
Find Husky Maven on Facebook by searching: HuskyMaven/Sports Illustrated
Click the "follow" button in the top right corner to join the conversation on Husky Maven. Access and comment on featured stories and start your own conversations and post external links on our community page.