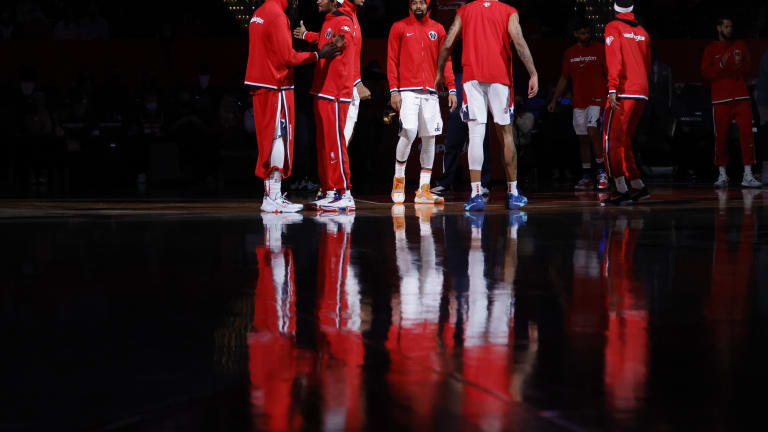 Check Out The Photo Bradley Beal Posted On Twitter Before The Washington Wizards Play The New York Knicks
On Friday, Bradley Beal posted a photo on Twitter. The Washington Wizards are on the road to face the New York Knicks for their final preseason game.
The Washington Wizards are on the road for their final preseason game on Friday against the New York Knicks. 
The Wizards have gone 0-3 to start the preseason having lost to the Toronto Raptors, Houston Rockets and the Knicks.
On Friday afternoon before the game, Beal sent out a Tweet with a photo from shoot around. 
The Tweet from the All-Star shooting guard can be seen in a post that is seen embedded below from his Twitter account. 
The former University of Florida star has spent his entire nine-year NBA career with the Wizards, and is entering his tenth season in the league.
Last season, he was second in the entire NBA (only to Steph Curry) for points per game. 
He averaged 31.3 points per game, and made his third trip to the All-Star game. 
The Wizards made the postseason last year, but lost to the Philadelphia 76ers in the first round. 
They also have a much different team now, after trading Russell Westbrook to the Los Angeles Lakers and have new additions like Kyle Kuzma and Spencer Dinwiddie. 
Related stories on NBA basketball
Harden Doesn't Get Foul Call: The NBA changed their rules on drawing fouls this season, and the preseason is already showing how it will influence superstars and the calls they got in past seasons. CLICK HERE
Grizzlies Lose Brooks For At Least A Few Weeks: Dillon Brooks averaged over 17 points per game for the Memphis Grizzlies, who made the Western Conference Playoffs last season. He will miss at least the next few weeks of action. CLICK HERE.