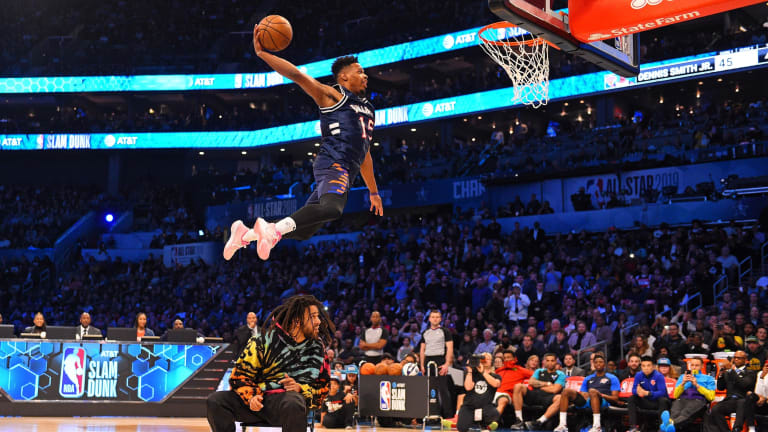 Exclusive: NBA Star Dennis Smith Jr. Opens Up About Career
Dennis Smith Jr. opened up to Fastbreak on FanNation's Ben Stinar about his career. The 23-year-old has played for the Dallas Mavericks, New York Knicks, Detroit Pistons and Portland Trail Blazers.
Dennis Smith Jr. was a five-star recruit in high school, after one season at North Carolina State he was the ninth overall pick in the 2017 NBA Draft and in his first season in the NBA he averaged over 15 points and five assists a game. 
However, since 2017, he's had several injuries, been traded a few times and now Smith Jr. is trying to make the Portland Trail Blazers roster. 
"The biggest thing, honestly, is injuries," Smith Jr. told Fastbreak on FanNation in a phone call on Friday. "I don't think I've had a season where I've played 70 games yet. The league is very talented, so if you're not available, it's next man up." 
The electric guard came into the NBA and averaged 15.2 points, 3.8 rebounds and 5.2 assists per game during his rookie season. 
His performance as a 20-year-old rookie landed him on the All-Rookie Second Team.  
The next season he only played 32 games with the Mavericks before getting traded in the middle of the season to the New York Knicks. 
In those 32 games in Dallas he was averaging 12.9 points, 3.0 rebounds, 4.3 assists and 1.3 steals per game prior to the trade. 
He only played a season and a half in the city that drafted him, but says that he had hoped he would've spent his whole career there. 
Dirk Nowitzki had played for the Mavericks for his entire 21-year career, and Smith Jr. liked that. 
"Second year to get up out of there my second year I think that was crazy," he said. 
On January 30, 2019, Smith Jr. became the second youngest player to record a triple double at Madison Square Garden when the Mavericks beat the Knicks in New York. 
The next day? 
Smith Jr. was traded to the Knicks. 
The Mavericks had flown from New York to Detroit to play the Pistons and that morning Smith Jr. was on the phone with Dorian Finney-Smith, who he says had told him the trade stuff was real. 
"I start scrolling through my notifications and I see on Bleacher Report oh Dennis Smith has been traded for," he said. "Dennis Smith, Wes Matthews, DeAndre Jordan, traded for Porzingis, Hardway Jr. and Trey Burke. "I was like 'damn I guess it is real!'" 
He had hear rumors from his agent, and he had known first-hand that the Mavericks might trade him, but now he was officially headed back to New York. 
After the trade, he excelled in his 21 games to finish out that season averaging 14.7 points, 2.8 rebounds, 5.4 assists and 1.3 steals per game. 
The following season he only played in 34 games due to injuries, and the season after that he was not getting playing time and just wanted to play basketball.
Therefore, he requested to play to in the NBA's G-League bubble. 
"I wanted to hoop, and I just wanted to play basketball," he said. "They had kind of like told me you're not going to be playing for whatever reason. Me and Tibs [Tom Thibodeau] had a conversation, so I was like, that's cool. Well then, let me go down to the G-League so I can stay sharp."
He thought that he would be down there to play for the Westchester Knicks, but after several days, before even playing a game, he was traded to the Detroit Pistons. 
The Knicks sent him to Detroit for former NBA MVP Derrick Rose, who he says was an idol of his growing up.
"To get traded for him that was kind of crazy, like damn," he said. 
He played 20 games for the Pistons averaging 7.3 points, 2.7 rebounds and 3.7 assists per game. 
He says that he had a torn meniscus but didn't know he needed surgery on it until he got a second opinion. 
Instead of getting the surgery at the end of the season, he had to get the surgery this past off-season. 
"I actually thought I would be back in Detroit," he said. 
After spending a lots of time in Miami and Los Angeles doing physical therapy he says that he is totally healthy. 
"I'm 100% healthy," he said. 
Right now, he's on the Trail Blazers during the preseason and is averaging 11.0 points, 2.8 rebounds, 5.0 assists and 1.5 steals per game. 
Their new head coach (former All-Star point guard) Chauncey Billups is someone that Smith Jr. knew prior to coming to Portland, and Damian Lillard (current All-Star point guard) is one of the best players in the entire NBA. 
"I just gotta be a sponge right now," he said. "Soak it all in." 
Lillard is a six-time All-Star and six-time All-NBA player that plays the same position as Smith Jr. that he can learn from going up against him in practice. 
"Top-ten player in the league, one of the top point guards in the league, so with him there's just so much you can learn." he said. "The fact that he comes in and puts the work in, he don't miss out on anything it's like you've gotta respect somebody like that."
Another person he has learned from is rapper, J. Cole
In 2019, Smith Jr. was in the dunk contest, and got a perfect score when he jumped over Cole. 
The two North Carolina natives are close friends, and he says they've had so many conversations that it's hard to even pick out one thing in particular that he's learned. 
"When I was in college at N.C. State we'd be in the gym till 3:30 in the morning, or like 12:00 in the morning, just working, hooping whatever." 
Smith Jr. also says that the Cole is good at basketball. 
"He actually nice," Smith Jr. said of Cole's basketball ability. "He's not NBA nice, obviously, but he's good." 
At 23-years-old, there is still so much room for the point guard to grow as a player. 
Point guard Kyle Lowry, a six-time NBA All-Star, did not make his first trip to the All-Star game until he was 28-years-old. 
Smith Jr. is five-year younger. 
"I'm a firm believer in myself," he said. "I believe in my ability and I believe in my work ethic. I believe I'm going to have the successful career."